Waifu Crossing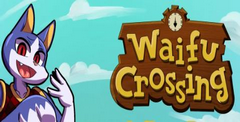 Click the "Install Game" button to initiate the free file download and get compact download launcher. Locate the executable file in your local folder and begin the launcher to install your desired game.
Even though Waifu Crossing is an abandoned game and I was kind of disturbed by what I was seeing. I am always someone that enjoys a fun lewd parody game and that is basically what we have here. There are many great and iconic games that are just perfect for making a fun lewd parody of. With this game though I do have to wonder just how many people were out there with this near the top of their list of games that need a lewd XXX parody!
Crossing…. The Line
As I said, I am always down for a lewd parody, but did Animal Crossing really need to be turned into a XXX game? Waifu Crossing is a game that is poking fun at the popular Nintendo series and it is played mostly for laughs so I will admit I got a few laughs out of just how absurd this whole thing was. This game does not want you to take it too seriously and I am fine with that, but fans of Animal Crossing will either get a kick out of this or be kind of grossed out.
No Four Leafs On This Clover
Look, Waifu Crossing is a game that is abandoned which is kind of a shame because I would have liked to have seen how crazy this would have got. Most Animal Crossing games start with us on our way to our new home and this game is following that trend. We are on a little train on our way to our new home and we are sitting next to Animal Crossing favorite, Clover. Clover is rather horny and we are pretty much obsessed with her big thick butt and as you would expect, one thing leads to another.
Getting Stuck In
There is not much in the way of gameplay here in Waifu Crossing. What we have is a short lewd visual novel where we chat with Clover and have sex with her. We get to make choices while we are having sex with her, but there are no actual "story" choices to be made here. You can finish what is on offer here in about 15 minutes. The most frustrating thing here is that once you get to the end of the scene, we see a classic looking Animal Crossing map that features other Animal Crossing characters on it that I assume we were going to get to fool around with, but as the game is abandoned, it looks like it will never happen.
Villager… Of The Damned!
Let me say that I have some really mixed emotions about Waifu Crossing. The game looks great, Clover has a human style body and you furry fans will be in heaven here as she is super thick too! Now, I was sure that it would be the "animal" character that kind of creeped me out, but it was actually the villager! There is something very creepy and evil looking about the villager with a ripped human man's body! To be fair, the animation here is great and I found the whole thing more funny than sexy.
7.5
I have to say that when I heard that Waifu Crossing was a XXX parody of Animal Crossing, I was not sure it was going to be something that I got into. I will admit, I did not find this hot or sexy, but I did it pretty damn funny and at the end of the day, if a lewd parody is not going to be hot, I like it to be funny and that is what this was. I wish that the developer kept this one going as I would have been interested to see what else they could do with some of the other Animal Crossing characters.
Pros:
I found the game pretty damn funny
I can see why some people would find Clover hot
The game does not ask for much of your time
At the end of the day, it is a lewd Animal Crossing game!
Cons:
It looks like there will be no updates to the game
The villager really did creep me out!
Download Waifu Crossing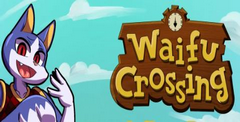 System requirements:
PC compatible
Operating systems: Windows 10/Windows 8/Windows 7/2000/Vista/WinXP
Game Reviews
Yikes, I have to say that Waifu Crossing is a porn parody game that I am not sure is for me. do not get me wrong I love the series of games that this is parodying, but I never felt that it needed the XXX touch. Still, this can be pretty funny and I guess the way it is not taking itself too seriously is neat. However, next time I fire up my Nintendo Switch to see how the villagers are doing, I do not think that I will look at Clover the same way ever again!
City Folk!
As you have probably already figured out what we have here with Waifu Crossing is a porn parody game of Animal Crossing. Yes, the game about cute little animal folk just trying to live their lives has now been given the XXX touch. The idea of the game is that our main character is the villager and they are on their way to the new village when they meet Animal Crossing's favorite, Clover. Clover is very strong willed when it comes to getting off and she sees the poor villager as a great way to get laid. That is pretty much the story we have here!
This Is Certainly A New Horizon!
Ok, let's address the elephant in the room, Waifu Crossing features a Clover that is just ridiculously thick! Seriously, she is giving Mei from Overwatch a real fun for her money if you ask me. Both Clover and the Villager have human bodies and even though the Villager looks more like a person, for some reason he looks way more disturbing than Clover does! The artwork here is very well done and something that I found to be kind of funny. The sex scenes are fully animated and they are animated very well too. Look, it is not something I find "sexy", but it is still very well done and impressive.
Pitching A Tent In Your Pocket…… Camp
As far as the gameplay of Waifu Crossing goes, this is pretty much a lewd visual novel. It takes a few minutes, yes you read that right a few minutes to get to the end of things here. However, you do get to make some choices and there are different animations for the choices you make. It at least gives you a few things to focus on as you are mesmerized by the giant butt of Clover in your face, I guess. The thing that is a real bummer here is that the game is abandoned, but when you get to the end of it, it shows you an island map with other Animal Crossing villagers on it! I have to assume had the game continued to be worked on, we would have gotten some sandbox style elements in the game too.
8
Look, I know that what we have here with Waifu Crossing is pretty much a demo or even a proof of concept if you will. However, I think this is something that was very well done and while it was more amusing than sexy to me, as a huge fan of Animal Crossing, I would love to have seen the game develop some more to see what the developer could have done with this concept. At the end of the day, it takes just a few minutes to get through.
Pros:
It is a lewd game based on Animal Crossing and that is pretty damn funny!
It only takes a few minutes to complete
The characters sure do look interesting
As a proof of concept, it is a clever idea
Cons:
The game has been abandoned
Some may find the characters kind of disturbing
See Also
Viewing games 1 to 7