Buchikome High Kick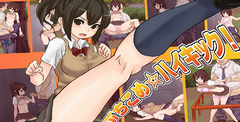 Click the "Install Game" button to initiate the free file download and get compact download launcher. Locate the executable file in your local folder and begin the launcher to install your desired game.
I have to start by saying that Buchikome High Kick is a freaking weird game. There are not too many XXX lewd one on one fighting games out there and as someone who loves his Street Fighter and Mortal Kombat I was pretty excited to see just how the heck this would actually work!
I Just Want To Pee!
The story of the game is pretty much non-existent, but it does give you a reason for why things are happening. There is this cute girl who is in the park and needs to pee. She has a bad feeling about this as this place is a "molesters paradise" that is the game's words, not mine!
Of course, she ends up in trouble and like the name, Buchikome High Kick suggests, she is going to have to kick some ass if she wants to get away safely. This is meant to be a quick pick up and play game so I am not going to be too harsh on it for its lack of a compelling story.
You Need To Lose To Win
This is a one-on-one fighting game and a very simple one at that. Each fight takes place in a different location and you control the girl and must fight off the old man. It is pretty simple to control and you can actually defeat the old man. However, the game is designed so that you lose.
You see, when the old man grabs a hold of her, he can start to feel her up, rip off her clothes, and eventually have sex with her. Different levels allow for different sex acts and you get to control the sex when it is happening. So, what is the point in actually trying to beat the old man? I am not sure!
Flash, AH HAAAAAA
The presentation of Buchikome High Kick is easy enough on the eyes. The whole game has a real "flash game" look to it, but that is something I do not mind. The animation when they are fighting is a little stiff, but the sex is done pretty well so I give them credit for that. You can customize the girl a bit. Have her wearing clothes as she fights or she can be just totally butt naked.
The park where you are fighting has different little areas where when you are standing near them will allow for different sex acts. I thought this was a clever idea as it gives you a reason to move around rather than just standing in place.
7.5
Is Buchikome High Kick the kind of game that you will come back to time and time again? I would have to say that it is not. This is a rather shallow game that you can see all of what it has to offer in one playthrough. Still, it is kind of fun while it lasts and if you are looking for something to waste 10 minutes or so with, you can do a lot worse than what this is offering.
Pros:
The girl is kind of dumb, but pretty hot
Chicks who can dish out high kicks are cool!
The game gives you control of the old man
There is a decent amount of variety to the sex
It is a good game if you want something quick to get into
Cons:
There is not much to the game
Not sure you would play it more than once
Download Buchikome High Kick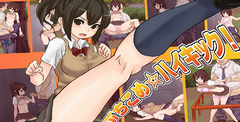 System requirements:
PC compatible
Operating systems: Windows 10/Windows 8/Windows 7/2000/Vista/WinXP
Game Reviews
I have played a ton of bizarre lewd games over the years and I would have to say that Buchikome High Kick is worth of a spot on the weirdest lewd games list. I always have a kind of hard time talking about this game as it is a game that at its core is about sexual assault which I will be the first guy to tell you is not something to be taken lightly. However, this game is just so over the top that it is more of a parody than trying to be anything kind of serious piece about the subject so that was how I got my head around this being ok.
Can't She Hold It Until She Gets Home?
The story of Buchikome High Kick is strange, to say the least. We have this cute anime looking Japanese girl that is making her way home, but there is an issue. She has to pee and pee really bad. Thankfully the park she is walking through has a restroom so she can go in there and take care of business and then make her way home… oh, I did forget to mention that this park is called molesters paradise and it is a well known spot for perverts that love to try and bang attractive girls!
Wait, Really?
I know the idea of a game being about a creepy old molester may turn people off Buchikome High Kick and I completely get it. However, I found the whole thing so strange and absurd that it has to be a parody. The game plays it kind of straight for the most part which I think makes it even more strange and amusing. I do have to say that I am not condoning sexual assault at all here, but I do feel like this game is just trying to have fun and it should not be taken seriously.
Ugly As Sin!
The visuals of Buchikome High Kick are very well done. It has an anime look to it which is always a style that I enjoy. The park has different areas which are all well detailed and help keep things a bit more "varied". The girl is nice and cute, but the dude, the molester is one of the ugliest characters I have seen in a lewd game! I get that is the point here that this old pervert is meant to be ugly, but it makes things a bit more off putting. The game has some great animation and there are a decent amount of sex scenes, but any scene where you can see his penis has that weird Japanese style blurring.
A Feeling Of Ecstasy
As well as the odd premise of needing to pee and taking a shortcut through a place called molesters paradise, Buchikome High Kick also has a rather odd gameplay. I would have to say that a fighting game is the best way to describe this game! The girl fighting off the old perverts' advances is the gameplay and there are a few offensive moves that you can do to keep him at bay. There is an ecstasy meter that if it gets filled will cause our girl to end up just straight up "servicing" the guy if you know what I am saying. It is pretty simple stuff and you can see all that it has to offer in no time at all.
7
Buchikome High Kick is far from being a great game and I do not think that it will be the kind of game that I play again. However, I did find the whole thing very strange and while I was playing it, I did want to see it through all the way to the end. I think to get any enjoyment out of this, you do have to treat it as an absurd parody so be sure to come into it with that kind of mindset.
Pros:
There are not many lewd "fighting games" out there
The anime looking girl is easy on the eyes
This wastes no time getting to the XXX stuff
It is very easy to play and see all the XXX content
Cons:
There is not much to the actual gameplay
The dude is so ugly that it may be too much for some people to actually play the game!
Buchikome High Kick (try saying that five times fast!) is a game that I found hilarious, weird, kind of disturbing, and also a fair bit of fun too. What we have here is a lewd fighting game and fighting games like this are not something that usually get turned into something lewd so I was pretty interested to give this a look and see how it would be. Look, this is not the greatest game I have ever played, but it was a fun distraction and worth checking out if you want a lewd game that is not a visual novel or an RPG.
Living In A Molesters Paradise!
The story of Buchikome High Kick is weird and creepy at the same time. Our main character is a cute girl that just needs to take a pee, but things take a dark turn as she has to head through this park that is known as molesters' paradise. Ok, why the heck have the cops not shut this park down and also, why would anyone in their right mind take a shortcut through a place called molesters paradise? No matter how badly I needed to pee, I would be holding that sucker until I got home!
Hey, She Knew What She Was Getting Into!
As you would expect, there is a molester hanging around here so her quest to pee will have to wait. Buchikome High Kick is a strange game in that our "hero" needs to fight off the molester, but then in some scenes, it is like she is right into it so I am not sure what the hell is actually happening. If anything, I think that this chick wanted to be molested as strange as that sounds. I found the whole thing kind of amusing as it is just so absurd, I am in no way making light of sexual assault, but when it is showcased like this how can you not laugh?
Rowdy Roddy Peeper!
A nice blend of a Simpson's and a WWF reference for you there. Buchikome High Kick has some rather amusing visuals. The game takes place in a park and the park has different sections so I give them credit for that. The main girl is cute and she can get buck naked which is cool. However, the "molester" is freaking hilarious. He is this pervy creepy older dude and I just found him so funny, he is your absolute textbook stereotype "molester". To be fair the various sex acts that happen are fully animated and the animation is not bad at all, all be it a tad rough in some places.
Playing For Keeps
You can play the "story" in Buchikome High Kick or you can do a mode where you just get to have sex and play around with the sex scenes. The game is kind of like a one on one fighting game, but instead of doing straight up kicks and punches you are trying to fight this molester off, you have a vitality, stamina, and ecstasy meter, and the more you get groped and molested, the higher the chance of a lewd scene happening. This is one of those games where you get the lewd content when you lose!
7.5
I am doubling down on what I said at the start, Buchikome High Kick is a weird freaking game! This game may not have a lot of substance to it, yet I have been compelled to fire it up a few times and always had a few laughs when I do. It may not be a deep "game" however, if you want some quick and funny lewd content to check out, you can do a lot worse than this. It would be interesting to see the developer take another crack at something like this.
Pros:
The chick is pretty cute
I like how it is a fighting game
You actually have control during the sex scenes which was neat
The game is fun if you want something that gets to the lewd content quickly
Cons:
The fighting in the game is very shallow
Is it wrong to be making light and laughing at molesters?
See Also
Viewing games 1 to 8