Holy Knight Luviria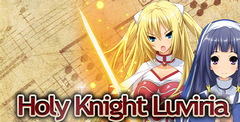 Click the "Install Game" button to initiate the file download and get compact download launcher. Locate the executable file in your local folder and begin the launcher to install your desired game.
I was very impressed and surprised at just how much I got into Holy Knight Luviria. This is a game that was a pretty big hit in Japan the better part of ten years ago. Well, now the game has been brought over to the west and despite it being a hentai style game. I have to say that as an actual RPG, this is a very solid game and one that is very easy to get addicted to. If you are a fan of old-school style RPGs and hot anime girls, you are going to have a fun time with this game.
The Demon Lord Is Returning!
The plot of the Holy Knight Luviria is actually pretty strong and something I did find myself getting pretty invested in. There have been a bunch of demonic invasions on the land of the Gracio Empire. These demons were fought once before and sealed away, but now the Demon Lord is trying to regain his strength so that he can be free once again.
A team of holy knights sealed him away once before and this team sets out once again to make sure that he is sealed away for good this time. A neat twist is that the demon lord has taken a special interest in our main heroine!
Classic, But Good
The visuals of the game are quite good. The main portion of the game is done in a classic top down style that is nothing new for a game like this. Holy Knight Luviria has some very well-done sprite work and I liked the fantasy setting of this world. It may not exactly be the most original looking game, but what is here is done very well. As far as the hentai scenes go, these have a very high-quality and high production value style to them that is very impressive.
Say That Again!
One of the things that I was most impressed with about this game was the sound. It has a solid soundtrack with some very fitting music. What really caught my attention though was the voice acting. This is very, very good and gives the characters, especially the main girls a lot more personality.
An RPG For Everyone
The gameplay of Holy Knight Luviria is what made me keep on playing until the end. When you look at what makes this game, it looks like it is a very basic RPG. To be fair, it kind of is. It has you going around the land, taking on quests, doing side missions, talking to characters, and the like. The combat system is great as it has a very fun and interesting combo system to it. You can upgrade your characters how you see fit and it is an enjoyable experience from start to end.
One of the more interesting things about the game is that it can be enjoyed by anyone, no matter their skill level when it comes to RPGs. There is an easy mode that holds you by the hand and is great for beginners.
Another feature I liked was how you could speed things up such as the battles, text, and so on. This is great if you want to do some serious grinding as it makes it less tedious.
9
I had a fun time while I was playing through this. I will admit that Holy Knight Luviria is not exactly doing anything ground-breaking new in terms of the gameplay. However, it does what it does very well and I like the way you can speed things up and the fact it has an easy option for beginners is pretty awesome. The plot is interesting and if all you care about is the hentai aspect of the game, you will not be disappointed either.
Pros:
I thought that the overall plot was very interesting
The game is a lot of fun to play
It has an easy option
You can speed various things up which makes grinding less of a chore
Some awesome hentai scenes if that is your thing!
Cons:
Not all the characters have amazing voice acting
It is not exactly the longest game out there
Download Holy Knight Luviria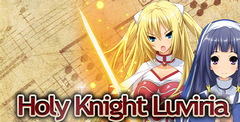 System requirements:
PC compatible
Operating systems: Windows 10/Windows 8/Windows 7/2000/Vista/WinXP
Similar Games
Viewing games 1 to 7