Inquisitor Trainer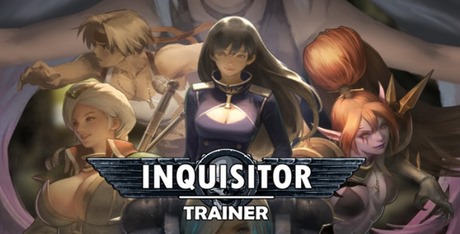 Download Inquisitor Trainer and become a skilled inquisitor in this thrilling adult RPG! Train your abilities, navigate dangerous missions, and engage in steamy encounters as you unravel a mysterious plot. Are you ready to face your desires? Play now! (18+ only)
I was drawn to Inquisitor Trainer because of the incredible art. This is one of those lewd games that looks like an actual cartoon. Now, this is a parody style of game and what it is parodying is something I am not super familiar with. However, I think that they did have some good ideas here and if you like your lewd sandbox games to have a real RPG kind of grind to them, you may get pretty invested with what is happening here so it could be worth checking out.
40K All The Way
I knew before I played Inquisitor Trainer that it was a parody of Warhammer 40K. Now, I have played a ton of lewd parody games about stuff that I am actually into and I know that "authenticity" plays a big part of how enjoyable they are. As I said, this is not a franchise I know a ton about (I have only played a few of the video games) so I cannot say for sure how faithful it is. However, I have read a few reviews and opinions from Warhammer 40K fans and the feeling seems to be that it has the characters and settings, but it does not feel like Warhammer 40K.
Everyone Is Doing It
The story in Inquisitor Trainer is ok for the most part. As I said, I am not a big fan of the source material so I had to just take it for what it is. We play as an investigator who has been tasked with solving these missing person crimes. The thing is, we are in way over our heads so we are learning as we are going. It can be kind of funny and ultimately, it all boils down to everyone wanting to bang everyone and I kind of just went with it and thought that it was ok, but a bit longwinded in some places.
Turning The Page Of A Comic Book
Inquisitor Trainer has some amazing art. The game looks like an animated series or a comic book. It has a little bit of cinematic flair here and there and it truly is something that I thought looked great. This is the kind of game where the art is so good that I would happily look through a digital art book (or just the gallery of the game) and check it all out. I really appreciate what the artist has done here and from what I have read, Warhammer fans may not have been stoked about the story, but they love the character designs in this game.
Biting Off More Than I Can Chew
The gameplay of Inquisitor Trainer is that of a lewd sandbox game and it is a very big one! This game is very challenging as there is so much for you to do. You have your lewd visual novel stuff of course, but there are stats that you have to grind, relationships you have to build, stuff you have to buy, and a combat system too. There is so much to do that it can be hard to know exactly what you have to do in order to progress. I ended up getting so stuck that I just talked to everyone that I could which turned the game into a bit of a slog if I am being honest.
7
While I would not class Inquisitor Trainer as one of the best lewd sandbox games I have played, it was still a decent enough experience. I liked the setting of the game and the art was absolutely fantastic and very well done. However, it was the gameplay that ultimately made me lose interest as it was just too heavy for what I was looking for and it started to feel more like a chore than fun towards the end.
Pros:
The art in the game is incredible
I liked the different character designs
The story started off pretty interesting
They tried to have deep and engaging gameplay
Cons:
Some Warhammer fans are not happy with the story or characters
The gameplay starts to become a bit of a chore the further in you get
Download Inquisitor Trainer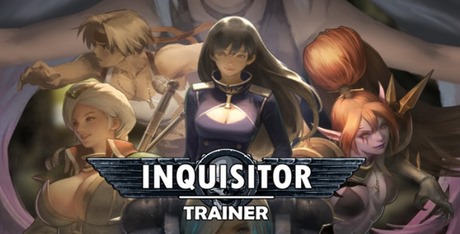 System requirements:
PC compatible
Operating systems: Windows 10/Windows 8/Windows 7/2000/Vista/WinXP
Game Reviews
Inquisitor Trainer is a visual novel with point-and-click elements, made in a sci-fi setting by developers from Adeptus Celeng.
The plot
The action takes place in a fantasy universe where there is a constant battle of warring factions. You get the role of a girl detective who is investigating important government cases. Several officials have recently gone missing and rumors of ritualistic murders are spreading throughout the city. Perhaps there is a whole religious sect. The protagonist must infiltrate it at all costs... What are you capable of in order to carry out the plan?
Gameplay
This project is an erotic version of a game from the Warhammer 40.000 series. You will meet your favorite characters Cordelia, Heidi, Verin, and Aurora dressed in very revealing costumes.
Pros:
Hot Hotties
Discussion of voyeurism and striptease themes
Dark Gothic atmosphere
Unusual cartoon graphics
Cons:
No violence here at all, which in no way matches the themes of the original
There are problems with grammatical errors in the text, perhaps English is not native to the creators of the game
See Also
Viewing games 1 to 8