Leisure Suit Larry III: Passionate Patti in Pursuit of the Pulsating Pectorals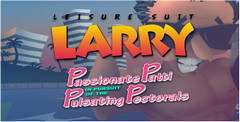 Welcome back, fellow Lounge Lizards! Last scene (pun intended), Larry Laffer was living it up on Nonooky Island. Content in the married life (our Larry?), it was inevitable that things would not last. True to form, Sierra gleefully tosses Larry's life back in the dumpster and prods players to pull it out again.
Leisure Suit Larry III picks up soon after its predecessor left off. Larry's wife has left him for a woman and thrown him out of the house, and his father-in-law has fired him. Destitute and depressed, Larry must begin a new path to happiness. As in all Sierra adventures, the proper path is far from obvious. Many puzzles are somewhat obscure, but persistence and observation of one's surroundings always pays off. As an example, who would think that a dull and useless knife could be sharpened on the steps of the casino? It is not always possible to enter locations on the first attempt; others must be visited several times. If access is denied in an area, it's because an item is missing or some action has yet to occur. In this manner, the game keeps the player from getting ahead of the plot without being excessively linear. The exception to the rule is Patti, whose sequences are completely linear.
Larry's first stop on the road to happiness should be the Comedy Club, where it's possible to talk to the game's designers. Touches like this reflect the tongue-in-cheek approach to design that made Sierra famous. Leisure Suit Larry III is replete with this brand of welcomed humor. In the end game, players also drop in on the Police Quest III and Space Quest III sets.
Gamers receive points for specific actions, and a running tally is kept against the total (4,000). Larry has the opportunity--no, the obligation--to make out with five different women, the last of whom is Patti. After they make love, Larry runs off into the bamboo jungle, and the player assumes the persona of Patti. This character change is both unique and interesting, as it forces male players to think like females to complete the game.
Patti needs to get dressed, stock up on provisions and be prepared for that magical moment when she finds Larry. Before venturing off into the bamboo forest, she also needs to visit Chip 'n' Dales.
The bamboo forest is frustrating and difficult to map, because every screen is virtually identical. Once through the forest, Patti must deal with several natural obstacles (this is where thinking like a woman really pays off) before coming to the river. Players must guide Patti down the river in an upsetting arcade sequence. Fortunately, the designers took pity on the average adventure gamer and included the ability to save at any point.
Leisure Suit Larry III places a heavier emphasis on sex than its predecessors, but the Sierra age-verification process is still intact. Furthermore, none of the situations portrayed transcend moral boundaries established in mediums like television. One should simply be aware that this is not the Bugs Bunny Show.
Leisure Suit Larry III has a user-friendly mouse interface, and the graphic presentation is equivalent to the other Sierra offerings. Novices will find the puzzles difficult, but experienced adventurers should enjoy the challenge.
Download Leisure Suit Larry III: Passionate Patti in Pursuit of the Pulsating Pectorals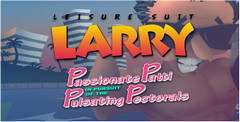 System requirements:
PC compatible
Operating systems: Windows 10/Windows 8/Windows 7/2000/Vista/WinXP
Similar Games
Viewing games 1 to 6