HuniePop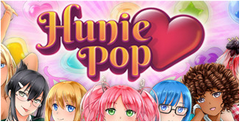 Today we are taking a look at HuniePop which is a real Kickstarter success story. This is a very intriguing game, not just because of the hot anime girls. It is because this is a game that is a mixture of dating sim, puzzle and it then has some RPG elements sprinkled over the top of it.
Talk To Me Girl!
The dating sim portion of HuniePop on the surface seems way more simplistic than what other games go for, but I feel this works in its favor. You pick a girl that you want to talk to and you will have a series of questions that you can ask her. You can ask her out on a date, be flirty or you can cut straight to the chase and get a little….. let's just say naughty! The story of the game is quite fun. You are a person who is just hopeless with the ladies and a magical love fairy called Kyu decides to help you out! I found this to be a lot of fun and she does come in handy when you are trying to impress the eight ladies that the game has to offer.
This Is Very Puzzling
What I like about HuniePop is that it is more than just a dating sim/visual novel style game. It is far more interacting than most. It also has a match-three puzzle game in here too. This is way more addictive than you would think. You can use date gifts, special moves and so on to help you with this and this is where the RPG elements come into play. It would have been so easy for them to tack on a basic puzzle game here, but they went all out and in all honesty, it is one of the more fun match three style games that I have played over the years.
So Much To See And Do
I think that HuniePop is stacked (not just in the chest department) with content. There are hidden girls for you to find and a ton of items that you can get to try and make the ladies like you. You can give them gifts, drink food and accessories to try and win their favor. Also, there is a day and night cycle along with various locations in the game. You may think that this is just purely cosmetic, but it actually can have an effect on the gameplay. For example, if you are in the right place, you can give her alcohol to make the conversation a little different. Of course, a game like this lets you customize the girls and there are a ton of different outfits and hairstyles that you can use if that is your thing. I actually liked how easy they made the customization aspect of the game. There are also these high quality and sexy photos that you can collect as you play the game. While you may start out just to see the hot girls, it is actually quite addictive trying to get all of these.
HuniePop is one of the better games in this genre I have had the pleasure to play. While the story is fun, it is way more interacting than most other dating sims that I have come across over the years. I think it is fun, cheeky and it has a ton of things for you to buy and collect. It is also far more addictive than you would think. If you do not like how barebones most dating sims are in the gameplay department, HuniePop is well worth checking out.
8.5/10
Pros:
Lots of hot girls to impress
Is way more strategic than you would think
Plenty of things to collect
The match-three puzzle game is pretty awesome
The story is hilarious and well written
Cons:
It may be a little "sexy" for some
Even more, girls would have been awesome
Download HuniePop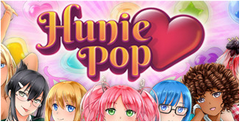 System requirements:
PC compatible
Operating systems: Windows 10/Windows 8/Windows 7/2000/Vista/WinXP
Game Reviews
Are you the kind of guy or gal that just can't get a date? Do you find talking to potential romantic partners scary and uncomfortable. Would you rather simply match coloured shapes into threes and have that sprout into a budding relationship? Well, Huniepop is quite literally the only game for you. This game combines the classic Bejewelled formula with a dating sim format to create something truly captivating and worth playing.
This game as mentioned plays like match-three games such as Bejewelled, Candy Crush or Bejewelled Blitz. However, it also plays like raunchy dating sims like Doki Doki Literature Club, House Party, Nekopara or to some extent, the Persona series. This game is a truly unique idea within the Eroge field. However, it is better on paper, or is it a smash hit? We find out in our review of Huniepop.
Big Bear Loves The Hunie
Let's begin with the dating sim aspect of this game. In truth, it doesn't really try to push the envelope too much. The concept is simple, you connect with a series of potential love interests, you buy them gifts, food and booze at the appropriate times to win their affection. If you do this you'll earn hunie, the currency of this game which allows you to buy more gifts, do more events and also allows you to learn more about your love interest.
Then the 'pop' side of things comes into play as you will be tested with pop quizzes regularly. These will test your ability to remember key details about your lover. Fail and you may fall behind in the race for his/her heart. However, if you do well, you'll be in line for a third date surprise, if you know what we mean. However, you'll have one more test first. This is where you will have to play a series of puzzles to earn hunie and bed your love interest. This will see the player play simple match three stages that will become more complex as the game progresses and so to does your relationship. On paper it doesn't seem all that cohesive. However, thanks to the great visuals, strong UI and great writing it all comes together nicely to offer one of the best eroge series out there.
The Verdict
Overall, Huniepop is a game that doesn't push any dating sim boundaries. However, the overall format is such an interesting one that you couldn't possibly mind.
9
When you take all of these parts individually, they aren't mind blowing but when placed together with this excellent visual display and whimsical writing style, you can't help but love it. Sure, maybe you could expect more dating nuance but aside from that, Huniepop is an all-round success and deserves praise for being different.
Pros:
Unique format
A great blend of puzzles and story
Artistically stunning
Decent resource management system
Cons:
Dating content could have been more fleshed out
Similar Games
Viewing games 1 to 6