LiliTales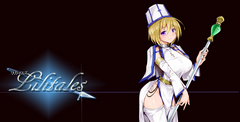 Click the "Install Game" button to initiate the file download and get compact download launcher. Locate the executable file in your local folder and begin the launcher to install your desired game.
The style of LiliTales is very interesting indeed. The game is a hybrid of a dungeon crawler and also a visual novel game and of course, it has some pretty hot lewd characters for you to encounter too. The game certainly took me by surprise and I was hooked right from the start. This is one of those rare games where in my experience, I have not come across anyone who has played it who has a negative opinion of it.
I Will Clear My Name And Save My Friend
The plot of LiliTales is great and very well written. You play as a girl called Luna who was known as The Devil Child. Luna was all alone until Princess Jill came across her and they became friends. Over the years, Luna trained to become a warrior so she could be Jill's knight. Things were going good until one day, Jill is kidnapped, lots of people are dead and Luna is left to take the blame and imprisoned!
Luna manages to get out of jail and she sets out on an epic quest where she will get her friend back and make sure she is safe. Also, she wants to clear her name and show people that she is not The Devil Child that people say she is. The story really is awesome and most of the important parts of the story are fully voice acted and it sounds great.
What Is Old Is Now News
The presentation on offer here is great. The dungeon crawler aspect of the game has a very 90s early 00s feel to the visual style, but clearly a much higher level of clarity. LiliTales manages to walk that fine line of having an old-school soul, but not at the expense of the game looking "old" in the process. It is done very well and I thought it was awesome.
The game also boasts some fantastic artwork. The character designs here are great and if you love sexy anime-style girls with big boobs and cute little faces, you have come to the right place. There is a great selection of creature designs that you come across and the dungeons you will be navigating also have a fair bit of variety to them.
How To Save A Princess!
I had a blast with this game and that is because I played many dungeon crawlers back in the day on my dad's PC. The game gives you a first-person point of view as you navigate the dungeon and when you come across an enemy, you enter into turn based battle. You have lots of different equipment that you can get along the way and you can add many useful characters to your party as you progress in the game. You will have to grind, but in all honesty, I would have been disappointed if you did not!
The game is not the longest dungeon crawler in the world and I mean that as a good thing. It does not overstay its welcome and by the time you get to the end of it, you will be more than likely happy with the conclusion, which can change depending on your actions. There is a final dungeon you can unlock as some end game content which is a nice touch.
9
It is very easy to see why LiliTales has such a strong reputation. This is a great dungeon crawler. It has a fun combat system and there are tons of interesting characters that you will come across. The thing is, this is still a lewd game, but the actual game portion of this package is so good, that you do not just focus on the lewd aspect of it. If you like dungeon crawlers, you are going to have a great time with this game.
Pros
Luna is a very interesting character
The game is full of interesting characters
The dungeon crawling aspect is done very well and feels great
I had a great time with the combat
The voice acting and visuals bring the story to life
Cons
If dungeon crawlers are not your cup of tea, this is not for you
As is the case with Japanese games, some of the lewd stuff is censored
Download LiliTales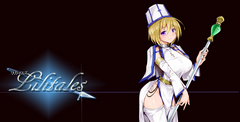 System requirements:
PC compatible
Operating systems: Windows 10/Windows 8/Windows 7/2000/Vista/WinXP
Similar Games
Viewing games 1 to 6