Would You Like to Run an Idol Cafe?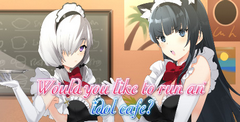 Click the "Install Game" button to initiate the free file download and get compact download launcher. Locate the executable file in your local folder and begin the launcher to install your desired game.
Would You Like To Run An Idol Cafe? What is that - a question or a video game? The truth of the matter is that it is arguably neither. The 'game,' so to speak, is a visual novel that capitalizes on the 'otaku' demographic. Forging a title like this suggests that you will be put at the very heart of the audience stereotype - an idol cafe.
These types of games have got a notorious reputation for a variety of reasons. Mainly being that gameplay is limited to a few clicks and choices. And as the visual novel genre suggests - there isn't much animation. It's mostly a read from start to finish, dragging players in with its suggestive content and heavy storylines. Visual novels always come across as a bit cheap on the game front, but with a title like 'Would You Like To Run An Idol Cafe?', it's hard not to be intrigued.
Me, An Idol Cafe Manager?
It's not easy to take a critical approach to this game. Mainly because there isn't a lot of playable elements. We'll have to look around that feat and take more interest in the characters, story, and lore of 'Would You Like To Run An Idol Cafe?'. All the player will be doing is clicking through the dialogue and absorbing the colorful pictures that interchange between lewd, comical, and emotional.
As the game depends solely on the narrative, we won't spoil too much - but we can set the foundations. The story is set with a high-school delinquent looking to clean himself up in the workforce, failing to get into higher education. He moves in with his buddy as he tries to get his life together and takes up a job in a cafe. You guessed it - an idol cafe full of women that seem to take an interest in our protagonist.
But watch out! They are going to start pining for your attention, offering plenty of personality oddities - and other things we won't mention. You, as the player, will make a few choices pending on what direction you want to take the visual novel. That's about it gameplay-wise, and if you're expecting any mechanical thrills, you are in the wrong place.
Looking at 'Would You Like To Run An Idol Cafe?'s' execution - it comes off fine as a visual novel. The developers are experts in the trade. Content-wise - it's not much different from other offerings. If this was your first foray into the genre, you wouldn't find too much interest. These games are made for a specific audience - if you fit that category, you'll be fine.
Always Judge a Visual Novel By Its Cover
Visual novels have never really been a big thing in the Western world. I have the belief that is because there isn't enough interactivity to classify it as a game. Not many would be content with just driving through a bunch of stills and reading quiet dialogue.
That's not to say there's a subset of gamers who enjoy them - Phoenix Wright: Ace Attorney-Justice for All found some popularity.
8
But 'Would You Like To Run An Idol Cafe?' is a far stretch from that game. The story is intriguing enough to satisfy its demographics, the content - well, it lives up to the stereotypes. Nothing revolutionary here, and any avid gamers would probably be bored stiff. The only way to put it - this game is remarkably average.
Pros:
A well-written story that does keep players engaged
Lives up to its potential as a visual novel
The game will please its targeted audience
Cons:
Very minimal gameplay involved in this offering
The content is mature and won't appeal to many
Too straightforward for those seeking thrills
Download Would You Like to Run an Idol Cafe?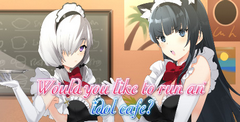 System requirements:
PC compatible
Operating systems: Windows 10/Windows 8/Windows 7/2000/Vista/WinXP
Game Reviews
Since anime and gaming go hand by hand, it is nothing strange to find games that are as anime as they can. Visual novels are the genre of excellent to deliver an experience as close to the manga as possible while still being somewhat interactive. Would You Like to Run an Idol Café published is another visual novel that joins the many published by Winged Cloud.
But what makes this one different from the rest? Why should you get Would You Like to Run an Idol Café instead of a different visual novel next? Is it a good game even if you're not into visual novels? Well let's start with the basics. The plot.
What's it about?
Even though he once was part of the rebellious and troublesome youth, Yokoyama Aoya is now a decidedly ordinary guy. He has grown out of his problematic phase, and even though he'sm wiser and determined to get his life on tracks. But since he performed so poorly in school, he was unable to get into the university of his choice.
He puts a pause to his attempt to keep on moving further on with higher level education when he moves with his childhood friend Ichigo. SHe is attending university, and while Ichigo is busy with her classes, Naoya takes on a job at a local café expecting to be able to contribute to the household expenses, and become a more mature person.
The owner of this beachside café is Miss Miyamori, a mischievous woman who quickly takes a liking to Naoya and gives him the job. In his new job he gets to interact daily with Mayuki and Kuu, and grows fond of them As he grows closer to the girls and Ichigo, there's trouble brewing on the horizon.
The new, and very comfortable life Naoya is working on building for himself, as well as his relationship with the two pretty waitresses and Ichigo, could be compromised by bigger issues.
Harem
As many other visual novels, Would You Like to Run an Idol Café is pretty much based on a harem. These are novels in which the main character often gets into trouble due to them building an emotional relationship with multiple persons at the same time. This often gets into all kinds of emotional moments and pretty fun situations too. Get to know the girls and try to keep on moving forward towards a more serious and responsible adult life.
Would You Like to Run an Idol Café is pretty much your standard harem-based visual novel. There's not much to say especially about it, unlike titles like Nekopara, the game isn't very original. It works, and it works great, but doesn't really stand out from most other visual novels.
7
One of the best things it has going for itself is the art, as it's pretty clean and nice looking. The characters are very pretty and the art style looks simply beautiful. Aside from that is pretty much an industry standard visual novel.
Pros:
Great art
Cute characters
Nice development
Cons:
Not very original
More of the same
Short and not that many routes available
Similar Games
Viewing games 1 to 7