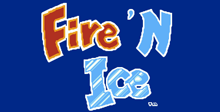 NES Cheats
Cheat mode
Hold Select and press B(10) at the title screen. Level select and sound test options will be available.
Passwords for levels
Level 4-1: Enter 7FSJ3H4C QB5PD.K9 WL!MKNVF as a password; Level 5-1: Enter HR4CQB56 .K9WL!M2 8VZ1SF6R as a password; Level 6-1: Enter PD.K9WL! M2VZ1XN6 T?G7V5JD as a password; End: Enter 8VZ1XN6T G7FSJ3HR 4CQBJ!DV as a password.
Play Hidden Levels
Here is a great code that appears after completing Round 10-10 and beating the last boss. If you let the Nintendo keep running after "The End" screen, this incredible code will appear. At the title screen, press and hold the SELECT button and then press the button 10 times. After you do this, a screen will appear that tells you that you can play the hidden levels (11 -1 to 15-10)! Next, a round select screen will appear and you will be able to choose from any round in the higher levels. There is also a sound select option so you can hear any of the great tunes of the game! Get ready for more challenging puzzle action with this code!