Battlecruiser Millennium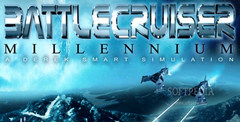 a game by
3000AD, Inc.
Platform:

PC

User Rating:

8.0

/

10

-

1

vote
Rate this game:
See also:
Old School Games
Let's not go into the abortive release of the original Battlecruiser game. Actually let's: a game so bugged we refused to review it when it first arrived. The same game that was fixed by its developers, released free on the Internet, updated again and released on budget. Now, the game is soon to be unleashed totally rebuilt and expanded beyond even the ambitious remit of the original. Actually, ambitious seems the wrong word to use. Grand might be better, certainly in its ideal, but anyway, on with the preview...
Like the old 16-bit classic Carrier Command, Battlecruiser was at its simplest a strategy/action game where you not only commanded your own starship, but the fighters, shuttles and terrain vehicles as well. More than that you had to manage your crew, roam an entirely dynamic and open-ended universe, and engage - if you so wished - in piracy and trade. So for all its action and strategy, Battlecruiser was just as much a role-playing game. Not to mention a hardcore simulation of space flight - and by hardcore we mean hardcore: Battlecruiser was to Wing Commander what Animal Farm is to Emanuelle - specialist stuff.
Thankfully, though Millennium will give players even more to do, we are promised an easier time of it in the new release. The interface has been cleaned up, the graphics are accelerated to the highest of standards, and added to the list of features is a first-person action mode, meaning that you are no longer fixed into the captain's or pilot's chair. Role-playing has always been an essential part of Battlecruiser, but it now seems to have been expanded to Baldur's Gate proportions. You can select to play as one of 12 races, choose one of three careers (commander, pilot or marine) as well as a profession within that career (science, military, and so on). And no matter what you choose to be, the whole universe around you will carry on regardless, whether you stick to a series of missions or ignore orders and take to the great unknown. The good news for many is that if the space simulation side leaves you white with fear, you can play the game as a foot soldier.
Gameplay aside, BCM is no less ambitious in technical terms. We're reliably informed that there are 12 different 3D engines at work, rendering everything from space flight, planetary bodies and terrain with the detailed physics modelling binding it all together. Graphically BCM voids itself all over the previous game and though not as 'Hollywood' as some other space combat games, easily eclipses all when it comes to scale and thought.
But as old hands will know, it is going to require patience and hard work - Battlecruiser Millennium won't be a game for the faint-hearted. But then who said space was an easy place to be? One thing we can be sure of is that after nearly 15 years of thought and ongoing development, it will be the game its creators have always wanted it to be - hardcore space simulation on an unprecedented scale. Quite frankly, it is this that concerns us more so even than the threat of bugs.
Download Battlecruiser Millennium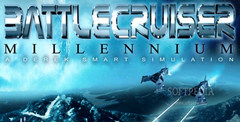 System requirements:
PC compatible
Operating systems: Windows 10/Windows 8/Windows 7/2000/Vista/WinXP
Similar Games
Viewing games 1 to 8