Coffee Talk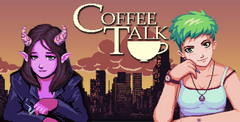 Click the "Install Game" button to initiate the free file download and get compact download launcher. Locate the executable file in your local folder and begin the launcher to install your desired game.
Games centered around coffee shops surprisingly aren't something new in the video game world. Probably because they provide heartwarming and wholesome environments to let casual gamers relax. Most allow immersion in relaxed mechanics against objectives that don't rush any players to achieve them. Coffee Talk is absolutely one of those games.
Coffee Talk isn't your average simulator, though. This is a deep and meaningful story that narratives love a love interest behind the hustle and bustle of urban life. You'll be listening to what your clients have to say and see the story unfold. Trust us when we say that the game is actually incredibly engaging. We'll explain why,
That Coffee Ain't Gonna Serve Itself.
Coffee Talk is strongly narrative-based, as hinted. The whole premise of the game is that players serve customers cups of coffee. They'll use their coffee-serving prowess to wheedle their way into their backstories. There's nothing grueling or urgent about the mechanics. Getting your coffee orders right seems secondary to the ultimate objective of the game.
However, preparing coffees play a significant part in how the narrative pans out. You'll be fulfilling customer orders with a set of coffee-making mechanics - incorporating ingredients, style, and even their presentation. Going above and beyond could see your customers spill the beans on what ails them, while others may choose to be more reclusive.
The beautiful aspect of Coffee Talk is that there is no set narrative for the game. Players will spend their time learning about the hopes, dreams, and stories of these Seattle residents. And if you're a fan of these dialogue-heavy games, you won't find anything more entertaining. Storylines will branch, dramas will unfold, and you'll never be more excited.
The visuals offer pixelated visuals to highlight this pseudo-realistic version of Seattle. It may all seem a bit simple. But there is a lot to take out of Coffee Talk in nearly every regard of gameplay. Perhaps we'd only like to see your barista character have a few more dialogue options - but other than that, it's fantastic.
Love Me a Cup of Joe
Nope, Coffee Talk isn't as mundane as Coffee Shop Simulator. It's far too ingrained in its storylines to set out simple objectives and goals. The number one priority is finding what makes this city tick and the stories behind the elves, humans, vampires, and werewolves that inhabit it. The dialogue-heavy approach mixed with the elementary creation mechanics facilitates that.
9
It's pretty amazing how to immerse you'll get with Coffee Talk. The repetitive gameplay leads to the idea that you'll get bored pretty quickly. However, it's how the drama comes together that really keeps you on your toes without feeling frustrated. This little simulator is a highly commendable effort. It's recommended to any casual gamer looking for a story thrill.
Pros:
Wonderfully constructed dialogue options with your customers
Coffee-making mechanics have an impact on the storyline
Character development is very immersive
Cons:
Dialogue options for baristas are limited
Download Coffee Talk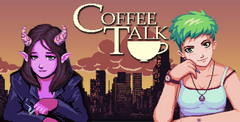 System requirements:
PC compatible
Operating systems: Windows 10/Windows 8/Windows 7/2000/Vista/WinXP
Game Reviews
One of the best places to unwind is a coffee shop on a slow day. With a warm drink in hand, you can just watch the world go by- maybe idly wondering about the lives of the people passing through the shop. Coffee Talk, a 2020 game by Toge Productions, tries to encapsulate this feeling in video game form. The game is set in an alternate-universe Seattle, home to vampires, elves, and many other fantastical creatures dealing with quintessentially human issues. Players inhabit the role of a coffee shop proprietor, who spends as much time speaking to their customers about their problems as they do brewing drinks.
STORY
Many games set in restaurants aim to simulate the often frenetic world of retail, and focus on challenging players to quickly serve in complex orders. However, in Coffee Talk, orders take a back seat to the conversation between the player and the game's quirky, somewhat conflicted cast. A few of the shop's regulars are an alien attempting to understand human dating customs, a vampire model, and a cat dad struggling to relate to his pop star daughter. The game's dialogue is both funny and poignant, and each character feels distinct and multifaceted. Coffee Talk's character-driven narrative will make it appeal to fans of games such as Speed Dating for Ghosts or the titles of Choice of Games.
ART
All the game's characters are rendered in excellent 90s-inspired pixel art, with more modern animations for their facial expressions. In addition to some very detailed sound design, the game features a laid-back lofi soundtrack, with multiple songs players can shuffle through. All these factors make the game's cafe very evocative, likely reminding players of a soothing hangout in their own life. The game also features a few newspapers and social media posts which hint at the details of the game's alternate universe, although Coffee Talk is not as focused on worldbuilding per se.
GAME MECHANICS
Coffee Talk does not offer its MC the option to decide how they will respond to dialogue. Players should know that much of the gameplay in the game is focused on going through discussions, and that it is more of a conversation simulator than RPG.
However, the game still provides an element of interactivity through its coffee-making minigame. In most scenarios, patrons will ask for a drink (often with somewhat oblique requirements) and the player will then have to guess the three ingredients that will produce the requested drink. This process requires some experimentation, and the high likelihood of initially messing up drinks may frustrate some players. Yet, the feeling of discovering a new recipe for your cafe is also quite rewarding, and the only punishment for making a mistake is a mild rebuke from your patrons. Indeed, the game is impossible to fail in the traditional sense, although successful drink-making will unlock some extras content.
Bottom Line
An average playthrough of Coffee Talk will take a couple of hours. However, the game is perhaps best played in small doses rather than in one go, as the similar format of each in-game 'day' can make the game repetitive if played in one block. The controls are very easy to learn, though the content of the stories makes the game best suited for adults.
8
Coffee Talk is quite an endearing game, perfect for players looking for a narrative-focused experience. Players can expect engaging, character-driven dialogue, and a comforting coffee shop atmosphere. Although the game could have been improved through increased interactivity, it is still well worth a purchase. 4 coffee cups out of five!
Similar Games
Viewing games 1 to 9