Cue Club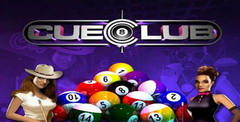 Download Cue Club and immerse yourself in the ultimate pool and snooker experience! Hone your skills, challenge opponents, and climb the ranks to become a true cue master. Rack 'em up and play now!
a game by
Bulldog Interactive
Platform:
PC
Editor Rating:

7.7

/

10

, based on

3

reviews
User Rating:

7.8

/

10

-

31

votes
Rate this game:
See also:
Relaxing Games, Pool Games
Pool and snooker games have been a staple in video gaming since the early days, offering players a chance to enjoy the classic games in a virtual environment. Cue Club is one such game, developed by Bulldog Interactive and released in 2000. In this review, we'll dive into the game's gameplay, graphics, and features to determine if it still holds up today.
Classic and Addictive
Cue Club's gameplay is straightforward and easy to pick up, making it accessible for both casual and serious gamers. Players can choose to play either pool or snooker, with a variety of game modes available, including 8-ball, 9-ball, and straight pool.
One of the game's strengths is its AI opponents, which offer a decent challenge without feeling cheap or unfair. Players can also compete against other human players through local multiplayer, making it a great game to play with friends.
The controls are simple and responsive, allowing players to aim and shoot with ease. The game also includes a variety of different camera angles, giving players the ability to view shots from multiple perspectives.
Showing its Age
Despite being released over 20 years ago, Cue Club's graphics are still serviceable. However, compared to modern games, they look dated and lack the detail and polish of more recent titles.
The game's environments are simple but effective, featuring a range of different pool halls and snooker clubs. The game's balls and table surfaces are also well rendered, making it easy to see and understand what's happening on the table.
One issue with the game's graphics is the lack of customization options for the player's avatar. Players are limited to a small number of pre-made characters, none of which can be customized or personalized.
Plenty of Content
Cue Club offers a lot of content for players to enjoy, with a range of game modes, tournaments, and challenges available. Players can also earn money and use it to purchase new cues, tables, and other equipment, giving them a sense of progression and accomplishment.
One area where the game falls short is its lack of online multiplayer. While local multiplayer is available, the game does not support online play, which is a shame considering how popular online gaming has become in recent years.
Cue Club is often compared to Virtual Pool 4, another popular pool and snooker game. While both games share similar gameplay and mechanics, there are some notable differences.
Virtual Pool 4 features more realistic physics, offering a more authentic simulation of the game. The game also includes more customization options for the player's avatar and equipment, as well as online multiplayer.
However, Cue Club's simpler gameplay and accessible controls make it a great game for players of all skill levels. The game's AI opponents are also more challenging than Virtual Pool 4's, offering a greater sense of accomplishment when defeated.
Review: 7/10
Overall, Cue Club is a classic pool and snooker game that still offers plenty of fun and enjoyment for players. While its graphics may be dated, the gameplay is still as addictive as ever, and the game's range of game modes and challenges provide hours of entertainment.
7
However, the lack of online multiplayer and limited customization options hold the game back from reaching its full potential.
Pros:
Simple and addictive gameplay
Decent AI opponents
Plenty of game modes and content
Easy-to-use controls
Cons:
Dated graphics
Limited customization options
No online multiplayer
Download Cue Club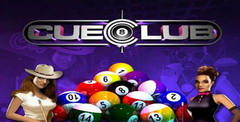 System requirements:
PC compatible
Operating systems: Windows 10/Windows 8/Windows 7/2000/Vista/WinXP
Game Reviews
I know that the name Cue Club does not exactly sound the most exciting video game ever made. However, as far as pool and snooker games go, I would say that Cue Club is one of my all-time favorites. While I originally played the PlayStation 2 version of the game, it is the PC version I am talking about here and in all honesty, is the best version of the game.
What Do You Want To Play?
One of the most impressive aspects of Cue Club is the fact that it offers you so many ways to play. For me, 9 Ball Pool is the best kind of "cue" game to play and what I spent most of my time with. However, you can also play straight up pool, 8 ball pool snooker, and games such as killer and speed pool. I did find that I would just play 9 Ball Pool all the time, but it is great that the game does have such a wide variety. As well as the different types of pool for you to play. Cue Club also has an impressive range of actual modes. You can take part in a tournament which is quite fun, just a stand-alone match, practice and of course, there is also multiplayer as well.
Lots Of Variations
If you think you just pick your mode and off you go, you are mistaken. Cue Club lets you tinker with different things. You can decide to have fast or slow cloth, different cues, balls, and even tables. I love the different table designs and I found that being able to change the table design did actually keep things more interesting. Sure, in the grand scheme of things what the table looks like does not matter, but it is a cool feature none the less.
The Physics Of Pool
Cue Club is a game that is very, very easy to get into. You play with just the mouse and you really do have full control over your shot. I like to be pretty methodical with the way I play, but you can also have a timer as well if you like to keep things moving at a brisk pace.
The different styles of pool (and snooker) each have their own ruleset and the game does kind of take for granted than you know these rules. Still, it is easy enough to figure out. While I love playing against the AI, which is more challenging than you would think. Having a friend to play against is really where this game shines. You can spend hours playing against people, that is how addictive it is.
8
I really like Cue Club and feel that it is one of the best pool games around. They really did nail the physics with this as well as making sure that above all else it is a fun game to play. It can be relaxing to mess around by yourself and also pretty tense when in a tournament or playing against a friend.
Pros
Plenty of styles of pool and snooker to play
The gameplay is fun
Impressive ball physics
The different tables are a nice touch
The game really shines in multiplayer
Cons:
It is fun, but not the most exciting presentation
If you do not like pool, this will not win you over
In a recent game of Killer against the major game companies and a couple of PC Gamer wannabes, Chris Anderson surprised everyone, including himself, by taking the cash. And then proceeded to bore everyone (including the manager of the pool club) with the details of the brilliance of his winning shot, despite the fact it was over the pocket and about a foot away. The actual truth is that our esteemed editor was seeing double at the time, and was aiming for the phantom ball.
If you play pool this story will be very familiar. One of the greatest non-exercise sports going, it's best played with friends in the surroundings of a local pub. The PC equivalent is playing online, but amazingly this game has failed to exploit this possibility.
Even more bizarre is that the game is built around a virtual chat room, as if the developers wanted the Internet side, but couldn't code it. So instead I had to enter fictitious bars, and hawk around for a game. Laughably, getting a game is almost impossible to start off with. As a beginner no one's interested in playing you, and after about 15 minutes of being ignored and insulted by virtual opponents I left with a complex.
Thankfully, you can enter tournaments at any time, and the game itself is a faithful (if Americanised) version of the three best games (8-ball, 9-ball and snooker). Choosing a static overhead camera leads to problems, and it's not always easy to line up your shot properly, but the interface is very easy to use (set power, spin, aim and shoot) and after a while you forget the limitations and enjoy what is a very simple, but addictive game. If Internet play was in I'd have given it a much higher score. As it is I'm going to go back and sit in my virtual chat room hoping that someone finally notices the virtual pisshead in the corner.
See Also
Viewing games 1 to 10