Paralives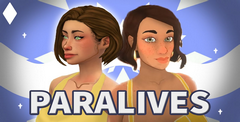 Download Paralives and create your dream life in this innovative life simulation game! Design your perfect home, create unique characters, and live out endless possibilities. Step into your new world and play now!
A brand new life simulator into the mix isn't the most unusual thing we've ever heard of. A game of the genre developed by a single person - now that is something that piques interest. Paralives is an upcoming, very ambitious offering that aims to break the boundaries of big publisher titles - promises of creativity and flexibility missing from the genre.
Paralives has picked up traction over the past few months - now being well funded through a Patreon page. The game has hired additional personnel to add layers of polish - and it's safe to say the game is already looking good. So can it live up to the potential of a revolutionary new indie life simulator? Let's have a bit of a preview.
Something is Missing From Our Lives
The game's announcement contained nothing starkly different from the big-name life simulator 'The Sims' franchise offers. Players will adhere to standard mechanics. Character creation, employment opportunities, residence design, and more are all there. Basically, taking on the challenges of everyday life. What is promised in Paralives, in contrast, is a level of customization that sees nearly limitless opportunities for players - something major published life simulators don't have.
Already the game looks fascinating - art style, creation potential, storytelling, the works. Players are treated to models and assets - they can change the shape, color, and size with a gorgeous looking interface - and character customization down to intricate levels. The ambition really shows in trying to quell the frustrations around the Sims games.
Initial thoughts are that people who obsess over the idea of fantasy creations will find a lot to love in Paralives. The incredible building editor will let you build the home you've always dreamed of without any restriction. Get your furniture and fixtures down to the last detail - even shape your own plot of land!
While we've only been exposed to the surface of what Paralives is offering - the game looks intriguing. The lack of narrative and "raison d'etre," so to speak, aren't exactly present. But the initial impressions are that this will be a community-based sandbox game, where objectives are set by the user. With the recent successes of liberal creation games, the minimal direction won't seem to be an issue.
A Life Simulator for Life Livers
The developers have laid out their mission - and their funding seems to have people entirely on board. Paralives is aiming to provide stiff competition to its counterpart franchise 'The Sims.' Using the user-friendliness and flexibility of Cities: Skylines is a basis - the game seeks to raise as one of the most lucrative life simulators on the market.
8
First reactions dictate that it will accomplish its goals on those principles. The already strong community backing and strong ambitions will serve as a basis for a life simulator that actually feels free. Not a micro transactional hinterland you're bound to struggle through. There seem to be great things in store for Paralives - we only look forward to what comes next.
Pros:
The art style and interface accessible and in parallel to games goals
There are meticulous levels of customization for homes and characters
Houses and furniture can be designed exactly how you want them
Cons:
No plotlines, narrative, or objectives just yet
We have yet to see whether the game will live up to its potential
Download Paralives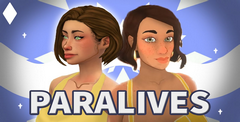 Minimal System Requirements:
OS: Windows 7
CPU: 2.3 GHz Intel i3 or comparable
RAM: 6 GB RAM
DirectX: 10
HDD: 10 GB
System Requirements:
OS: Windows 8, 10
CPU: 2.3 GHz Intel i3 or comparable
RAM: 8 GB
DirectX: 10
HDD: 10 GB
Game Reviews
Paralives is an innovative and immersive life simulation game developed by Alex Massé that offers players extensive creative control over their in-game characters and environments. With a detailed character creator and house creation system, Paralives allows players to bring their wildest imaginations to life. The game also features Steam Workshop support, enabling players to share their creations with the community and further enhance their gaming experience.
Pros:
Extensive character and house customization options
Steam Workshop integration for sharing content and expanding the game's possibilities
Beautiful graphics and attention to detail
Cons:
May require a learning curve for new players to understand the extensive customization tools
Some players may find the game lacks a sense of direction or objectives
Potential performance issues on lower-end hardware due to the high level of detail
A Creative and Customizable Life Simulation Experience
In my opinion, Paralives is a fantastic life simulation game that deserves an 8 out of 10 rating. The game offers an incredible amount of customization options, giving players the freedom to create unique characters and homes to their liking. The Steam Workshop integration allows for an ever-expanding library of content, further enhancing the overall experience.
Similar games that fans of Paralives might enjoy include The Sims series, which also features detailed character and house creation systems, and House Flipper, a game focused on renovating and decorating homes.
8
While Paralives has some drawbacks, such as a potential learning curve for new players and performance issues on lower-end hardware, its strengths lie in its extensive customization options and the beautiful, immersive world it offers. For players who enjoy life simulation games and crave the freedom to create and customize, Paralives is a must-play title that delivers a truly unique and enjoyable gaming experience.
In the gaming industry, there has always been a focus from the various developers and publishers which has emphasised the fantastic. Games which allow us to escape the monotony of normal day to day life and live a life or experience something far beyond the realms of possibility. However, in contrast to that, there has always been a gaming genre that has embraced the mundane and done so to great effect, the simulation genre. These games have always prided themselves on allowing players to live a second live without the constraints of society and Paralives is yet another game of this nature which allows players to build their dream home.
This game plays like other building sim games and life sim games like The Sims, Animal Crossing, Home Design Makeover and House Flipper. This game prides itself on the meticulous levels of detail that one can go into when designing a virtual home. However, is this a dream residence, or should this home be levelled? We find out in our review of Paralives.
Para-Living The Dream
Firstly, lets get into the gameplay for this game. We were absolutely blown away by the level of customisation that is on offer within this game. It takes the house building mechanics that you might find in The Sims, then really goes to town, raising the production value through the roof. You can create any shape or structure you want, adjust heights, change tones, swap out small assets like handles or curtain rails to others that meet your style requirements. Plus, it can all be done through an intuitive UI that makes the process of building your dream home a breeze.
The visuals are also surprisingly good too. You would expect this game to go with simply textures and assets. However, each texture is detailed, character models are cel-shaded to great effect and the assets used are true to life, making this interior design fantasy the most authentic thing we have seen for quite some time.
The one downside, at least at the time of writing. Is that there doesn't seem to be any sort of life simulation aspect to this game yet. Something that would really take this game to the next level and even help challenge the big names like The Sims for example.
The Verdict
Overall, Paralives is a surprise package that delivers one of the most complete interior design sims that we have ever laid eyes on. It allows players to tweak their aesthetic right down to the finest detail and does so with visuals and assets that are truly excellent. As we mentioned, the game needs a life simulation often to make this more of an interactive gameplay experience.
8
However, this may happen later in the development of this game. For now, we must simply admire this game for what it is and what it is, is pretty great.
Pros:
Incredibly detailed building mechanics
Great visuals
Cons:
Currently lacking a life simulation mode
Similar Games
Viewing games 1 to 8