Links 2001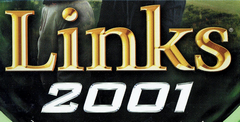 Click the "Install Game" button to initiate the file download and get compact download launcher. Locate the executable file in your local folder and begin the launcher to install your desired game.
Overview
The benchmark in the PC Golf genre has always been the Links franchise -- it has all but dominated the PC scene until just recently. Within the last year or two, Link's sales have taken a hit with the arrival of some very good golf sims. Sierra's PGA Championship Golf 2000, Activision's Jack Nicklaus, and even EA's Tiger Woods have all burst onto the scene and stolen some of Link's thunder. So, what is Links going to do about that? Well, Links hasn't been going on without improvements -- changes have marked each new version of Links since 1996. For example, there were improvements in graphics and different golf pros showed up to join Arnie. But the biggest complaint with Links 2000 was the lack of any major changes to that version of the game. So what was the explanation at Microsoft? To paraphrase: "Leave us alone, we are working on a brand new graphics engine and course designer." So with that, gamers take note: this version of Links features an all new graphics engine, a powerful course designer, new courses, new players and pros, and improved golfer animations.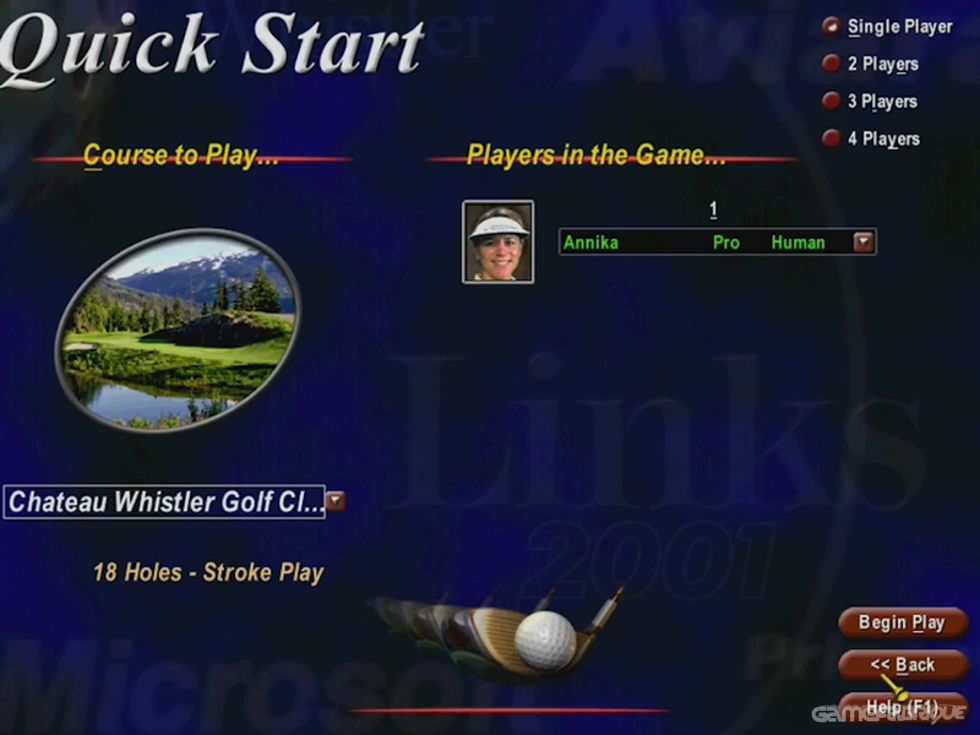 Gameplay, Controls, Interface
So how does the new graphics engine perform? It does the job very nicely, thank you. I think that it is powerful, works well in the Windows environ (not a big surprise), renders bunker lips and overhangs better than before, and has ultra-smooth animations. In short, it's deserving of its fate... it will be around for the next few generations of Links games.
The course designer is the same tool that the software engineers used to build the six courses included. This is a very powerful tool, but it also takes an investment of time to acclimate to the program. I would expect a lot of interesting courses and some regional favorites to start becoming available for download on personal sites on the net.
The game comes with some nice golf courses to play. The six included are: the Old Course at St. Andrews, two courses designed by Robert Trent Jones, Jr. (Chateau Whistler in B.C., and The Prince Course at the Princeville Resort in Kauai), The Arnold Palmer and Ed Seay codesigned Aviara in San Diego, and the Fred Couples designed Westfields Golf Club in Virginia as well as a newly created (and fictional) Mesa Roja, located in the Southwestern U.S.
The Mesa Roja course is there to show what designers can achieve with the course designer. It features extremely large cliffs, huge arches and other terrain. It shows off the graphics engine and the new levels of 3D realism achieved in representing effects of terrain depth and dimension. While this course had some interesting holes and setups, I preferred playing the other five courses in this game. It's great to have such varied landscapes and terrain that are represented in these other courses. From the alpine pines of Whistler to the whipping winds and wide open fairways at St. Andrews, these courses definitely span the globe, and offer a wide array of choices when teeing up.
The players in the game have also been altered a bit. They feature new pre-shot and post-shot reactions and comments. In theory, this is a good idea, but to pull it off they really needed to keep the players comments non-annoying and more realistic. Besides Arnold Palmer, I found the remarks by the rest of the players and pros to be too sarcastic in a wise-cracky annoying way. There were some funny remarks, but after I had heard them once or twice I didn't want to hear them again. I wanted to play with the Sergio Garcia animation because I like his smooth, classic swing, but I couldn't stand the post shot comments and delivery that come along with the swing. He sounds like he's got a mouth full of marbles. Enunciate... please. I seriously would have enjoyed his comments a lot more if he spoke in his native tongue. Anyway, I ended up using the Arnie animation just because his comments weren't as negative as the others' seemed to be.
Graphics
The strongpoint of past Links iterations have always been the quality of graphics. This game raises the high bar a least a notch or two. Improved depth results in backgrounds that have a 3D look to them. Objects that should be right in front of you look closer than the tree on the other side of the fairway. For example, when you are in a steep bunker, the lip (or bunker edge) really stands out and looks more realistic than in the past. There is a new higher resolution mode (1280 x 1024), and golfers swing animations are smooth as silk (unlike the awfully choppy swings in Tiger Woods Tour 2000).
System Requirements
Minimum: Windows 95/98, Pentium 166 MHz, 32MB RAM, 4x CD-ROM, 2 MB AGP or PCI video card with DirectDraw compatible driver, 100MB free hard disk space, DirectX 7 compatible sound card with DirectSound support.
Recommended: Pentium 450 MHz, 128MB RAM, 600MB free hard disk space, 8MB 3D graphics accelerator.
Bottom Line
This game is good, very good. Excellent playability, a large selection of game modes, five good courses included, and improved graphics over the last version. What would I like to see? More pros, better chatter from the pros and players, and I would also like to see a build-a-player mode. This would allow you to start from scratch, select a height, weight, pick out clothes, type of swing, etc. instead of picking one of the pros or other players and modifying them to try and make them like you. Links devotees may want to know that at the time of writing this review there is no converter to import old Links courses. There is supposed to be one in the works, so play the included courses until the converter is available.
Download Links 2001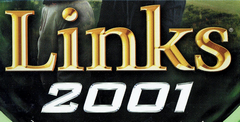 System requirements:
PC compatible
Operating systems: Windows 10/Windows 8/Windows 7/2000/Vista/WinXP