Genital Jousting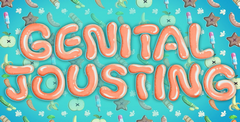 Click the "Install Game" button to initiate the file download and get compact download launcher. Locate the executable file in your local folder and begin the launcher to install your desired game.
Well, I have to say that I think Genital Jousting wins the award for the weirdest game that I have ever played. This is no small feat as I have played a ton of weird games over the years. But a game that lets you play as a sentient penis that is trying to get ready for his high school reunion is a special kind of weird… and I like it! This did start life out as a multiplayer game, but they added in a fun story to the game.
Meet John, John Is A Penis
I was shocked at just how story-driven the single-player mode in Genital Jousting was. You play as John and John is a giant floppy penis that needs to get ready for his high school reunion. John had a tough time in high school and he wants to go back to his reunion as a rock-hard penis to show all the people that bullied him that he succeeded in life.
One of the strangest things about this story is that while it is clearly played for laughs. Much of the personal anguish that John goes through in regards to his position in life is actually very relatable and even though you are playing as a giant penis, it will make you think about your own life. The whole game has a very basic presentation, but it is very fitting and the way these things flop around is hilarious.
Penetration!
The gameplay is different depending on the mode you are doing. In the story mode, you do have various objectives that you have to do before you can go to your reunion, but in many ways, this part of the game is like a walking simulator. It is multiplayer that is the real meat and potatoes of the game. Each player controls a penis, a penis that has two balls and an anus! The idea of the main multiplayer game is to penetrate the other penises to score more points!
There is also a party mode in Genital Jousting where you and up to 7 buddies take part in all kinds of games ranging from races, battles, and so on. There is another weird game mode where you and a buddy have to work together to do such tasks as bowling and eating spaghetti! This mode is a lot of fun, but I wish there were more things for you to do.
Flapping Around In The Wind
The controls of the game are rather weird and do take some getting used to. The way you flap around the stages is kind of similar to the way a physics-based character controls in other games.
The best comparison that I can think of is Octodad. It is something that takes take a moment to get to grips with, but never truly being 100 percent in control is a huge part of the fun, especially when you are playing the multiplayer. The single-player does have more game mechanics, but these are mostly just used there.
8
I know that you are probably thinking why would I want to play a game like Genital Jousting? Well, trust me when I tell you that this game is hilarious and it is actually very, very well made. The multiplayer aspect is a lot of fun, especially if you can get together locally with a few buddies, pound a few bears and then try and pound each other in the game. However, it is the single-player aspect with a story that somehow feels deeply personal that truly surprised me.
Pros:
This is a game where you play as a penis called John!
The art style is very fitting
There are plenty of mini-games to enjoy
It also has a co-op mode where you work with a friend
The story they tell here is way deeper than you would think
Cons:
It does take a while to get the controls down
At the end of the day, this game may be just too weird for some!
Download Genital Jousting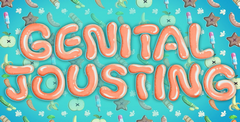 System requirements:
PC compatible
Operating systems: Windows 10/Windows 8/Windows 7/2000/Vista/WinXP
Similar Games
Viewing games 1 to 8