Slave Maker 3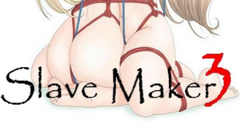 Download Slave Maker 3 if you want to have sex with XXX versions of video game icons! That is right, have sex with the likes of Princess Peach and a much more mature and sexually experienced Aeris from Final Fantasy in this awesome lewd game!
It is pretty common knowledge that Slave Maker 3 is a parody of the popular Princess Maker game. This is something that for the right person can be a very addictive and time-consuming kind of game. I must say that I can also see on the flip side of this, this being a game where people will fire it up and then ten minutes be bored to tears. So, it is a very specific kind of person I feel that is going to get the best out of this game.
Training Them Up
As the name suggests, you are a slave trainer. The story of Slave Maker 3 takes place in a land called Mioya and this is your typical fantasy type of land. You are a slave trainer and the idea is that you train up a slave so that she is just what her master wants. You let her go to her master and then you rinse and repeat to do it all again with a new hot chick.
The game is lacking in a strong and interesting over-arching narrative, but to be fair to it, I do not think that is the point. There is a great deal of text for you to read and dialogue so in that regard it does at least try.
Three Times A Lady
The best part about Slave Maker 3 for me has to be the line up of girls that the game has. This features just a ton of girls for you to train up and the best thing about this is that they are characters that you will know and love. For example, two that I had a lot of fun with were Princess Peach from the Super Mario series and Aeris from Final Fantasy VII. The lineup of characters is awesome.
Even some of the people that hire you are video game characters such as freaking Luigi. While the game is very heavily menu based. I do feel that the stuff that is here is done very well.
Hearts On Fire, Strong Desire
This is a slave training game and each girl that you will be training up has many stats that you can try and improve. These range from standard abilities such as charisma, intelligence, and so on. To practical abilities such as cooking and cleaning then we have the sexual stats such as lust, blowjobs, and so on. How you train her will decide how these stats improve.
There is combat in the game which is quite simple and the whole game is very, very grindy. I do not mind grinding in a game, but each time you get a new girl to train. The early part of the training process feels like an unbearable grind.
8
I think that Slave Maker 3 does what it does very, very well. It is a game that has had a lot of time and effort in it and the fact that it uses characters I know and love was what kept me interested in the game. These types of games are not usually for me and I was put off by the grind a little bit. Still, I did manage to have a fun time with this before I fell off it due to the grind.
Pros:
Tons of great characters
Playing as a slave trainer is kind of cool
You have a lot of things to do in this game
It gives you a lot of freedom of choice
The game looks pretty good
Cons:
The game is very grindy
It did not hold my attention for all that long
Download Slave Maker 3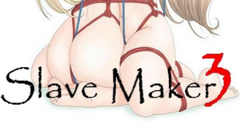 Minimal System Requirements:
OS: Windows XP, 7
CPU: Dual Core 2.0 GHz
RAM: 2 GB
VRAM: 512 MB
HDD: 7 GB
System Requirements:
OS: Windows 8, 10
CPU: Dual Core 2.0 GHz
RAM: 4 GB
VRAM: 512 MB
HDD: 7 GB
See Also
Viewing games 1 to 8