Grisaia no Meikyuu - Le Labyrinthe de la Grisaia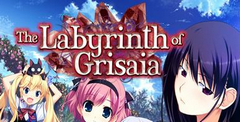 Click the "Install Game" button to initiate the free file download and get compact download launcher. Locate the executable file in your local folder and begin the launcher to install your desired game.
Visual novels come in many forms, but most have a kind of anime-inspired feel to them. This is exactly the case in Grisaia no Meikyuu - Le Labyrinthe de la Grisaia.
This folow-up to The Fruit of Grisaia is a very interesting add-on to what was already a highly enjoyable, fulfilling storyline. This takes on a whole new ending from the original game, in which protagonist Yuuji has managed to solve the problems of everyone without being romantically committed to any of the other characters.
If you have not played the original then this can be quite a confusing game to dive into. What Grisaia no Meikyuu does, though, is offer a highly enjoyable visual novel experience filled with plenty of intrigue and characters that are sure to excite. What will fans of the original make of this sequel, though?
A fulfilling sequel that builds on a gem
First things first: Grisaia no Meikyuu is absolutely confusing to any newcomer who has not played the original. This takes a whole new path compared to the first game, and essentially retcons any of the endings that might have taken place there.
What this game does is answer many of the questions that the previous game likely left you with. Grisaia no Meikyuu answers the question of how protagonist Yuji Kazami had such unique powers and skills that normal people simply do not have in their arsenal. You learn much of the protagonists past in this story, leading up to him joining the Mihama Academy.
For fans of the original, this can give you a lot of closure on things that happened in the previous that probably left you with some confusion. The story is pretty dramatic, though it does a good job of blending the more heartfelt moments with the more dramatic tragedies. The novel itself offers a highly enjoyable path to follow through, though some might some of the main plot points a bit odd from an ethical standpoint.
An enjoyable follow-up to a beloved original (7.5/10)
While Grisaia no Meikyuu would not be much use for those who did not play the original, it does a great job of filling in the blanks that the original left. It is probably not as strong a release as the original, so if you are looking to play one or the other then start there. While it lacks anything like the same gameplay style as something like the Persona games, the high school drama and romance certainly fits well.
7.5
Also, one thing to note about Grisaia no Meikyuu is that it is very short in comparison to the first game. It has nothing like the same length of continually branching storylines. It stays pretty solidly on one route, with the sub story routes pretty expendable and not really as important to the overall drama of the main plotline. Overall, though, a very enjoyable visual novel that is worth your time.
Pros
Highly enjoyable follow-up to one of the most beloved visual novels out there
Builds on the storyline of the protagonist well, filling in many blanks from the first game
Great detail in the writing, helping to create characters that you will care about
Cons
Quite short in comparison to its predecessor, though still packing plenty of content
Some of the story elements can feel quite off-putting from a moral perspective
Download Grisaia no Meikyuu - Le Labyrinthe de la Grisaia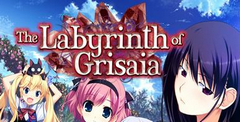 System requirements:
PC compatible
Operating systems: Windows 10/Windows 8/Windows 7/2000/Vista/WinXP
Game Reviews
Grisaiaia no Meikyuu - Le Labyrinthe de la Grisaia is an anime adventure in the form of a visual novel with sexy content and cute chicks, where each character is a bit mentally ill.
Mihama Private Academy
In the Japanese town of Mishimazaki there is a boarding school called Mihama Private Academy. This educational institution was founded about a year ago. Mihama Academy is surrounded by a high wall that protects it from the outside world. There were only five students at the school, all of them girls.
The story begins when the main character, a boy named Yuji Kazami, enrolls here to major in translation. As the only male student, Yuji spends his days in a lively yet peaceful environment, surrounded by a group of female students. This quiet school seems cut off from chaos and society. Despite the seemingly cheerful daily life, all of the students have a dark past. You could put it this way: a dark past that keeps you from living in the present moment.
Characters
Let me describe for you the primary characters in the story of Grisaia no Meikyuu - Le Labyrinthe de la Grisaia:
Yuji. Yuji lost his older sister in an accident when he was very young, his parents also died long ago - he was taken in by German foster parents. He is not much of a talker and has a very quiet nature, but his unconventional behavior and actions are conspicuous and make him seem like a "mystery man.
Sakaki Yumiko. Her father is the CEO of a powerful group of companies in the Kanto region, and she can be described as a young lady. She has a neat face with long black hair, and her gestures and language give the impression of good breeding, but she seems to have an aversion to other people and often acts alone
Suo Amane. A girl with long, slender legs and large, voluminous breasts. She gives the impression of being a firm person and wants to take care of the protagonist in every way possible, but she often plays childish pranks and behaves in a way that could be considered natural. Her family owns a long-established restaurant in Tokyo, so she is confident in her culinary abilities and generally does well at home
Michiru Matsushima. A girl with blonde ponytails and an innocent demeanor. She is terrible at learning, but her cheerful and energetic personality is her forte, and she also sets the mood well
Akina Irisu. A naive and free-spirited girl... So elusive that the description "innocent and free-spirited girl" is not an unambiguous representation
Sachi Komine. Because of the way she dresses, people who meet her for the first time always think she is a servant. In reality, however, she is a student. She is serious, calm and composed.
The scope of the game is also pretty good: 40-50 hours of play time (maybe 70-80 if you include the maze and paradise).
8
Grisaia no Meikyuu - Le Labyrinthe de la Grisaia is a Japanese novel, a visual novel with deep psychology. The game is large, ranging from forty to eighty hours in length. Recommended for fans of The Fruit of Grisaia and Doki Doki Literature Club!.
See Also
Viewing games 1 to 8