Hell: A Cyberpunk Adventure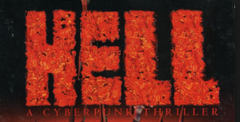 a game by
Take-Two Interactive Software
Genre:
Adventure/RPG
Platform:

3DO

Editor Rating:

8

/

10

, based on

2

reviews
User Rating:

8.0

/

10

-

1

vote
Rate this game:
People say:
8.5
Hell may have a poor interface, but the story and graphics will draw you in. The interface is poor because certain events require your cursor to be on the exact pixel. It's easy to miss something important. The access time is surprisingly short. A few puzzles are so hard that they're almost impossible without a hint book. The plot is by far the coolest I've seen in a while, and any RPG player will enjoy it. The adult theme is also a welcome sight. Hell is a pretty good game.
7.5
Hell is one of those professionally produced games with some big Hollywood talent to back it up. Couple that with the "Age 17" rating on the box, and people will flock to this one. But don't expect perfection. Although everyone here seemed to gripe about the clumsy interface, which could have used more refinement, it doesn't take away from the game. There is a lot to be impressed with in the game, and you might find yourself really enjoying it.
6.0
Although this is a direct translation of the popular PC title, I didn't think Hell was all that great. The cyberpunk theme is really cool, as is the complex, futuristic story line and adventure. I just didn't care much for how you had to play the game. The interface is clumsy, and you have to be very precise when placing your cursor on an onscreen object. It's very frustrating, especially when it's made increasingly difficult with the oversensitive joypad. The animation is also choppy at times.
6.5
Well, it isn't as bad as its name or as good as heaven. Hell is a decent game with an excellent story line. What brings it down is the painstaking interface that makes it way too tough to pick up on clues with the cursor. Also, the graphics get a bit choppy at times, but it isn't too severe. It is a challenging game and at times perhaps too tough to be realistic. This game will entertain cyberpunk fans or those who liked the computer version. Still, the cool story couldn't make up for the play.
Download Hell: A Cyberpunk Adventure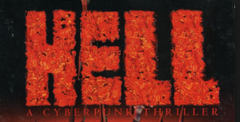 System requirements:
PC compatible
Operating systems: Windows 10/Windows 8/Windows 7/2000/Vista/WinXP
Game Reviews
The year is 2094 in this murky graphic adventure; the devil's minions walk the streets, and the law depends on whom you work for. Sounds bad, but don't abandon all hope things are about to change in Hell.
Shades of Hades
In this game ported over from the PC, you play as either Gideon Eshanti or his partner and love interest, Rachel Braque, two cyberspace police officers struggling against a supernatural evil that has corrupted the government. Your investigation leads you to the netherworld to deal with the demonic Mr. Beautiful (played by Dennis Hopper), along with gang scum, tekkies, resistance leaders, and the greatest evil of all politicians.
The game is as much exploration as it is investigation, with some Hellish puzzles to solve. You'll also be sidelined at times, watching your heroes interact with the many other characters. The point-and-dick interface makes it easy to move your heroes around each area, and a pulldown menu allows you to use and examine items, check your inventory, and travel through the city.
Hell's Bells
Hell is home to next-generation rendered 3D graphics. The backgrounds and all the characters were rendered on Silicon Graphics workstations, giving the game a great 3D feel. Each character sports a unique look. The ominous imagery and use of color make this game as fascinating to watch as it is to play.
While the graphics are top notch, they're outdone by the sound. The amount of dialogue is amazing, and the fantastic voiceovers aren't limited to the starring cast, which includes Grace Jones and supermodel Stephanie Seymour,
The high-quality piano-influenced music carries a cyber-gothic tone, not unlike something scored by Nine Inch Nails. Complementing the voice and music are lim ited yet excellent sound effects like laser gunfire.
Hopper Talk
Hell isn't for children. Dennis Hopper delivers some lines loaded with adult content. Fans of Rise of the Dragon are certain to enjoy it. If you have the patience for graphic ad ventures like this, you're in for one Hell of a ride.
ProTips:
Before confronting Sanguinarius, take all the weapons from this supply closet.
Once inside the garage, examine the mechanic's lunch-box and get the name off the box. Then go back to the garage entrance and have the dispatcher page her. Return to the garage's interior and you'll be able to plant the homing device on the car.
Look closely at the sign on the door to the Interface bar. The first letter of each word spells out this highly original password.
Capt. Jersey sheds some light on your situation. Pay close attention to his information about Mr. Beautiful and the Transgressors.
Choose the Replay function to re-examine dialogue. You'll be able to pick up the names of places and people you may have missed.