The Mask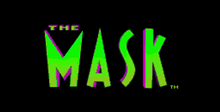 Click the "Install Game" button to initiate the free file download and get compact download launcher. Locate the executable file in your local folder and begin the launcher to install your desired game.
More than a year after Jim Carrey's marvelous Mask made its matic debut, T∙HQ has finally brought the strange story to the SNES. While the game seems late, Carrey's wild character is still fresh, and solid gameplay makes this lightweight adventure a fun trip.
That Masked Man
In the game, as in the movie, mild-mannered loser Stanley Ipkiss becomes a cocky cartoon-style hero when he dons a magical mask. You guide green-faced Ipkiss on a standard search for cash, power- ups, and his girl. The seven-level journey leads you from Stanley's apartment through the sewers and eventually into the Coco Bongo Club.
ProTip: When you first warp to the apartment roof, leap to the right and find another warp that leads to an extra life.
Constant reminders of the film -- the old lady landlord in the first level and Milo the masked dog in the second -- keep the game's basic run-n-jump gameplay and easy-to-beat enemies lively.
Likewise, entertaining controls deliver some of the movie's magic; giant boxing gloves, armloads of guns, and Stanley's "wahooohhgahh" horn are all available to blow away bad guys. And this game's Ipkiss gets around -- bouncing extra high, running super fast, and "sneak" walking. On silver screen and game screen, Ipkiss is a cool guy with cool moves.
Use your mallet to bust through hairline cracks in the floors and reveal new areas.
Carreyin' On
Except for the animations of Ipkiss himself, the graphics lack snap. Bland backgrounds and enemies are closer to '93 standards than '95 potential. Stanley's details almost compensate: His strut, "sneak," and Cuban Pete dance are perfect, adding the visual verve that Mask fans demand.
The movie music suits the gameplay, and the predictable boings and whistles are adequate. Unfortunately, there are almost no vocals -- just quick snippets of "Hey!" and "Smokin'". More prominent Ipkiss-isms would've made this Mask more memorable.
When Stanley is obscured by walls in level two, jump randomly to snag unseen power-ups, cash, and a hidden warp vent
Take the offensive against thugs -- punch 'em quickly and repeatedly, and they won't even score a hit
Smokin'!
Okay, so it isn't a landmark action/adventure game the way Earthworm Jim was. Nor is it brain surgery -- you'll beat this game in a weekend. But at least it'll be a fun weekend.
Download The Mask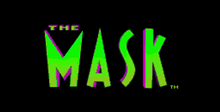 System requirements:
PC compatible
Operating systems: Windows 10/Windows 8/Windows 7/2000/Vista/WinXP
Pentium II (or equivalent) 266MHz (500MHz recommended), RAM: 64MB (128MB recommended), DirectX v8.0a or later must be installed
Game Reviews
Genre: action
Players: 1
Publisher: THQ
Developer: Black Pearl
Available: 1995
You saw the movie and suffered through the merchandising but now, as a kind of reward, you actually get to play a good video game. That's right, we know you're wary of movie-licensed titles and well you should be, but this one actually manages to break some important boundaries. Perhaps the most important step taken with The Mask is that it's not a traditional side-scrolling action game. That's not to say that there aren't some traditional elements here, but for the most part this one is pretty original.
The success of The Mask begins with the excellent graphics, sound and gameplay. The strength of these elements put this game in a select group even if there is nothing exceptional about the game's concept. From there, however, the developers have actually managed to add a certain flare with features such as a variety of special attacks, genuinely funny characters and plenty of hidden stuff to stumble acro... I mean, uncover with your vast intellect.
The point is, this game isn't the messiah of video games, but it may be just enough fun to keep yourself entertained until the next Jerry Lewis, uh, I mean Jim Carrey, movie.
The Mask is a Super NES side-scrolling action game based on the movie with the same name. The player controls poor guy Stanley Ipkiss who finds a mysterious mask and is given mysterious powers from it. Stanley (aka The Mask) has some funny weapons, like the Guns, the Horn, the Hammer and the ability to transform into a big Tornado.
SNES/Super Nintendo/Super Famicom Screenshots
Other Games by Black Pearl Software