NekoMiko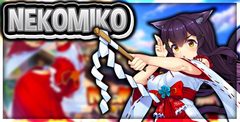 Sometimes I like a lewd game to be cuter than outright sexy and that is what we have with NekoMiko. As the name suggests, catgirls are the name of the game here and the two that are here are two of the cutest cat girls I have ever had the pleasure to come across in a visual novel game.
Down On My Luck
The character that is the protagonist in NekoMiko is having a real run of bad luck. He has lost his job and his girlfriend has kicked him to the curb (if she ever existed in the first place) and he is feeling super low and down on himself. One day while out on a stroll he coms across a shrine. He decides to pray and see if he can get rid of his bad luck and that is when Ayame and Kaede appear, two adorable catgirls that are going to make his bad luck go away.
Well, it does not exactly work as this dude has way too much bad luck. So instead they decide to hang around with him for the long haul to help him turn his luck around. The story is cute and it does have three different endings which you can probably guess what they are. The translation can be off in places so there were times I was taken out of the game.
Super Kawaii Happy Time!
I have played some adorable games in my time, but the art style of NekoMiko does take things to a whole new level. I am not just talking about how cute Ayame and Kaede are either…. With their massive bouncing boobs! The whole game has an immense amount of visual polish to it. You can clearly tell that a lot of work, time and love went into bringing this game to life.
It is not just the character models, but the backgrounds as well. Every part of this story has been brought to life with some truly amazing artwork that helps you get invested in this story, even if the text can sometimes take you out of it.
Do What You Gotta Do
As you would expect with a visual novel game, the actual gameplay is kept to a minimum. You do have different choices that you can make as you progress through the story so you can play through it a few times to try and get all three of the endings that the game has to offer. You are probably looking at around 3 hours to get through a story in the game.
I think that there is a lot of charm here in NekoMiko. While I played through the standard version of the game, from what I understand there is a mature patch out there somewhere. I get this may be your thing, but I do actually think that may take away from the cuteness that the game has. It is a decent enough game, but the sometimes-rough translation did take me out of what was going on.
Final Score: 7.5/10
Pros:
I love the art style of this game
The two catgirls could not be any cuter!
The story is weird, but kind of makes you think in places
It only takes a few hours to beat it
You have three endings you can get
Cons:
The translation can be rough in some places
Do their boobs really need to bounce like basketballs?
Download NekoMiko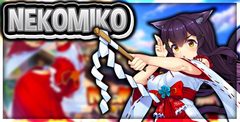 System requirements:
PC compatible
Operating systems: Windows 10/Windows 8/Windows 7/2000/Vista/WinXP
Similar Games
Viewing games 1 to 8