Space Paws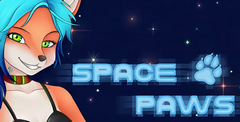 Click the "Install Game" button to initiate the free file download and get compact download launcher. Locate the executable file in your local folder and begin the launcher to install your desired game.
Space exploration has been a long-time favorite of the audience, from Star Trek to Mass Effect, it has always inspired creators to build their own universes and fantasies. And of course, it has always been a favorite setting for the Adult content. After all, what's more, exciting than traveling across the universe, exploring places nobody has ever seen. It's like being a pirate, but in a much bigger sea, an infinite one at that. That's where Space Paws comes in, but we'll talk more about it in a moment now, so buckle up and be ready.
An important mission
Space Paws takes us on a very important mission to find a different planet where humans can expand and make their way into the galaxy. For this, they'll have to make settlements in different planets and that's where your mission begins. But there is another thing to consider, these planets you'll be arriving are not inhabited, and there are intelligent life forms there, and they have a lot of great other qualities while at that.
A different type of negotiation
Arriving at these planets, you'll find that they are inhabited mostly by these sexy furry-like women. Of course, you don't want to have a war or an invasion on these planets, so you'll have to find a way of convincing these inhabitants to allow humanity to grow on the planet. Convincing them may seem hard at first, but as you interact more with them, you'll find out that they are actually warm-hearted, at least most of them are.
Love can bloom even on a strange planet
As you get closer and closer to the natives of these planets, you'll get the chance to start relationships with them, and not only romantic ones but very physical relationships too. Luckily they are much more human-like than you might think though, so there's not much problem with the science behind all this.
Another H visual novel?
Space Paws may seem like just another adult visual novel at first, but it's much more than that. There's an element of point-and-click adventure that will have you exploring, solving puzzles, and researching more about the planet. The visual novel feel is strong too, of course, but there are plenty of gameplay elements that make this one a more complete title than many other games in this genre.
Space Paws is a fun title, one a very original one among the genre of adult games. It features a lot of gameplay, great story and character development, many cool interactions, and varied options that will modify the story development. One of the interesting things about this game, and one that's sadly not so common around these games, is that this title is actually completed. A ton of adult games are abandoned midway through the development, or they just keep going on forever, but this one is done and finished, and that's a great thing.
7
Interactions among the characters feel natural, and the plot is well-developed. And the adult scenes are fully animated, and they are actually a lot, which is great. Many other games actually feature frozen images of the H scenes, but they took the trouble to actually animate this one, and that really does give the game some extra points.
Pros
Appeals to varied fantasies
Original game
Completed development a while ago
Fully animated H scenes
Well-written
Nice gameplay
Cons
Average art quality
Ok music
Not-so-good UI
Download Space Paws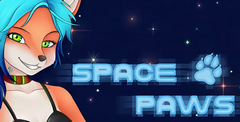 System requirements:
PC compatible
Operating systems: Windows 10/Windows 8/Windows 7/2000/Vista/WinXP
Game Reviews
Space Paws is a mix of a gripping visual story, an exciting dating simulator, and an interesting point'n'click about the Furry universe, featuring riddles and bed scenes. The player flies through space in search of a habitable planet and meets attractive anthropomorphic creatures from the Furry civilizations.
Who are the Furrys?
Furries are cartoonish and cute creatures who can think and talk. They look like animals, but with some human physical traits. Cute girls are popular all over the world - thousands of fans create art and publish them on forums, game developers create flash masterpieces.
Gameplay
The player looks at static images and understands the story from the interaction of the characters on the screen. There is always a map of places to go at hand. The user can safely navigate through the open areas. Sometimes given the opportunity to solve puzzles and riddles, using the mouse:
Finding the right item in a pile of junk is a common task
To continue a series of numbers
Choose the answer lines
The main character, controlled by the player, is endowed with four characteristics:
Knowledge. Collect data about planets for your superiors
Charm. If you interact a lot with the opposite sex you get points, which then help you effortlessly please the girls
Energy. A replenishable resource that's replenished while you sleep on the ship
Power
Plot
The character is a man from Earth who has been chosen for a crucial space expedition. There are big problems on his home planet: due to the most powerful industry, nature has been depleted. A new habitat must be found. Huge corporations are gathering money and building spaceships.
The protagonist will visit four planets inhabited by Furri. He will be met by cats, dogs, foxes and ... (you'll have to find out). Each planet is stylized for a specific era: the Middle Ages, the sci-fi future, and ancient Egypt.
8
The player will make friends with cute creatures and plant earthly plants on their planets. Sexual and romantic scenes await the user. A good flash game about cartoon animals endowed with intelligence. Recommended to fans of Lust Doll Plus and Into the Wild.
See Also
Viewing games 1 to 8