Street Hockey '95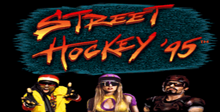 Click the "Install Game" button to initiate the free file download and get compact download launcher. Locate the executable file in your local folder and begin the launcher to install your desired game.
This is one sport that's taking North America by storm. It's a fast-action brand of hockey that gives die-hard hockey fans a chance to see a version of their favorite sport in the summer.
The game is played on cement or a plastic surface called a "Sport Court" and there are no blue lines. The game is played with a specifically designed speed puck.
Each team has five players per side. High-sticking and fighting aren't a part of this game. On a pass, the puck must precede the players over the center line. It the puck is carried over the center line, all players are on-side. If the game is tied at the end of regulation,
(four five-minute or four 12-minute periods), the game will be decided by a shootout.
Five players from each team are chosen to try to score, using a penalty shot format. If the game is still tied, the second round is Sudden Death (next goal wins). The game is officially sanctioned by Roller Hockey International, the governing body of roller hockey and the world's only professional roller hockey league.
You can choose to play in Exhibition, Regular Season or Playoff Mode. In the Exhibition Mode, you can develop your skills by playing one game at a time against another player or the computer. You can also choose to play in a Two-player Mode.
In the Regular Season, if you qualify in a 22-game regular season to compete for the championship you'll go to the Playoffs. The com puter will choose your oppo nent from the 24 teams in the league's four different divisions. Before and after each game, a League Standing Screen appears with team updates that include team wins, losses and total points.
In the Playoffs, a best-of-three game format is played out and the winner moves on to the next round.
Before and after each game, a playoff free screen will appear to update you on your team's progress toward the championship.
You not only have to be good to make it to the Roller Hockey International World Championship, but you have to stay out of the penalty box. The referees don't put up with any monkey business. This game is no NHL Hockey, but it's fun to play.
The Iceman and I have been going at it and he's pretty good. But he's still no match for my patented, Canadian slap-shot. If you enjoy hockey, check out this game. Don't check it out too hard, or the refs will put you in the penalty box!
MANUFACTURER - ASC
NUMBER OF PLAYERS - 1 or 2
Download Street Hockey '95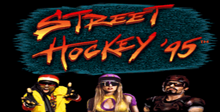 System requirements:
PC compatible
Operating systems: Windows 10/Windows 8/Windows 7/2000/Vista/WinXP
Pentium II (or equivalent) 266MHz (500MHz recommended), RAM: 64MB (128MB recommended), DirectX v8.0a or later must be installed
Game Reviews
RHI Roller Hockey '95 blades into the crowded hockey arena with a refreshing blast of speedy action. Even though it looks just like ice hockey, RHl's raucous gameplay and unique rules will rouse your interest in hockey's summer cousin.
All-Star Action
Hockey pros will need a brief moment to master the nuances of roller hockey, a sport that's recently organized into a league with a summer season. Five-player teams (including the goalie) strap on in-line roller skates and play four-period games on cement rinks. Although there are no blue lines, offsides is called if a player precedes the puck over the center line.
ProTips:
Position a defenseman between a shot and the goalie so he blocks the shot with his body.
As soon as your offense controls the puck, use the speed burst to create breakaways.
Quickly pass out of your zone. The puck must precede the player over the center line,
These minor differences aside, standard hockey features provide a firm base for the action. Pick from all 24 Roller Hockey International (RHI) league teams and two all-star teams with real team and player names, then chase the puck down in Exhibition, Playoff, Season, and Shootout modes.
Defense revolves around checking, so get in there with those hip and body checks.
The strong lineup of offensive moves includes one-timers, fake shots, and drop passes. Strategy- oriented players, however, will find that the dim-witted CPU players don't provide enough tactical support for a thinking game.
The game's blazing pace, however, makes for intense action. Players and rebounding pucks move with wicked speed, and the checking-based defense adds rough-n-tumble excitement.
Visual Assist
Graphically, you can't make out any in-line skates, and the arena looks just like an ice rink -- it's puzzling that no gameplay details remind you that you're playing roller hockey. The well-drawn sprites, though tiny, move with realistic grace.
Unfortunately, the perspective scrolls too tightly with the action. When a rebound rockets off the goalie's pads, the perspective jarringly rockets after it, momentarily disorienting you. With time, though, the jerkiness becomes less distracting.
Breakaway!
The responsive controls let you wade through the competition, though the awkward double-button taps for fake shots strand you at times. The speed burst and wrist shot are located on separate buttons; this innovative placement enables you to sprint like a madman on breakaways.
When you're one-on-one against the goalie, quickly fake to his glove side, then fire off a high shot on his stick side.
A clear-sounding, lively announcer paces the action, and the decent crowd and puck noises overcome the muffled grunts. With such fast-paced gameplay and generally strong features, hockey vets will relish RHI's change of pace.
The makers of Jammit have a new outdoor challenge. With its strong graphics and even stronger attitude, Street Hockey '95 might have you trading in your puck and ice skates so you can kick some asphalt.
Takin'It to the Street
Like Jammit, Street Hockey is a three-on-three option-filled game. You pick your team from nine street warriors and play five games with imaginative names like Hot Puck, Crammit, and Fat Point. You can choose to play in the Practice mode or enter a grueling tournament. True to the street spirit, games are played in six urban locations, including an empty swimming pool and an abandoned construction site.
Unfortunately, all these options don't translate into terrific hockey, mainly because of the below-average controls. Jerky player movements and slow reactions to the button presses can be frustrating and might cause you to spend too much time on defense.
Talkin' Trash
Street Hockey's sound is a split decision. Although the music and most of the sound effects are rather poor, the taunting and trash talking that made Jammit famous are just as entertaining here.
ProTip:
A good scoring tactic is to wait behind the opposing goal when your teammate steals the puck. Have him pass to the comer and try a wraparound.
In the empty pool, don't go all the way up the side, or you'll lose the puck.
In some games, certain shots are worth more points.
Large sprites and pucks are a plus in hockey titles, and SH has 'em. Detailed backgrounds show off the clever inner-city stadiums where the real action takes place.
Although games like NHL '95 provide more realistic hockey, Street Hockey shows off what really goes down every day on the streets. SH'95 is a decent walk on hockey's wild side.
SNES/Super Nintendo/Super Famicom Screenshots
Other Games by GTE Interactive Media