Tsujidou-san no Jun'ai Road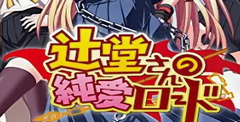 Click the "Install Game" button to initiate the file download and get compact download launcher. Locate the executable file in your local folder and begin the launcher to install your desired game.
Today we are checking out an eroge called Tsujidou-san no Jun'ai Road which is brought to us by Minato Soft who is well known for making fun visual novel style games. This is one I have been meaning to get to for a while now as I have heard nothing, but great things about it. The main thing you will probably hear about this game is how long it is and I can testify to that! This is (if you were to do all the routes) is probably the longest visual novel game that I have ever played.
The Allure Of A Kitten
The story in Tsujidou-san no Jun'ai Road is very much a slice of life kind of story. Do not get me wrong, there is an over connecting thing going on here, but it is really the connections and relationships between the characters that drive things along here. The main character is a guy called Hiroshi and one day he spots a girl he knows called, Ai helping out this poor little stray kitten.
This is unusual as she is what the game refers to as a delinquent. Hiroshi strikes up a conversation with her and they start to get close. This is complicated by two other "delinquents" who are Ai's rivals getting involved. One being a chick called Rena who is in charge of a large gang and the other being Maki who is a bit of a loner and also a badass. The story is very well written and it is sure to make you laugh a great deal.
Why Are You Looking At Me Like That?
Tsujidou-san no Jun'ai Road is a fantastic looking game. Seriously, I could nearly give this 10/10 on the art alone. Each character has her own style and they manage to convey their personalities very, very well with each shot they have of them. The only downside is the male characters can sometimes have very strange faces. It is like one artist did everything, stopped and then someone else did the face. It is not bad, but very noticeable.
The Voice Of An Angel
I was very happy to see that this game was also fully voice acted and each performance is great and really does bring the characters to life. As well as having good voice acting, music is also a major player in making this such a great game. There is a very good mix of music here, it can be slower and more dramatic when it needs to be, but there are also upbeat sections too.
100 And Counting
I heard that if you wanted to see everything that Tsujidou-san no Jun'ai Road has to offer, you are looking at over 100 hours of gameplay! I know that sounds like a very, very daunting process. However, I only played for Ai's and Rena's route and I still feel like I had a great experience. Ai's really does feel like the natural progression of the story.
The gameplay comes from reading the story, learning the characters, and then making the right educated decisions based on what is happening. If you have played a visual novel game before, you will be ok here.
9
I can see why so many people love this game. Even though I did not go back and do all the routes, I am still very happy with the experience that I had with Tsujidou-san no Jun'ai Road. It is a fun, charming, and very addictive story that features awesome characters and a fantastic art style that brings them to life very, very well.
Pros:
It has a very fun story
There were no characters that I did not like
The art is very well done
The voice acting cast does an amazing job at bringing these characters to life
This is going to keep you busy for a very long time
Cons:
The length may be an issue for some
Some of the male characters have strange-looking faces
Download Tsujidou-san no Jun'ai Road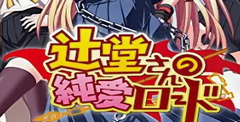 System requirements:
PC compatible
Operating systems: Windows 10/Windows 8/Windows 7/2000/Vista/WinXP
Similar Games
Viewing games 1 to 8