Waifu Sex Simulator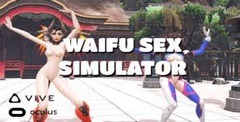 Click the "Install Game" button to initiate the file download and get compact download launcher. Locate the executable file in your local folder and begin the launcher to install your desired game.
a game by
Lewd Fraggy
Platform:
PC
Editor Rating:

6.8

/

10

, based on

2

reviews
User Rating:

7.3

/

10

-

15

votes
Rate this game:
See also:
Eroge Download, Dating Simulator
Sim games are very popular, and VR has helped in this a lot lately. Even though VR is not perfect nor accessible for most people yet, it's still revolutionizing the game industry. And just like in any other media, Porn doesn't stay behind. Waifu Sex Simulator is one of those games developed to try to take the eroge game experience to the next level.
But since there are new eroge games every week, has Waifu Sex Simulator what it takes o stay relevant? Let's talk about that for a moment here.
About the game
Waifu Sex Simulator is a VR game that does exactly what the name implies. The game allows you to have virtual reality sex with countless anime and video game characters. Developed in the already existing MocuMocuDance software it's easy to customize, and if you take your time, it can be a huge title.
There are plenty of animations that adapt to the different characters, and the interaction is varied and fluid. If you mess with the game a little you can even import character models from other games. It's a sandbox experience with over 300 preloaded animations you can activate.
One of the best VR experiences?
It's not that hard to believe that there are plenty of VR titles that involve sex. From just being sexy to plain and direct sex simulators. One of the most popular is 3DXChat, one of the first and most developed sex simulators in virtual reality. You can customize a character and have virtual sex with other players in the in-game world.
Now, Waifu Sex Simulator is different in many aspects. While they are both sex simulators for virtual reality, one they are completely different experiences. In Waifu Sex Simulator you always interact with an AI, and there's no multiplayer, no online mode. In 3DXChat, as the name implies, it's an online game where you have sex with other players.
It may not seem like much since they are both the same game style, but the online aspect can be a downer for many players. Some don't really want to interact with other people and just enjoy sex with their waifu.
Review
While the development of this title is not complete, it's full of potential. What's already available works great and looks nice. There's no need for a storyline here, and the game is better off without it.
This game is an excellent example of a sex simulation sandbox for your VR gear. You can customize it a lot and make it more enjoyable to you. There are many models you can download to include in the game. Or if you do a little research you can even import character models from practically any game into this title. It's like a Source Filmmaker for VR Sex.
Graphics and visuals: The graphics in this game are nice, they look very much like an anime. And since it's trying to look like an anime, it's a very forgiving art style. You don't need ridiculous polygon counts to make it look good. The animations could improve a little but it's nice already.

Gameplay: This game is all about the gameplay, and it's pretty good. While the development continues, the use of the VR is nicely implemented. If your VR gear allows it you can even use your hands to "touch" the characters, and make it more realistic. It's simple to play, and that's just the best when you simply wanna have a good time with your waifu.

Sound: There isn't much to say about the sound in this game. Sure, there's background music and it's alright. But that's about it here.
Download Waifu Sex Simulator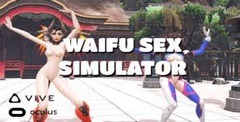 System requirements:
PC compatible
Operating systems: Windows 10/Windows 8/Windows 7/2000/Vista/WinXP
Game Reviews
The unapologetically titled Waifu Sex Simulator lets players immerse themselves into interactive scenes with their favorite lewd anime characters. This VR game embodies the next level of player interaction and opens up a whole new level of immersion for this kind of game, even though the concept might be a bit barebones at the moment.
If you're looking for a game that goes straight to the point, then Waifu Sex Simulator might be for you. However, the lack of interesting content and true player interaction turns this game into a gallery of sorts, making it hard to even classify this as a game.
A waifu collection
Independently developed by Lewd Fraggy, Waifu Sex Simulator distances itself from the traditional hentai games, like the ones made by Illusion. In those games, much of the entertainment comes from creating your dream girl, as you do in Koikatsu Party. On the other hand, Waifu Sex Simulator will have you choose from an enormous roster of preexisting anime characters to participate in custom scenes.
With over a thousand characters to choose from, Waifu Sex Simulator is an anime fan's dream come true. And why stop there? There are even characters from other game franchises in the roster. You want to be intimate with Elizabeth from Bioshock Infinite, or with Ayane from Ninja Gaiden? You can do that here.
Interactivity redefined
Thanks to the VR capabilities of Waifu Sex Simulator, players can truly get immersed in their fantasies. Using the motion controls of the HTC Vive or the Oculus Rift, players can use their real hands to interact with the in-game characters.
However, it's worth noting that the characters aren't exactly aiming for realism. Since the waifus come from a variety of media franchises, some of them have clashing visual styles. One second you're looking at an anime character like Hatsune Miku, and the next you're face to face with a realistic Mai Shiranui.
It's also worth mentioning that some models are better-looking than others. While most of them are very well detailed, some characters have limited facial expressions. In a VR game like this one, being face to face with a mannequin-like character can be jarring, breaking any possible immersion.
Poses and poses
A hentai game like Waifu Sex Simulator would be nothing if it didn't include a healthy variety of poses to experiment with. Thankfully, Lewd Fraggy doesn't disappoint here. Players will be able to choose from over 300 different and custom-made poses to interact with.
While the bulk of these poses are meant to be compatible with as many models as possible, there are some instances of clipping here and there. This is to be expected, however, as this is something that happens in most games like this.
What's disappointing is just how little interactivity there is with these poses. While there's a good variety of poses (some of them cater to some very specific tastes,) most of them rely on the player simply being a spectator in the scene. Despite the immersion that comes with VR, there's an unshakable feeling that this game is more like a tech demo than it is a real hentai game.
5
While some of the animations look good, and that there's an undeniable appeal in the game's roster, Waifu Sex Simulator feels more like a demo than a complete experience. It is still being developed and adding new content, but as it is, it works more as a novelty than nothing else.
Pros:
Tons of characters to choose from
Nice selection of poses
Good VR integration
Cons:
Some character models look better than others
Very little interaction
Similar Games
Viewing games 1 to 8