WinBack: Covert Operations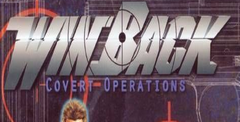 Click the "Install Game" button to initiate the free file download and get compact download launcher. Locate the executable file in your local folder and begin the launcher to install your desired game.
There's nothing quite like running around, hiding behind a crate and then jumping out '70s cop-show style to take down an enemy with a few shots from your pistol. Winback is filled to the rim with strangely satisfying stuff like this. To give you a little history lesson, Winback was supposed to come out well over a year ago. Right before its original release, Nintendo took interest and suggested it be taken back to the drawing board for some tweaks. They saw something special in Omega Force's game, and now that we've had some in-depth playing time we feel the same way. It will provide a great deal of fun--both in the action movie-esque one-player mode, and to a lesser extent in the variety of multiplayer modes. You control Jean-Luc who must stop a group of terrorists from using a satellite to blow up stuff around the world. And although the story line is a bit shaky in parts, it's very entertaining. As you make your way through the game's 30 or so stages, there's a lot of leaning against walls waiting for the right opportunity to jump out and start shooting. This sort of thing just never gets old. Characters are animated flawlessly, levels are designed extremely well (although the multiplayer ones tend to be on the small side) and the graphics are very pleasing to the eye. The game is filled with tons of action in the form of flying bullets and lots of tumbling and scripted cinematics which explain the story through cheesy but informative dialogue (character development in these parts is often cut short by an untimely shooting of one of your team members though). There's also a bunch of simple but effective puzzles to keep things interesting. Sure, Winback has some problems--like its flaky camera, fairly easy bosses, lack of weapon types, and Al that can be a little slow at times--but overall it's put together well, and definitely one to purchase.
People say:
8
I'm a Winback fan from way back, so I feel privileged to have seen how far the game has come. Winback is really something. I love sneaking around, leaning against stuff until the time is right and then jumping out to shoot a terrorist in the gut. But that's not all the graphically impressive Winback offers. Levels are designed well and offer a lot of cool gameplay elements. Checkpoints are placed in such a way that makes the game challenging but not tedious. The game throws a fair number of enemies at you, many of which are pretty smart (though not geniuses). The game is also fairly non-linear in some parts, offering multiple paths in a given situation. And lastly, Winback has plenty to offer by way of multiplayer modes--most of which are quite enjoyable (though more weapons would've been appreciated). But of course Winback isn't perfect. First off, the game's camera needs some work. Keeping an eye on your surroundings is key since you don't want to be seen by the enemy. All too often it gets screwed up for a second or two, which leaves you wide open to attacks. There's also puzzle bits that are prefaced by a quick flyby of the scene. This sounds cool but in doing this, the solution to the puzzle is usually revealed. This is bad. Nonetheless, Winback is very entertaining and that's what counts.
8
Winback is much more impressive than I thought it'd be. The graphics are really detailed, and the levels are interesting to work your way through. I'm not a big fan of the characters or the story line, but neither of these things really keep the game from being enjoyable. I agree with Shawn on the camera though--it really does need some work. I had the most fun with the multiplayer stuff, especially the Deathmatch and the Team Battle modes.
8
Winback is a little Metal Gear and a lot of Syphon Filter. Sneaking around and picking off baddies is a lot of fun. The controls take a little getting used to but they definitely work, especially for this type of game. If you like popping off a shot, ducking back behind the wall, reloading, then creeping around and squeezing off another couple shots, this game is definitely for you. The multiplayer modes are hit or miss with me but I really like deathmatch modes.
8
It's weird, but Winback has almost as much in common with something like Virtua Cop as it does with Syphon Filter. Beneath the stealthy adventure facade, this is actually quite a simple shooter with lots of overly scripted sequences, but it's all carried off with enough panache to make it very atmospheric. The sneaking around and jumping out around corners will make you feel like Mel Gibson...but the story itself is a bit on the lame side.
Download WinBack: Covert Operations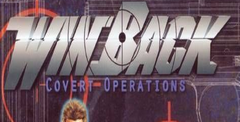 System requirements:
PC compatible
Operating systems: Windows 10/Windows 8/Windows 7/2000/Vista/WinXP
Game Reviews
N64 OWNERS looking to put some Metal Gear in their gaming diet will find Winback to be just what the doctor ordered. You play as a member of a commando group sent to stop a band of terrorists who are threatening the world with nuclear annihilation. Instead of requiring you to use runn-gun trigger-finger reflexes. Winback makes you choose your targets carefully and wait for the right moment to strike: if you try and take all your enemies head-on. you won't last long. Why the deliberate pace? The enemy A.I. is amazing: Your foes duck for cover, call for reinforcements, and even get tagged by their own friendly fire.
To aid you during your mission are several collectible weapons, including a shotgun, machine gun. rocket launcher, and plastic explosives. Even in preview form. Winback was an intense gaming experience. The controls were easy to master--after a few test runs, that is--but the camera angles needed some tuning. The graphics featured vibrant colors and engaging gunfire, but at times they were obscured by excessive fog. Hopefully, the game's sore spots will be addressed before Win-back's October release.
Nintendo 64/N64 Screenshots
Other Games by Omega Force