Yume Miru Kusuri: A Drug That Makes You Dream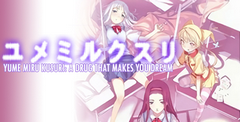 Download Yume Miru Kusuri and embark on a unique, emotional journey in this captivating visual novel. Navigate complex relationships, make decisions, and uncover the stories of those around you. Are you ready to explore the depths of the human heart? Play now!
So, a buddy of mine described Yume Miru Kusuri: A Drug That Makes You Dream to me as a visual novel dating sim where you try and get with three different girls. I thought that along with the strange name made this sound like a pretty interesting game, but I was not prepared for how dark the storylines in this game could get. So yes, this game does have sex, but it also has other stuff such as drug abuse and suicide so if that is something you struggle to deal with in games, you have been warned!
The Day In The Life
The story of the game is set in a high-school where the main character, Kouhei who is a good student comes across three different girls.
These girls are Aeka, Mizuki, and Nekoko. You may think that you just have to romance and wine and dine these ladies, but you are very mistaken. Each of the three girls has their own story and they can have a good and bad ending depending on what you do.
From bullying, drug abuse, suicide, and more, these stories are full of pretty heavy-hitting scenarios and it may make it a hard game to get through for some people. I though, thought that the writing and the character development were very strong and while these are hard subjects to read about in a game, I do feel they pulled it off very well.
Only The Names Will Change
The visual style of Yume Miru Kusuri: A Drug That Makes You Dream may not stand out from the crowd as it has your typical anime style that the majority of visual novel games go for. Still, I think that the more realistic and scaled-back design of the characters and the various backgrounds help the game overall. We are dealing with some hard-hitting topics in the story so I feel this visual style fits that very well. An area of the game that does stand out is the sound. This game has some fantastic BGM tracks that I could see myself listening to outside of the game. The voice acting that is in the game is all in Japanese, but I feel it does fit the characters very well.
Three Become One
Trying to get a good ending or as the game calls it, happy ending is all about making the right decisions. The more troubled aspects of these girls' lives makes the decisions you make feel like they have a lot more weight to them. Aeka in particularly had a pretty brutal ending that was quite heartbreaking. At the same time, these stories are so well done that I did want to see the good and the bad endings that each of the three girls had to offer.
There is not really any more gameplay here than in any other visual novel game, but what is here is good and due to the nature of the story paths it does feel a bit more "real" than other visual novel games that are out there.
9
I was not sure what I was getting into when I started playing Yume Miru Kusuri: A Drug That Makes You Dream, but I am really happy I took the time to play this. If you want a story that is going to make you think, make you sad, but also make you happy too. This is the game for you. It takes you through every part of the emotional spectrum and it makes you care about these characters.
Pros:
Each of the three girls feels very unique
I liked the hard-hitting nature of some of the routes
You will want to see all of the endings!
The choices you make feel like they have a massive impact
It is the kind of game that is great to talk about with others
Cons:
I would have liked some English voice acting
Some of the storylines may be a bit graphic for some
Download Yume Miru Kusuri: A Drug That Makes You Dream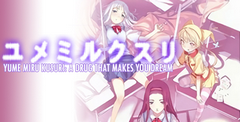 System requirements:
PC compatible
Operating systems: Windows 10/Windows 8/Windows 7/2000/Vista/WinXP
See Also
Viewing games 1 to 9