Ayrton Senna's Super Monaco GP II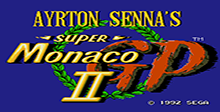 Okay, race fans, start your Genesis engines for the ultimate challenge. Slide into the driver's seat of your high performance Grand Prix racer and get ready to go head-to-head and wheel-to-wheel with the world's top ranked Formula One driver, Ayrton Senna.
Pre-race Prep
Ayrton Senna's Super Monaco GP II by Sega is the class of the Genesis tracks. The game features 19 action-packed, international, race courses. You can compete in the Senna GP (across three tracks) or in the World Championships.
If you've mastered Super Monaco GP I, you'll have no problem polishing up your driving skills in this fresh thrill. If you're new to the video driving game, you'd better burn rubber in a few practice laps to prepare for the tough competition ahead.
Unlike Super Monaco GP I, setting up your car in SMGPII is simple. The modifications you can make are limited to the important nitty gritty. All you really need to consider is your transmission, which can be Automatic, Manual 4H Speed, or Manual 7-Speed. Controlling the car in automatic is the easiest since it requires minimal controller action during a race. However, the manual transmissions are faster.
ProTip: Use the Practice option to leam the layout of each track. This will give you an extra edge during your Preliminary Race (1 lap), which determines your starting position in each main race.
On the Track
Once you establish your starting position in the Preliminary Race, it's time for the all-out competition to begin. Becoming the world's highest ranking Grand Prix driver isn't an easy task.
You'd better strap yourself in, because this game's a serious tire-screecher! Reckless drivers won't have a prayer of beating GP II, which requires quick reflexes, video driving skill, and a manic need for speed. During each race, you have to do more than outdrive the competition. You must race against the clock to beat the track's fastest lap times.
If you didn't qualify for a high starting position, you can quickly pass two or three cars at the start of a race by stomping on the gas as soon as the starting gun fires.
Look for the yellow and blue, or the yellow and red, directional arrows before each major turn. Begin your turn as soon as they appear!
The easiest way to pass cars is on turns. Check out the on-screen course layout to plan your passing strategy.
II or I?
It's a close finish, but Super Monaco GP II noses out GP I. Super Monaco GP I is a great, ultra-fast driving game, and Super Monaco GP II fires up equally intense action with exceptional controls. Although there are subtle differences between the games (instead of GP I's motor babes introducing each round of races, GP II features digitized photos of Mr. Senna), the overall game play and the first-person, behind-the-wheel perspective is extremely similar. Those factors being more or less equal, GP II gets the checkered flag. Its graphics, especially the backgrounds, are clearly superior to GP I's, as is the quality of the digitized voice and the realistic sound effects.
This adrenaline-pumping, driving simulator plunges you into Grand Prix racing. If you fancy yourself a pro video driver, stay on track with Ayrton Senna's Super Monaco GP II.
Download Ayrton Senna's Super Monaco GP II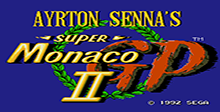 System requirements:
PC compatible
Operating systems: Windows 10/Windows 8/Windows 7/2000/Vista/WinXP
Game modes: Single game mode
Player controls:
Up, Down, Left, Right - Arrow keys
Start - Enter (Pause, Menu select, Skip intro, Inventory)
"A" Gamepad button - Ctrl (usually Jump or Change weapon)
"B" button - Space (Jump, Fire, Menu select)
"C" button - Left Shift (Item select)
Use the F12 key to toggle mouse capture / release when using the mouse as a controller.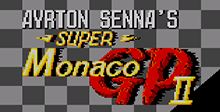 System requirements:
PC compatible
Operating systems: Windows 10/Windows 8/Windows 7/2000/Vista/WinXP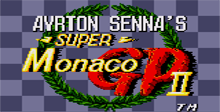 System requirements:
PC compatible
Operating systems: Windows 10/Windows 8/Windows 7/2000/Vista/WinXP
Game Reviews
Racing fans, have we got a game for you! Ayrton Senna's Super Monaco GP II is here and is it fantastic! If you thought Super Monaco GP was great, this version will certainly change your mind! All of the F-1 tracks are here, as well as some new ones, including Ayrton Senna's personal track! Three different transmission choices are available, and some highly digitized graphics throughout! Super Monaco GP II will come racing into your home by mid A
Manufacturer: Sega
Machine: Game Gear
Difficulty: Average
Available: 1992
Theme: Driving
GENTLEMEN, START YOUR ENGINES...
The sequel to Sega's classic driving hit is here. Super Monaco GP was developed with the help of one of the most renown Grand Prix drivers, Ayrton Senna. This combination recreates the entire World Championship Circuit as accurately as possible. Also included is the Senna GP. This is Ayrton Senna's personal circuit of select racecourses. In the World Championship Circuit, there are a total of sixteen different race courses staged in sixteen countries. The game is also equipped with a practice option that lets you test yourself on all the tracks with and lets you choose the number of cars on the track. So hit the gas and turn your wheel all the way to the World Championship title!
Genesis - Sega
Theme: Driving
Available: 1992
No. of Levels: 16
Here it is! The long awaited sequel to one of the most exciting racing games around! Super Monaco GP II has Ayrton Senna's endorsement for quality so you know it must be good! Race on a calm practice circuit, 16 of the world's fastest courses in a race of championships or the Senna GP! Three transmissions and adjustable track conditions are just a few of the adjustments. Can you take on Senna in the Senna GP?
People say:
6
I really wanted a brand new game when I plugged in Monaco 2. Instead, you get some new tracks and tunes as well as digitized pictures of Senna every other screen. While I liked the overall execution of the game, the play mechanics are definitely outdated. I just didn't seem to get the same thrill that I did before.
8
This is a game only a dyed-in-the-wool racer will love. The first SMGP set new standards in driving simulations and, while this version smooths out the rough edges, it does not break any new ground. The computer now gives you a run for your money and few players will come out on top but that is the fun in trying.
6
The long awaited sequel to SMGP is here offering nothing new and leaving me disappointed. The graphics haven't improved and the sounds worse than the original. It sounds like there are 400 hamsters under the hood instead of horses. You get Senna's face plastered on every other screen, what a bonus! Not!
5
This game should have been all new instead or just a redo of SMGP! Senna needs some major graphic enhancement before I'll give it a seal of approval. In this all you do is push left, push right, and back again. Not terribly exciting. For the 90's type of racing game I want action, digitized sounds, and options!
Super Monaco GP's burning rubber through the Sega video game circuit-coin-op, Genesis, and Master System.
Super Monaco GP is a cool motor racing game, even though the graphics are pretty standard stuff. Like most racing games, you drive with a behind-your-car view, however, unlike the other Super Monaco's you don't get a rear view mirror feature.
ProTip: Turns come up quickly, so that he brakes (with the auto transmission) or downshift (with the manual trannie) as soon as a turn-arrow sign appears.
The Brake Fast of Champions
Becoming champion is a near-grueling test of your video driving skills. Shift gears, finesse tight curves, and stomp on the accelerator! Be prepared for mucho spin outs. If you ever make it to the top, you'll understand why gamers go nuts spraying around a high bottle of champagne when they win the real thing.
The Grand Prix takes place on 16 tracks in international locales such as Brazil, Australia, England, and Japan. You get curvy road courses and flat-out speed tracks. Your challenge is to score championship points by finishing in 7th place or better.
Use the light Vapor engine for curvy road courses. However, the Firenze V-12'st he monster you want for straight tracks.

If you're averaging 6th or 7th place finishes, start over, you'll never make champion.
To win you must learn to modify your racer to tit the course you're driving. You can choose from two spoilers, two types of tires, four engines, and two trannies -- auto and 7-speed manual.
Use Wing Type-1 for straight tracks and Wing Type-2 for curvy ones.
A Classy Chassis
The Super Monaco GP games feature the toughest auto racing around. Beating Super Monaco GP takes real drive.
Ayrton Senna's Super Monaco GP 2 is an arcade-style Formula One racing video game developed by Sega. It is the follow-up to Super Monaco GP, and is sometimes referred to as in its abbreviated form as Super Monaco GP 2, however this is not an official title. The game was released for the Sega Master System, Sega Genesis, and the Sega Game Gear. Along with boasting the most "realistic physics" of any console driving game at the time of release, the game was also endorsed by the then Formula One champion Ayrton Senna. The game's development was also assisted by Senna, who supplies his own advice about the tracks featured in the game.
Super Monaco GP 2 focuses on either the player's attempts to win the Drivers World Championship, or to win the "Senna GP". There are three different modes of racing:
Senna GP
The player races one race, similar to the Super Monaco GP from the the previous version of the game. However, in this version, there are three tracks to choose from: Senna's own farm circuit in Tatuí, São Paulo, and two other fictitious tracks, designed by Senna himself. The player must choose which track they wish to race on, and select whether they want to drive with an automatic, 4 speed manual, or 7 speed manual gearbox. A preliminary lap must be undertaken, the result of which determines the player's placement on the starting grid. The player must then attempt to win the Senna GP; a display of the player's lap times are given after the race.
World Championship
The player competes against 15 other drivers on the tracks which make up the 1991 Formula One Season calendar, with the ultimate aim of winning enough points to become the Drivers World Championship.
Beginner Mode
After the player enters their name and nationality, they have the choice of warming-up for the first by completing as any free laps of the track as they wish, or by going straight to the race mode. Selecting race mode will force the player to choose what type of gearbox they desire; the preliminary lap then begins, determining the player's place on the grid for the subsequent grid.
Master Mode
This mode is the same as the Beginner version except that the player can progress to better Constructors through challenging rivals. The player may, before each race, select a rival against whom to compete. If the player beats the same rival several times consecutively (from two to four times, depending from two factors : if the player raced without crashing on other racers, and on the level of the rival's team -an A-level team will need more wins than the B and lower-level teams-) , then the player and the rival swap places; that is, the player assumes the rival's seat with their constructor, and the rival is relegated to the player's former constructor. This is not part of Formula 1 but something specific to the game. There are 5 different leagues of constructor.
Free Practice
Much like the warm-up in Championship mode, the player is given the option of training freely or simulating a race. However, in this mode, the player may choose the number of laps, starting position and, in some cases, the weather.
Sega Genesis/Mega Drive Screenshots
Sega Master System Screenshots