Dusty Diamond's All-Star Softball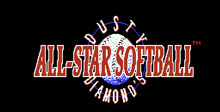 a game by
Brøderbund
Genre:
Sports
Platform:
NES
Editor Rating:

5.5

/

10

, based on

1

review
Rate this game:
All weekend ballplayers know Softball's serious stuff, but that doesn't mean you can't have a little fun with it. And that's certainly the approach Broderbund takes in Dusty Diamond's All-Star Softball. These are the wackiest bunch of players to ever hit a diamond!
The Ole' Ball Game
If you video baseball vets rub your eyes a little, you should recognize Dusty Diamond's batter-faces-pitcher look. But the graphics here are right out of the Saturday morning cartoons.
However, softball aficionados will appreciate the fact that you can play fast pitch or slow pitch games. As in real life softball, games are seven innings long, and there's a ten run rule -- the team that's up by ten wins automatically.
You play games on six fields and about midway through a tournament, the game switches to nighttime action. And for some players night time is the right time!
In one player mode, you face the computer in a five-game elimination tournament. Win them all, and you earn the right to challenge the awesome Amazons-All-Star Softball's all-time championship team. Of course, you and a friend can play each other in a head-to-head contest.
The Un-Natural
There are no preset ball clubs so you recruit a 10-member squad from a roster of 60 weird players with out-of-this-world ball-playing skills.
Naturally, some players are strong in basic attributes such as arm strength, speed, and homerun power.
But in order to emerge victorious at all the tricky fields, look for special skills such as the abilities to whip through sand traps, dive into water, or climb fences. Want even more powerful defensive specialists? How about outfielders who can float in mid-air or fly at night?
Perfect Pitch
But no matter what, you still have to hit and run, and Dusty Diamond's got plenty of both. In fast pitch, you can hurl that baby in three speeds. But stay alert, base runners steal and batters bunt. In slow pitch, you can lob the ball short or long. You can also make your pitches curve left or right. However, some players have better control than others.
ProTips:
When you play the computer fast pitch, use pitches to set up the batters. A tight inside pitch brushes the batter back, and he'll stay back until after the next pitch. So toss a quick pitch to the outside corner for a strike.
Just as in some softball leagues, hit a foul ball after two strikes and you're out.
Keep Your Eye on the Ball
Fielding the ball takes practice, but your guys can also dive for hard grounders and leap up to snare line shots! For quick double plays, infielders can tag a base then throw the ball.
If you have men on base and the batter hits a fly ball, your runners take off automatically. If the fielder catches the ball, you must make the lead runner retreat back to his base or suffer a double play. Once the runner touches a base, you can't move him.
When you're at bat, watch where the pitcher positions himself and position your batter accordingly.
You're Outta Here!
Despite the goofy graphics and some unreal player skills, there's plenty of action and just enough off-field strategy. The video high jinks teeter on the brink of hokey, but all in all it's rowdy softball!
Download Dusty Diamond's All-Star Softball
NES/Famicom/Dendy Screenshots