International Tennis Open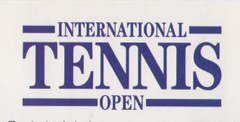 a game by
Infogrames Multimedia SA
Platform:

PC

User Rating:

8.0

/

10

-

1

vote
Rate this game:
See also:
Tennis Games
It's probably the sad fact that Tennis balls at school always seemed to home straight for the spot between my eyes (and other eye-watering places) that makes me break out in a cold sweat every time Wimbledon comes around. My only consolation is that I ended up retrieving my balls (sic) from the bottom of the net so often that I'd probably make a darn good ball boy. This is also, perhaps, the reason that I like tennis simulations so much: you can miss easy balls and trip over your own shoelaces as much as you like and there's not even a digitised snigger. There have been plenty of tennis simulations on the pc but, unfortunately for tennis fans, most of them have been two or three games short of a set. The most impressive offering of recent years has been Pro Tennis Tour 2, which is getting a bit long in the tooth right now (as its appearance on no end of budget labels and compilations indicates). So the field is clear for a really first class tennis sim to come along and get pc owners sat round their machines, munching over-priced strawberries again. Enter stage left, International Tennis Open (ITO).
Second set
This is not the first time ITO has made an appearance. It's first outing was on Philips CD-i machine and it was, undoubtedly, one of the titles that was responsible for generating initial interest in the machine. It's not difficult to see why: the game is not only the sole contender on cd-rom, it's far and away the very best tennis game available for the pc.
The most striking thing about ITO is the presentation. The development team has made good use of the storage capacity of cd-rom to provide an extermely attractive point-and-click interface and, more importantly, atmospheric sounds, like crowd noises, line and umpire's calls and a commentary. The only thing that does become annoying is the commentary which, perhaps understandably, consists of trite and banal phrases like "Jiminez has gone and got himself a break point". Really? Well thanks for pointing that out. You can always switch the commentary off, however.
framing schedule
ITO has enough options to keep even the most avid tennis fan happy. You can choose to play on grass, concrete or clay, and, yes, there really is a difference. You can also elect to play against a friend or against the machine. The machine has four carefully programmed opponents and it makes good use of a limited degree of artificial intelligence, so that each of them provides a different challenge, depending on how good you are and what surface you choose to play on. The learning curve is actually just about right. You can expect to win only the occasional game to begin with, but you soon get used to the controls and begin to plan your shots rather than just returning the ball. Winning your first set, therefore, is extremely satisfying.
Strangely, the one area Where your choice is limited is in your identity. You can be whatever nationality you like as long as you are prepared to be (a) male (as are all four opponents incidentally) and (b) called Victor Player. Okay this restriction has been imposed to simplify the graphics and digitised speech, but it is rather bizarre having, for instance, the promising Japanese tennis pro, Victor Player! I mean, come on, it's about as likely as the top Welsh rugby player, Yoshi Yakamoto.
Control freak
There is a choice of either single exhibition matches or a full tournament. But the best choice for beginning players is to check out the training areas in which you can either practice your serve or return balls played out by a machine. The control method is a little more complex than in some tennis games but it is this factor that puts ITO at the top of the tree.
Service is accomplished by moving a cross hair to the point of the court at which you want the ball to impact - that's very similar to the way most other sims handle it. The real difference is in normal play. You can move freely about the court, and to hit the ball, you need only press and release the joystick button at the appropriate moment. That will, however, give you little control over where the ball goes. To give the ball the desired trajectory, you must combine the button press with a direction. In certain circumstances you can use the second button to execute a special shot, like a smash or a drop shot.
If all this sounds as if it might take some getting used to, you'd be right. Once you do get the hang of things, however, you find yourself with an unprecedented level of control over the ball. If you do have difficulty getting to grips with it, there is a special mode in which you just have to worry about moving the player while the computer takes care of the shots.
More CD-i please...
This is the first CD-i title that Philips has converted to pc cp-rom. There are more on the way. If they all keep to this standard, then Philips will definitely make a mark for itself as a quality publisher of pc cd material. Meanwhile, the company's first effort comes highly recommended. If you have a cd drive and you want a first class sports sim, you need look no further than International Tennis Open.
Download International Tennis Open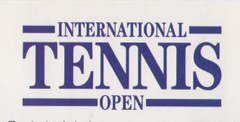 System requirements:
PC compatible
Operating systems: Windows 10/Windows 8/Windows 7/2000/Vista/WinXP
Similar Games
Viewing games 1 to 11