Koikatsu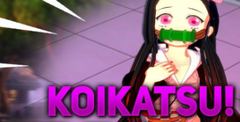 Click the "Install Game" button to initiate the file download and get compact download launcher. Locate the executable file in your local folder and begin the launcher to install your desired game.
Koikatsu, also known as English Koikatsu Party is an eroge Japanese erotic game. It is similar to games like Play Club Illusion, Artificial Academy 2 and Mashiroiro Symphony. Topping the Steam sales charts in June last year, Koikatsu is one of the most popular eroge games that you can play now.
Gameplay
Koikatsu is primarily a character design game. In Koikatsu, you create a waifu/character according to your taste. You then attempt to sleep with the waifu that you created. You start by selecting a male or female character and then you start customization. The customization options are numerous and you could find yourself spending hours creating the character of your dreams. You can customize their height, eye color, eyebrow, eye shape, ears, hair, teeth, pubic hair, bust, forehead, jaw, genitals, hairstyles, breasts, hips, legs, beauty spots, makeup etc.
You could even have weird-looking characters with goblin or elf-looking features with purple, green or beige-colored bodies. You can add shadow effects to their bodies. You could change the color of body outlines as you wish, applying any color scheme you want. You can leave characters fully clothed, wearing underwear, or naked. You can also customize their clothing, underwear, and their shoes as you want.
You are allowed to create multiple characters with each character for a particular setting. After creating a character, you assign a personality to the character. The personality selector is also diverse and you'll definitely find something that fits your fantasies. Once you finish with the character creation process, you can have sex with the character created. Each character comes with their sexual preferences. They react differently to how you touch them lick them, etc. So, you can experiment with the different characters you create to see how they react to your touch. You could even adjust their sensitivity and sexual preferences if you want.
You can choose where to have sex with your character and the sexual positions. There is a status bar for the characters' arousal level.
It's hard to find a game with as many customization options as Koikatsu. It beats other popular games in the genre like Honey Select Unlimited.
Uncensor Patch
Some aspects of the game are censored due to Steam requirements. So, after purchasing the game on Steam, you need to download a patch if you want to uncensor the game.
Mods
There are a few mods available for Koikatsu. Some mods allow for more movable parts and flexibility for the person you create. Other mods allow you to have even more customization options. Some mods that allow you to import famous anime and cartoon characters created by others.
There are also mods for changing your point of view, mods for improving the object picker, and mods for improving the graphics settings. There is also a mod that adds a story mode to the game.
Pros
Diverse customization options
Good eroge game
Many hours of gameplay possible
Cons
Lack of a solid story
Not all aspects of the game are fully subtitled
7
Koikatsu is a good eroge game that allows you to act out your fantasies. Its customization options make it stand out from other games in the genre. With your creative prowess and your imagination, you can create whatever you want. If you like eroge games or you watch hentai and anime, you will find Koikatsu even more satisfying.
Download Koikatsu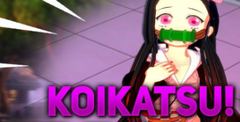 System requirements:
PC compatible
Operating systems: Windows 10/Windows 8/Windows 7/2000/Vista/WinXP
Game Reviews
Back in 2018 Steam made clear that they'd be allowing pretty much all types of games into their platform as long as they weren't directly illegal or inciting. However soon after that, they backed down and started removing tons of visual novels and erotic games from the store. Even with that, Koikatsu made its way into the store. Soon to be taken down and once again prepared as a censored version.
Illusion, the developers behind Koikatsu, released a patch to remove the censorship of the game on their own website shortly after that though. So, let's see why Koikatsu Party made it into some of the best selling erotic games on the Steam platform.
About the game
In Koikatsu we play as a guy whose parents moved abroad and we're left living alone on our own. Of course, since we're still young we have our aunt who happens to be the principal at a girl-only institute. We're going to be attending the institute and enjoying school life as the only male student.
But Aunt has a plan for us and created the Koikatsu Club. The main objective of the club is to stimulate interactions between the girls and the opposite gender, and you are the only male in the whole school. Take your school life one day at a time, but it won't be one girl at a time, that's for sure.
You have to invite as many girls as possible to join the Koikatsu Club and interact with them. As you progress the game you'll unlock more interactions, and the option to take the girl home that night with you.
Actually a good game?
Keeping in mind most eroge titles are visual novels, it's nice to see a game as developed as Koikatsu. Sure, Illusion is a veteran eroge developer with over a dozen games in the market, THey even develop the legendary Honey Select.
Koikatsu feels similar to the school portions of the Persona game series, except that the Social Links are actually Sexual Links here. Your day will be divided into three periods which will allow 5 interactions with girls in each of them, 15 total a day. It all adds up to tons of game hours in this incredibly great title.
Review
Koikatsu is not only a fun eroge game, but it is actually a fun game. Probably the star of the show is the personalization of the characters here. Koikatsu takes great pride in its Waifu creation system, which allows over 300 modifications so that you can create the waifu of your dreams. Create the perfect girl and interact with her however you like, not everything has to be sex. You can chat, hear them out and even go out on a date, tons of dialogue lines are available too.
Graphics and Visuals: Koikatsu has stunning visuals from the get-go. The art style is amazing and looks excellent, the animations are great and the overall graphics of the game look beautiful. Even without getting into the sex scenes, the characters look just as if you're watching high-quality hentai.

Gameplay: Any game that can be compared with the Persona series is a great game, and Koikatsu is one. It plays great, tons of options on each interaction, most of them are easy to control. You'll spend hours creating the waifu of your dreams with all the customization tools, and then you'll be able to spend all the time you want with her. It's the perfect slice of life eroge game.

Sound: Excellent soundtrack, high-quality voice acting, and great sound effects. Everything is great here, with cool original songs which even have vocal tracks.
Similar Games
Viewing games 1 to 7