Hentai High School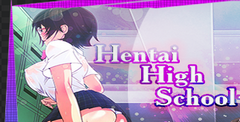 Click the "Install Game" button to initiate the file download and get compact download launcher. Locate the executable file in your local folder and begin the launcher to install your desired game.
Japan seems to have an overall different take on video game censorship than the western game industry. While it's really hard to find sexual themes in popular western media, in Japan it is normal. Hentai High School+ is a perfect example of this. Not only is it an eroge with tons of sexual themes and explicit scenes, but most of the characters still attend high school.
Even though in Japan this isn't much of a problem, at least apparently, it's unthinkable to see this in western games. Can you imagine a game called Perverted High School? It sounds terrible, in fact it would be illegal. But well, eroge games are made mostly by Japanese developers, so these kinds of games are all around. So, let's talk about Hentai High School+ for a moment here, since it's an interesting game.
About the game
In Hentai High School+ you play as the principal of a high school, and your main goal is to corrupt as many of the girl students as you can, as much as possible. There are other girls in town so you can also interact with them.
That's about all there is to the game, there isn't a full plot, not any clear objective in the game at all. The most interesting part about it is that it's actually a management sim, and as the principal/headmaster of this highschool you have to keep it afloat, it's not all about having relationships.
Sure, even though there are management sim mechanics there, the final goal is still to take the girls to the highest level of deprivation, and you even must convince the PTA to change the rules. It's a weird game all around.
Less is more
There are some very complex eroge games out there like Koikatsu, which have tons of different mechanics implemented into the game. And then there's this title that just gets too confusing to be entertaining sometimes. In a way it feels as if you're playing a hentai version of SimCity or Cities Skyline, down to a high school level.
Review
A game with such a simple idea shouldn't be nearly as complicated as Hentai High School+. It's not that the game is hard or too tough to beat, it's just boring. There aren't that many quests available, and when they are they are too complicated and unclear. It's very hard to recommend, but the development has been expanding the game a lot. What started as just a high school based game has expanded into a complete city. You can walk around the entire city and interact with different characters. Also keeping in mind that this game is free, you can't really complain
Graphics and visuals: At first look the character design in this game is excellent, you find nicely drawn characters and good environments. But sooner or later you'll realize that many of the girls are blatantly stolen from other anime series. There are many characters from K-On! And there's even Haruhi from The Melancholy of Haruhi Suzumiya. But since it's a free game and no one's making money out of it, it's all right actually.

Gameplay: The gameplay experience is not a great one. Boring quests and boring exploration make the huge map a boring exploration place. But when there are interactions these tend to be interesting and nice looking. They play as a visual novel, unlike the rest of the management sim gameplay of the game.

Sound: You won't even realize there's music in the background here as it's too bland and simple.
Download Hentai High School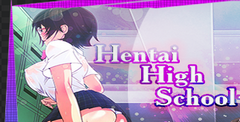 System requirements:
PC compatible
Operating systems: Windows 10/Windows 8/Windows 7/2000/Vista/WinXP
Similar Games
Viewing games 1 to 6