WickedWhims SIMS MOD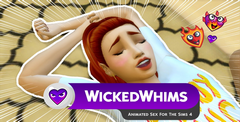 Click the "Install Game" button to initiate the free file download and get compact download launcher. Locate the executable file in your local folder and begin the launcher to install your desired game.
The Sims 4 has some amusing mods, but the WickedWhims SIMS MOD is one that is hilarious in many ways. I have played all of the official expansions for The Sims 4, but as far as the mods go, what we have here is way to make your Sims world be very, very X-rated indeed. Do not think of this as something that is "sexy" do not get me wrong, WickedWhims SIMS MO is very graphic, but I found it more funny than sexy. As you would expect, this is a mod that is very much NSFW!
The Sims Getting It On!
On the surface, I will admit that WickedWhims SIMS MOD is a game that may appear to be just all about The Sims getting a huge case of the Lust and wanting to do it 24/7. While there is truth to that. There is actually a ton of content that is in this mod. The Sims can have sex, heck they can have group sex if that is more your thing. They can watch porn on the computer, they can use "toys" and the sticky stuff can end up everywhere. It is kind of gross, but it will certainly make you laugh.
Planned Parent Hood
What the heck is wrong with you people and please note as I say that I say it with my tongue firmly in cheek, but there is a whole planned parenthood thing going on here. Sims can get pregnant, have a menstrual cycle and even have to go to the clinic if they want to terminate, get birth control or even get help getting pregnant. I cannot believe this is part of the mod and that such a huge amount of attention was paid to it. At first, I thought it was hilarious, but miscarriages are a part of this and I do think that is a step too far.
Relationships & Reactions
As WickedWhims SIMS MOD is part of The Sims 4 the whole social aspect is still at play here. You need to make sure the friendship and relationship level is right before trying to score with a Sim! This makes you work for it and also keeps this as an actual "game" which is something I liked. You can also react to sex which is pretty funny and these range from being impressed to being disgusted to being jealous. This is a part of the game that they did really well actually.
I was not expecting much from WickedWhims SIMS MOD if I am being honest. I thought it was going to be just a sex simulator in The Sims and it kind of is. However, they have managed to keep the spirit and charm of the Sims well and truly alive here and that is something I liked. This is the kind of thing that is more to make you laugh than it makes you excited.
Final Score: 8/10
Pros:
Many different sex acts The Sims can get up to
The humor in the game is great
The relationship aspect is done very well
Tons of animations
The planned parenthood aspect is way more in-depth than I thought it would be
Cons:
I really did not like how miscarriages are in the game
It is very NSFW!
Download WickedWhims SIMS MOD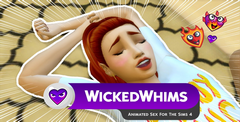 System requirements:
PC compatible
Operating systems: Windows 10/Windows 8/Windows 7/2000/Vista/WinXP
Game Reviews
Today we are taking a look at WickedWhims SIMS MOD which is one of the best mods out there. To give you just a little taste of what to come. This is a mod that allows the sim characters to get up to all kinds of naughty stuff. Do not expect to play this and actually get turned on, it is more likely to make you laugh than that!
It Is Still About Connections
Yes, there are Sims banging all over the place in WickedWhims SIMS MOD. However, I think that it is cool how the creator of this mod did not lose sight of what The Sims is all about. There are still all of the social things that you normally have to do in The Sims at play here. So, you really want to hook up with the chick down the street, you have to work on your friendship and relationship level with them. I thought this was good and it is cool the way the characters can react when the deed is getting done if you know what I am saying.
The Beast With Two Backs
There are a ton of sex animations in this mod. Seriously, how someone came up with all this is beyond me, but it is a lot of fun. They say that there are over 7000 animations and pretty much every kind of sex that you could think of is here in this game. You can have a nice romantic sexual encounter on the floor of the house while the fire is burning in the background. Or, you can invite a bunch of folks around and have yourselves a good old-fashioned orgy! It is pretty nuts the way one thing can lead to another and then you have a bunch of Sims walking around covered in… well you know exactly what they are covered in!
Ok, That Is Going A Tad Too Far!
Ok, so I think that WickedWhims SIMS MOD has some great stuff going on. I like the way you have to still work on a Sim to get them to bang you. I think it is great that there are so many sexual positions and encounters to happen, but there is one very weird aspect of the game and that is the Sims can get pregnant. What is new about that you are asking as official Sims games and expansions have offered this for years. Well, this goes a step too far and has abortions and miscarriages, I think for something that has a lot of humor too it that was going a step too far in my opinion.
7.5
I give the person behind this a round of applause for the massive amount of content that is on offer here. The WickedWhims SIMS MOD can be a lot of fun and kind of gross at the same time. They managed to keep the soul of The Sims intact here and that is cool. However, the whole thing where there can be miscarriages was something that did shock me and I am not usually shocked by anything.
Pros:
Tons of sex animations
I thought the game had a great cheeky sense of humor
You still have to make relationships with Sims
The whole thing is very well done
Cons:
Why are miscarriages in this game?
You may be shocked at just how XXX this is!
See Also
Viewing games 1 to 8