Monster Girl 1,000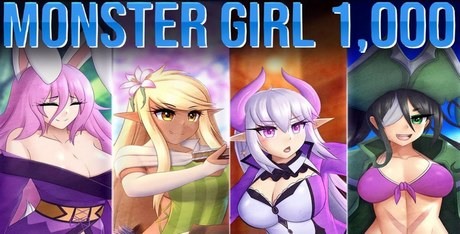 Download Monster Girl 1,000 if you love hot and sexy monster girls that cannot wait to beat you up and have sex with you! This is a fun lewd RPG and XXX visual novel style of game that has some awesome mature themes and art to check out.
I have had an absolute blast during my time with Monster Girl 1,000. This is an awesome lewd… I would have to say RPG, but it plays out more like a visual novel, it is hard to describe, but they have somehow made it all work. I have always had a thing for monster girls and this game as the title suggests is stacked with them! This is just a really fun game and the kind of game that does not feel like a chore or make you do the same thing over and over again in order to get to some of the good stuff.
The Luckies Man In The Land!!!
The story that Monster Girl 1,000 is telling has a lot of charm to it and is something that I felt was fun. We play as the only guy in the village that is full of monster girls. The fertility goddess has tasked us with banging and knocking up 1000 monster girls to expand the population of the village. For the most part, things are happy go lucky, but there are a few of the girl's stories that do take a dark turn like this mousey looking girl. In all, the story is pretty good and the writing is great which helps you grow more connected to the different monster girls.
Its Own Style!
As far as the gameplay of Monster Girl 1,000 goes it is actually quite interesting. This is made with RPG Maker, but it is not your typical RPG Maker style of game, but instead of walking around in an overworld, it is all done via menus, kind of like a visual novel. You get to make various choices during the game and you even get to partake in combat. However, the difficulty level you play on can change the gameplay, for example, playing on easy mode will make it so combat is not even a thing. The game has a very easy to learn groove and I found it a real pleasure to play the whole time I was playing it.
More Monster Girls Than You Can Handle
I love the visual style of this game! It has a hand drawn almost cartoon kind of look to it and that fits the tone of what they are going for perfectly here. Monster Girl 1,000 has a whole lot of variety to the monster girls, so much that I do not even think I could name all the different types! Each one has been lovingly designed and if you do come across one that you do not like the design of, chances are the next one you will. This truly is a fantastic looking game and the lewd content that they have here really is amazing.
9.5
I had a sneaking suspicion that I was going to like Monster Girl 1,000 before I played it, but I was actually pretty blown away by how much fun I had with this game. It was just so easy to get into that I found myself wanting to keep on playing. It has a story that is fun and easy to follow thanks to the excellent writing. Also, because of that excellent writing, you will find yourself connected to a good number of the characters that you come across. It helps that the actual gameplay of the game is also very enjoyable too!
Pros:
There is a vast number of monster girls to deal with
The writing in the game is very well done in every regard
It has some excellent monster girl designs!
The gameplay loop here is very easy to get to grips with and a lot of fun too
Cons:
I think you need to have a thing for monster girls to really like this game
The mousey girls' story was a bit of a tone shift for me
Download Monster Girl 1,000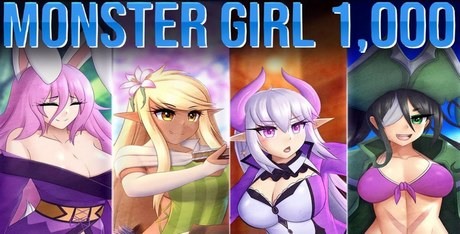 System requirements:
PC compatible
Operating systems: Windows 10/Windows 8/Windows 7/2000/Vista/WinXP
Game Reviews
I am going out on a limb here and saying that Monster Girl 1,000 is one of the best monster girl lewd games of the last five years…possibly my favorite! This game is just incredible and right from the start I was completely sucked in and knew that this was going to be a game that felt like it was tailor made for me. We have basically a lewd visual novel game, but one that has a lot of RPG influences with it, more than you usually get in a lewd visual novel style of game.
The Last Man Standing
I have to say that the protagonist of Monster Girl 1,000 is the luckiest dude around and I totally wish I had this guy's life. Basically, the world that this game is set in has no more men (except you) and there is a Fertility Goddess that is giving you a very important task! She is tasking you will be exploring the land to try and impregnate as many monster girls as you can to try and get the population up. 1,000 impregnated monster girls is the task she has set before you!
A New Girl With A New Story
I will always admit that I am a real sucker for a monster girl themed game, but Monster Girl 1,000 goes a step beyond what we usually get. Yes, these are very sexy monster girls. However, the writing in this game is fantastic! For the most part, the story is a bit on the lighthearted side, but there is a few characters that have a darker, almost heartbreaking story. They do a wonderful job of making you care about the monster girls you are trying to bang here!
A Game For Everyone
I have to say that the more I think about it the more I am not sure if I should class Monster Girl 1,000 as a lewd RPG or a lewd visual novel. The game does allow you to explore, but it is all done via menus, but it works very well. Most of what you will be doing is chatting to the various monster girls and trying to pick the right options to get them to come and join your monster girl harem where you try to impregnate them all. There is also some basic turn based combat here too. However, the game gives you difficulty options and these make a difference as if you put it on easy, the combat is taken away and it just plays more like a standard lewd visual novel.
Monster Girls Are My Kind Of Girls!
As I have already said, I am a real sucker for a sexy monster girls and with a title like Monster Girl 1,000, you know that this game is going to have to bring it with the monster girl designs and I am very happy to say that they have not let me down. The kind of cartoon style of the game is awesome and the monster girls all have their own style which I thought was a great deal of fun. The XXX content here is great too and something that will certainly tickle your fancy if you love monster girls as much as I do.
10
This truly is one of the best monster girl themed games that I have ever played. Monster Girl 1,000 is a game that I could come back to multiple times a year and always have a great time with. While the sexy monster girls are great and so is the XXX content. I have to say that the writing is what really makes this such a memorable experience as all of the main monster girls are well developed and make you care about them.
Pros:
The monster girl designs are epic!
I like how each monster girl was very well written
It has some awesome XXX monster girl action
I liked the mixture of lewd RPG and visual novel gameplay
Cons:
As this is a game about monster girls, you need to be into them to get into this
I legit cannot think of any issue with this game!
Heroism is not always what we imagine it to be, the protagonist of the RPG dating simulator Monster Girl 1,000 is faced with unconventional features of heroism. Save the world from extinction with the most beautiful girls you can find.
Save the planet with a body part
After the death of the protagonist's father, the only person and man left in a small provincial village is the protagonist himself. It would seem that the fate is not so bad, except that the Goddess of Fertility, who kindly came down from heaven, came to deliver the bad news. Throughout the world, the number of men is critically low and this could lead to the extinction of life on the planet. That's why the main character has to travel around the world and impregnate monster girls. The hero needs to impregnate over 1,000 girls to fulfill the goddess's orders, so the journey will not be easy.
Not just reading text
The gameplay isn't locked into the visual novel genre and combines RPG elements as well. Busty monster girls can not only fight their congeners, but also build entire bases to defend against enemy attacks. The game has a very developed element of strategy, but there are no classes and possibilities to change the companions of the protagonist. Instead, two charming heroines travel with the hero:
Both heroines are available as companions of the main character. You can also start an affair with them, and this is where the visual novel gameplay begins. You can put clothes and armor on the companions, but many of them are only temporary helpers. The only ones who will always be with the hero are Rey and Bessie. It is them who should buy clothes and armor in the store and give precious weapons.
9
Erotic RPG, combined with the visual novel genre. Save the planet in the most unusual and enjoyable way imaginable. Delight the goddess and she will repay you. With what? Find out in the erotic RPG - Monster Girl 1,000.
Monster Girl 1,000 is a mix of visual novel and role-playing game where the main character becomes the only guy in the settlement and makes a thousand juicy women pregnant.
All was well
In an enchanted universe parallel to our own, there are many magical entities who use magic every day to transform the place where they live. They conjure up food, houses, their own clothes, but some things are beyond their control...
They lived side by side and rejoiced:
Funny elves
Good orcs
Mysterious succubi
Cute dwarves
Friendly fairies
Trouble is here
A magical village was in danger of extinction. Generations later, there were hardly any men born into the families. Every guy was worth his weight in gold, for every woman wants to have sex and give birth to offspring. The dream of any young guy is when the most attractive girls ask to share their seed. That desire will come true in Monster Girl 1,000.
A large isolated village is in a panic. There is only one man left inside. The others are dead... After the death of his father, the protagonist will take on the fateful responsibility of making a thousand women pregnant. Big-chested babes of unusually tall with pointy ears, juicy young girls with blue skin, tanned Amazons with natural attire and delicate hips, small and fuzzy babes with a thin voice and a tail - they all try to be close to the player to touch the powerful male torso.
After a series of terrible and brutal plagues descended upon the settlement, the Fertility Goddess descended from heaven in the night to a single man and charged him with saving his strength to devote his life to sex.
The player will control the actions of the character, each choice will affect the further course of the story. Assemble a harem of the best girls and enjoy life!
8
Monster Girl 1,000 is a hot game with racy scenes that will appeal to fans of a mixture of hentai and fantasy. We recommend it to fans of Hentai High School and Dungeon Slaves.
See Also
Viewing games 1 to 8