Moemon Fire Red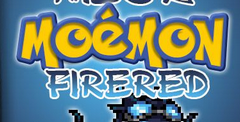 Download Moemon Fire Red and dive into a beloved Pokémon adventure reimagined! Assemble your team of cute moemon, battle fierce trainers, and aim for the title of the greatest moemon trainer. The cute challenge awaits – play now!
Gotta catch them all, that is the goal of Moemon Fire Red. I have been down with the Pokémon series since I got Pokémon Yellow (yeah, I was a tad late) for Christmas in 1999. There have been many hacks for the Pokémon games and the one that I am looking at today is a hack of Pokémon Fire Red. This is the enhanced version of Red that was released on the Game Boy Advance we are dealing with here.
Poke-Girls!
The big draw of Moemon Fire Red is that instead of capturing the Pokémon that we all know and love, you are catching Moemon. What the heck are Moemon? Well, they are Pokémon reimagined as cute anime-girls. I do not think that this hack is super sexual like many people may be thinking. The girls do look cute and some even sexy, but there is just a real adorableness about the sprites here.
The sprites are probably the best aspect of this game. The amount of detail on these Moemon is great and they each have their own personality which I really liked.
Have You Played Pokémon Before?
Well if you have played specifically Pokémon Fire Red before, you will feel that there is something very familiar with Moemon Fire Red. That is because apart from the sprite changes, I have never actually noticed anything different here. I actually have played through Pokémon Fire Red and I did not notice any changes to the actual game here.
Still, that does not mean this is a bad hack or anything like that. Fire Red is a great game and so is this, it is just not offering anything really new. The enjoyment you get out of this is all about your attraction to the Moemon girls. Which as I said look cute and the idea that you are collecting girls is a rather interesting one. The gameplay is just as good as it is in Fire Red so I guess it has that going for it.
I actually think that Moemon Fire Red is a pretty cool hack of Fire Red. Fire Red is a game I spent a ton of time with and I was happy to spend some time with this hack of it. The sprite work is very well done and the way that some of the Pokémon have translated to being cute anime style girls is a fun idea. Being a big Pokémon fan, I found myself wanting to "catch them all" so I could see how different Pokémon changed to being an anime girl!
Final Score: 7.5/10
Pros:
The sprite work on the actual Moemon is fantastic
Tons of Moemon for you to capture
It is the same core game as Pokémon Fire Red so the gameplay is solid
The game is very easy to get into
It is not going to take you forever to get through
Cons:
Apart from the sprites, not much if anything has been changed here
There were a couple of times it froze up on me!
Download Moemon Fire Red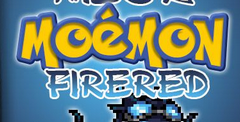 Minimal System Requirements:
CPU: INTEL 2 GHz Dual Core
VRAM: 256 MB
RAM: 1 GB
OS: Windows XP, Vista, 7
Direct X: 9.0c
HDD: 50 MB free
System Requirements:
CPU: INTEL Core 2 Duo 2.66 GHz
VRAM: 512 MB
RAM: 2 GB
OS: Windows 8, 8.1, 10
DirectX: 9.0c
HDD: 50 MB free
See Also
Viewing games 1 to 6