Pokemon Fire Red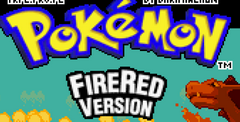 Download Pokemon Fire Red and embark on an epic quest to become a Pokémon Master! Capture, train, and battle a diverse range of Pokémon in this beloved RPG classic. Relive the adventure and play now!
a game by
Nintendo
Genre:
Action
Platform:
GBA
Mode
Single-player, Multiplayer
Setting
Kanto region, Pokémon world
Gameplay
Turn-based battles, exploration, Pokémon catching and training
Playable Characters
Player character (male or female)
Graphics
32-bit, 2D graphics
Editor Rating:

8.7

/

10

, based on

3

reviews,

2

reviews are shown
User Rating:

7.4

/

10

-

338

votes
Rate this game:
See also:
JRPG Games, Pokemon Games, Top GBA Games, Top Grossing Games
Pokémon FireRed was released on the Game Boy Advance in 2004 and was actually a remake of the original Pokémon Red and Blue that were released the better part of a decade earlier. This remake had the hard task of having to follow Pokémon Ruby and Sapphire which was no mean feat. Still, enough time had passed that those who played the original Pokémon games were getting old enough to have a bit of nostalgia.
Conquer Kanto!
Pokémon FireRed is set in the Kanto region which if I am being honest is probably my most memorable region when it comes to Pokémon games. As this is a remake of the first game, it is hard to criticize the story here as it was the one that really started it all. You are a young child who meets Professor Oak and sets out on a journey to become the very best.
It is a pretty charming story and features many cool things such as Team Rocket. You will be exploring all kinds of areas and coming across some pretty interesting folks on your travels. I think that the story works quite well in that it is very nostalgic for those who played it on the original Game Boy. At the same time those who missed out back in 1996, can see how this Pokémon craze really started. They did add in some cool stuff like running shoes, a female hero and rival not to mention plenty of new moves for your Pokémon to do.
Expert Battles
You need to pick your starter Pokémon from Bulbasaur, Squirtle, and Charmander. I have and always will be a Charmander man by the way. You then need to train your Pokémon, capture new ones and level them up so that they are fit for battle. Pokémon FireRed does not screw around and I forgot how difficult the first Pokémon game was. I found the gym leaders here far more challenging than in the other Game Boy Advance Pokémon games. This difficulty may take a while to get used to, but it just forces you to be a better trainer and to go and grind and make your Pokémon stronger. The game is rather basic in comparison to the four other Pokémon games on the Game Boy Advance that came before so I would have really liked to have seen them add in the contests here.
Kanto Looks Pretty
This is a remake of a game from 1996 that was on the original Game Boy and I think they did a pretty solid job in terms of the game's presentation. I will say that it does not look as good as Ruby and Sapphire, but it is as you would expect a leap from Pokémon Red on the original Game Boy.
Things just have a bit more polish to them and while a little on the basic side, I must admit that I do like this as it gives the game a bit of an old school charm when in comparison to the other Pokémon Game Boy Advance games.
8
For those who played the original Pokémon games on the Game Boy. Pokémon FireRed for the Game Boy Advance is a great trip down memory lane. It may play it pretty safe in terms of "new features", but I think that this is a solid remake and probably the best way you can experience the original Pokémon games.
Pros:
The three starter Pokémon are real classics!
Kanto is an awesome place to explore
Professor Oak and Team Rocket!
Lots of iconic Pokémon to find and capture
It is one heck of a challenge!
Cons:
The presentation may be a bit lacking for some
The AI does not hold back!
Download Pokemon Fire Red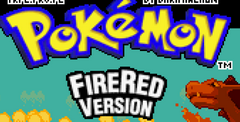 System requirements:
PC compatible
Operating systems: Windows 10/Windows 8/Windows 7/2000/Vista/WinXP
Game Reviews
Pokemon Fire Red reflects more of the old Pokemon style, but it was first made in 2004 as the title suggests. The game itself is the third generation of games for the Pokemon video game series, but they are the first official remake of the older style game. What makes this game similar to its previous counterparts is the fact that you are controlling your character in the third person perspective. Not only are you controlling them from above, but the battles are also turned base as in previous games.
Great Remake
Even though this game was a remake of previous versions, such as Pokemon Red, it still added some new features that got a lot of praise from fans and critics alike. One of these features includes a brand new menu and a new region on the map. Not necessarily another feature, but the graphics and audio are also new which helped hold players' attention. In total the game earned an average review score of eight out of ten stars or a 80% score on other scales. It sold 12 million copies worldwide, so it is safe to say that it was an international success.
As for the plot of this game, you begin in the small town of Pallet Town where you meet Professor Oak. You then continue to go from city to city and region to region within the game collecting pokemon and filling up your Pokedex. This also includes you going to Pokemon Gyms to take over the regions and assists you on your quest to the Pokemon League. The Pokemon League is like the major leagues of Pokemon, so wanting to be the best of the best, it is your goal to get into the League and dominate.
Elite Four
Although the game isn't that easy, you must still fight against Team Rocket throughout and also battle the Elite Four at the end of the game. Now we don't want to spoil the entire plot, especially the end, but we will give you a hint! The hint is that you are going to have to face Team Rocket head on (maybe more than once) if you want to beat the game once and for all.
Personal Review
If you are a Pokemon fan then this game will bring a lot of nostalgia back to your heart, so it can be really fun. On the other hand, if you are brand new to the world of Pokemon, then this game will serve as a perfect introduction to you. Don't worry about going back in time and buying a Gameboy Advance, there are many other ways you can play this game now. Either way this game receives a 9/10 on my personal rating scale.
10
To be a 10/10 I would have liked to see more new features in this game, although the new region helps in that regard. Besides that the game is really similar to its previous editions, which I guess makes sense speaking that it is a remake after all. Go try out the game for yourself and see if you like it!
Pros:
Nostalgia Filled Game
Perfect Introduction to the World of Pokemon
Has New Features Even Though It's An Older Game
Cons:
Not as Many Features Compared to New Games
If You Have Played a Newer Pokemon Game, Odds Are You Have Basically Played This One Already
See Also
Viewing games 1 to 12