Pokemon Pinball: Ruby and Sapphire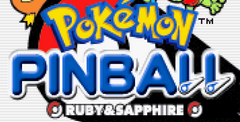 Download Pokemon Pinball: Ruby and Sapphire and catch 'em all in a whole new way! Master pinball challenges, collect your favorite Pokemon, and experience the excitement of the Pokemon world like never before. Start flipping and play now!
For too long, Nintendo has sat idly by as Konamis Yu-Gi-Oh! steals the hearts of elementary school children everywhere. Well, no more! Pokemon is finally here for Game Boy Advance, but can the series reach the levels of success that the prior entries enjoyed? Its hard to say at this point, but with a new quest in a new world, 100+ new Pocket Monsters to collect, and the ever-pop-ular multiplayer battles (with up to four combatants this time), itll probably lure Poke-fans back into the fold. Our reviewers wished that a little more effort had gone into making this a truly impressive, next-gen update, though. As it stands, its a solid adventure, but nothing earth-shattering.
People say:
7
I suppose I should be ashamed. Im a 28-year-old man, and I love Pokemon. Sure, all the cartoons, cards, toys, comics, and other merchandise got a bit (OK, a lot) excessive, but at the heart of the phenomenon, there were some great videogames. Now that the craze has died down, these new GBA releases arrive with minimal hype. Ruby and Sapphire, like the previous Game Boy games, are simple yet fun RPGs with great strategic battles and the ever-addictive catch em all hook. Unfortunately, these allegedly advanced versions are a lot like the older games. Theyre disturbingly similar, really. Nintendo seems to be following the if it aint broke, dont fix it rule with this series, and its beginning to wear thin. Dont get me wrong, Ruby and Sapphire are still great fun, and I became addicted all over again, but I felt as though Id done this all before. Which I had multiple times in Blue, Yellow, Gold, and Crystal. Sure, there are enhancements here and there more colorful visuals, occasional graphical effects (reflections in water, etc.), Pokemon contests (kind of like a dog show), some gimmicky e-Reader connectivity, and equally gimmicky 2-on-2 battles but nothing takes advantage of the GBAs power. This is really tough for me to judge. I do love them, but the feeling of been there, done that looms large over the entire experience. Better have some big improvements next time, Nintendo, or I may not be so nice.
7
These other guys are being too easy on Ruby and Sapphire. Yeah, they do sport a handful of cool features, including strategic 2-on-2 Pokemon battles and a Trait system that finally makes each critter into more than the sum of its stats. But the quest and play mechanics are just so painfully stale. The new characters are carbon copies of the old ones, the new world is functionally identical to johto and Kanto, and the gameplay changes are little more than subtle refinements. Unlike CJ, I think avid fans will be happy, but everyone else will find their patience tested by games that strive to be little more than remakes of the original with different Pokemon and snappy GBA graphics.
7
Pokemons back, and while Ive adored the past mons, somethings different this time. These new versions look better, are better organized, and have a sexy new gimmick (2-on-2 battles) but theres a problem. I just cant shake the feeling that Ive played these games three or four times before and the new garnish isnt enough to take the series to the next level. In many ways, they arent even as complex as Gold and Silver. Of course, Pokemons always been fun, and Ruby and Sapphire are no different. Theyre still great RPGs that, if youve never gotten up close and personal with Pikachu before, deserve playing (yes, seriously). But Pok&pros (like myself) will be a lil disappointed.
Download Pokemon Pinball: Ruby and Sapphire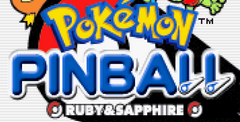 System requirements:
PC compatible
Operating systems: Windows 10/Windows 8/Windows 7/2000/Vista/WinXP
Similar Games
Viewing games 1 to 12