Pokemon Fire Red Randomizer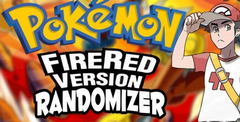 Click the "Install Game" button to initiate the free file download and get compact download launcher. Locate the executable file in your local folder and begin the launcher to install your desired game.
Ever since the GBA moved from a modern machine to a forgotten relic, a movement emerged within the world of gaming. The movement of ROMS. These allow players to enjoy adventures through emulation software on their phone or PC. It's a seamless process and as of this moment, gaming brands seems cool with it. ROM's are usually fun on their own but what if you could control every aspect of your fan made adventure? Well, to do this, you'll need to utilise the Pokemon Fire Red Randomiser.
This isn't like any other game simply because, it isn't like any other game, as it's a piece of software that randomises this one particular ROM. However, if we had to suggest some fun alternatives, we would suggest games like Pokemon Clover, Pokemon Unbound, Pokemon Ultra Violet and Pokemon Snakewood. This is a great piece of software, but does it really alter the game for the better? We find out in our review of Pokemon Fire Red Randomiser.
That's So Random!
Firstly, lets get this out of the way, this isn't a game, using this programme isn't inherently fun and it isn't all that impressive looking. In truth, it basically looks like a wizard from the 2000's Windows XP era. However, what you can do with this programme is what makes the game that follows an entirely new adventure when compared to the original, vanilla experience.
With this programme, you are able to alter what Pokemon you encounter, when you encounter them, what starters are available to you, what level the Pokemon you encounter will be and more. Then you can also change the items you find on the ground, the rewards you receive, the Pokemon that trainers will battle with. Honestly, there is so much that you can do that you can change the entire outlook of the game while maintaining the skeleton of the original.
We also appreciate that the UI is simple and clearly labelled, so no matter what you want to do. You can do it easily and you can do it repetitively. The level of replayability this simple programme offers is near infinite. The only downside is that it isn't a licenced Pokemon product and therefore, you can run into trouble, such as creating game breaking ROM's that simply can't be completed. However, we say that it's part of the fun.
The Verdict
Overall, we would say that if you are a Pokemon fan that's seen and done it all, this is an essential download. This allows you to replay this game infinitely, play how you want to and offers more player choice than any other Pokemon title ever could.
8
We will say that it isn't perfect and game breaking settings are common. However, if you love Nuzlockes or just want something new. This is just the ticket.
Pros:
Plenty of custom options
Free to use
Easy download
Great UI
Cons:
Game breaking ROM's can happen
Not a licenced Pokemon product
Download Pokemon Fire Red Randomizer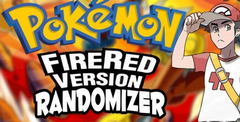 System requirements:
PC compatible
Operating systems: Windows 10/Windows 8/Windows 7/2000/Vista/WinXP
Game Reviews
First of all, we'll need to get something out of the way - what is Pokemon FireRed Randomizer? Yes, you'll know what that famed monster-collector franchise is already - probably even the GameBoy Advance Game. But why 'randomizer'? It's the name given to a fan-made version of the game that runs on PC and adds a few new features to tickle fan interest.
Have you played at least one of the two simultaneous releases? You'll already understand that Pokemon Fire Red was an outstanding entry. Pokemon FireRed Randomizer is a ROM that aims to capitalize on its successes and add revamped graphics, new features, and a couple of new areas to explore. Is this fan-made offering actually better than the already established originally?
Random By Name, Streamlined By Choice
Even some of the greatest games have their nuisances or things that the developers could have done better. In the case of Pokemon FireRed Randomizer, there isn't a whole lot mechanically that's changed - bar a few changes to things that annoyed players ever so slightly. So what is different in this already established classic?
The most noticeable trait is the sharper visuals incorporated into nearly every aspect of the game. Suddenly, the colors of the Kanto region are bouncing out at your more - and battles become that much more immersive. On the subject of combat, catching accuracy has been improved. As well as allowing players to have three poke balls.
For a fan-made version, it's actually pretty impressive that Pokemon FireRed Randomizer is quite the improved version. The annoyance of purchasing a second game for all 150 Kanto Pokemon has been removed, ensuring they are all available in-game. The look and feel have been refined, and the monotonous exploration pace has been quickened.
It takes real fan dedication to improve a game that was already enjoyable. Somehow, it's managed to pull off in quite a respectable fashion. Whether this Pokemon FireRed Randomizer is canon is another story. But we can safely say that this version is the more recommended if players want a more refined experience.
A Good Shade of the Original Color
Without question, the Pokemon games are the unadulterated godfathers of the top-down RPG. Over the many entries and years of existence, we've been treated to highly immersive and entertaining games. Nothing fell short in the original Pokemon FireRed and LeafGreen versions. Some Pokemon fans are so hardcore, though, that even meticulous details need to be improved.
9
Pokemon FireRed Randomizer is a prime example of how to make a great game even better. It's reminiscent of our beloved Half-Life getting the Black Mesa makeover to bring it up to modern speed. All around - if you can get a hold of this version of the game - it's highly recommended. It plays a bit more seamlessly than its predecessors.
Pros:
A more streamlined experience than the original
Removes mechanical limitations and content restrictions
Even more exploring potential in the Kanto region
Cons:
Not an official version of the game, making it harder to obtain
Similar Games
Viewing games 1 to 8