Degrees Of Lewdity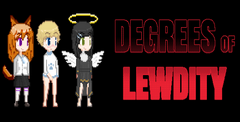 Click the "Install Game" button to initiate the free file download and get compact download launcher. Locate the executable file in your local folder and begin the launcher to install your desired game.
I have played a ton of strange erotic games, but Degrees Of Lewdity is one that even after spending a few more hours with it I am not sure how I feel about it. This is one of those games that is rather hard to talk about it. On one hand, it deals with some very extreme sexual themes which right off the bat means if you are easily offended you need to walk away. However, even if you can deal with that it is still a rather strange game to get your head round.
Read All About It
One of the more interesting aspects of Degrees Of Lewdity is that this is a text-based game. Everything you do in this game is done via a text system. This goes for the combat, the progression, getting new gear and of course the sex. This is a game where you are a young 18-year-old who has ended up trying to strike out on their own. Going to school, getting a job, being a victim to the town's sexual desires…. WHAT???
Yeah, that is the kind of thing going on here. There are a ton of characters in the game that you come across and, in this game, if you fail, you are on the end of fulfilling someone else's sexual desires.
Three Ways To Go
One of the things that makes people take note of Degrees Of Lewdity is that when it comes to the actual sex there are different ways it can go. One is that it is consensual, then we have nonconsensual and then we also have an option where you do not want any part in it and can call for help and it may be stopped. This is rather interesting and the game even though it is a text-based game does have a lot of things to consider. For example, the lewder you dress the more attention you will get. Going to certain places at night is dangerous and so on.
Pixelated Action
While the majority of the game is text-based, you can still see some pixelated hentai action. This is way more graphic than I was expecting! To be honest, the actual game and the sexual descriptions it gives are really graphic so I am not sure why I was so surprised. However, this makes the game one that is most certainly 120 percent not safe to play while you are at work or even in the same room as someone.
7
I can see why so many people like Degrees Of Lewdity I really can. For me, this is perhaps a step too far as I am not keen on the way it is so graphic with the nonconsensual sex that is in the game. If you can get past this though, you will be surprised at how much there is to do in this game. It is my understanding that the game is actually updated pretty frequently.
Pros:
The game has a lot of characters to interact with
The pixelated retro graphics do have some charm
Plenty of character progression
It is easy to get into
The game is deeper than you may think
Cons:
Some of the sex is pretty graphic
Not keen on the non-consensual aspect of the game
Download Degrees Of Lewdity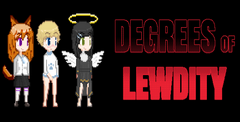 System requirements:
PC compatible
Operating systems: Windows 10/Windows 8/Windows 7/2000/Vista/WinXP
Game Reviews
When playing a eroge game, you always go in with the expectation that the experiences you will have are already decided. Every player will witness the same sex scenes, have the same conversations, make the same choices and end up with the same outcome. Well, some games within the genre like to make their titles more open ended, allowing for more emergent gameplay with twists and turns that no one would ever anticipate. Degrees of Lewdity is the epitome of this experience, offering a sandbox of fun for all.
This game plays like other Eroge sandbox games and some more mainstream life simulators. More specifically, it plays like games such as Persona, The Sims, Swimsanity, RPG Ambition Record, Wartide, The Legend of Queen Opala and Succubus Prison. This game is a pixellated breath of fresh air for the genre but how does it shape up against the best of the best? We find out in our review of Degrees of Lewdity.
It's All About The Mods
First, lets briefly discuss the vanilla experience. In this game you go about your normal life, go to school, work a part time job and in your spare time. You have the capacity to commit crime, help the community, sell your body on the street corner and everything in between. The artistic direction is simple, allowing for a wide and expansive world for the player to explore, a wealth of characters to meet and tonnes of content to dig into. Overall, the vanilla version is superb. However, the real appeal of DOL is the modding community. Focusing on some of the finest options out there. Players can make use of the World Expanison mod which allows you to expand the vanilla world, add new lore, new skills, new characters, new love interests and new raunchy scenes to enjoy. However, this fanatic World Expansion mod is only the tip of the iceberg.
That's not all though, fans can also download Degrees of Bizarre Lewdity. A mod that ups the crazy factor and tosses in Jojo's Bizarre Adventure into the mix to create an entirely new beast. Or if you are more into bladder related kinks, there is a watersports mod that allows players to add a bladder control mechanic to the game. Meaning that you can get up to all sorts of antics after a tall glass of water.
Players can also add much needed changes to the game such as the ability to have Doren as a love interest thanks to the Doren Days mod. A mod that also adds new jobs, school events, locations and scenes related to this character. Or if you just want to get more done while you rub one out, Skullky's mod is a must have.
The Verdict
Overall, we can see why some players might find this one a little primitive due to the simple art style of the game.
8
However, the vanilla version of this game has plenty to offer and the sheer amount of versatility that the modding community offers is more than enough to give this one a try. As, if you don't like the game as it is, there is likely a way to change it so that it fits your wants and needs. So be sure to try Degrees of Lewdity for yourself.
Pros:
A rich world which you can expand
Plenty of great characters and scenes
Loads of content
Sandbox format provides freedom
Cons:
Requires mods to get the most out of the game
Art style is simplistic
See Also
Viewing games 1 to 7