Leisure Suit Larry: Love for Sail!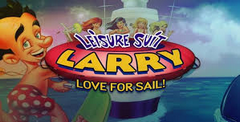 Click the "Install Game" button to initiate the free file download and get compact download launcher. Locate the executable file in your local folder and begin the launcher to install your desired game.
So You Don't Think Al Lowe Is the funniest guy in the whole wide world, eh? You don't think that the Leisure Suit Larry series is the most hilarious thing you've ever seen? Well, er, to be honest, the last couple were a bit crap, but it wasn't always like that, you know. When the original game was released, it was actually quite a hoot. I don't know if we all fell it for it at the time because there was nothing else around (Cwe' meaning, ahem, veteran pc gamers), or because at that stage Al Lowe was still trying to work out how to disappear completely up his own arse (a feat he managed to pull off admirably in Larry 6). Then again, it might be down to the fact that I was only one year old at the time, and was yet to develop the sophisticated sense of humour I have today (Benny Hill, for example, has me in stitches).
Either way, the fact remains that this series, as far as many gamers are concerned, deserves a place of honour in the pc gaming history books. LSL I was the first graphic adventure to appear on the pc. It was genuinely funny and a corker of an adventure game. Unfortunately, things went rapidly downhill after the first episode. The second game wasn't too bad, but the third one was decidedly ropey, and the less said about the more recent ones, the better. Worry not, however, because things are looking up big time with Larry 7...
Blimey, proper graphics!
Larry 6 was decidedly plop in the graphics department. Sierra obviously realised this because the latest game in the series sports very hi-res cartoony-type graphics that suit the games' particular brand of bawdy humour. Thank the Lord they avoided the temptation to use fmv (digitised Larry would have been an absolute disaster).
The game is set on board the luxury cruise liner HMS Bouncy (oo-er). As usual, Larry tries to date every chick he comes across, and as usual he fails miserably. You may think, then, that Larry 7 is more or less the same as all the other ones. Not so. With Larry 7 Sierra have supplied a template and tools which you can use to Cput' yourself in the game, though why anyone would want the world to see them as Larry Laffer is beyond me. In true Cwhat planet are they on?' Sierra tradition, the package also includes scratch 'n' sniff puzzles which I haven't seen but I'm sure they're absolutely hilarious.
Curiously, in addition to the standard point-and-click interface, Sierra have brought back the option to type in commands, giving you an almost unlimited number of ways in which to interact with the game. I haven't played Larry 7 to any great extent yet, but the graphics look really smart and the new interface adds an extra dimension to the gameplay. We'll review it next month and let you know whether or not Al Lowe has finally seen sense and got someone to put some genuinely funny gags into the game.
Download Leisure Suit Larry: Love for Sail!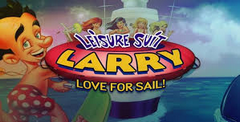 System requirements:
PC compatible
Operating systems: Windows 10/Windows 8/Windows 7/2000/Vista/WinXP
Game Reviews
Larry's Back, He's Had A (Much Needed)As Many Of You No Doubt Played graphical face-lift, and Al Lowe's jokes are as funny/unfunny as ever (delete as applicable depending on whether his particular brand of humour does it for you or not). The gameplay is unsurprisingly identical to that of all the previous games, in as much as the whole game revolves around Larry trying to get off with a series of huge-breasted, intellectually challenged babes, who all promise him the earth, only to deliver, er, a very small clump of soil. Or something.
All the Caction' takes place on a cruise liner, giving rise to all sorts of witty mariney double entendres and, of course, Al has picked this particular theme so he would have an excuse to fill the game with bikini-clad women. Quelle surprise'. Oddly enough, in addition to the usual point-and-click interface, Sierra have brought back the keyboard method of input. This means you get to type in stuff like Cget your kit off' to all the girls in the game if you want. Fantastic, eh? Okay, this review probably sounds pretty negative, but let's face it, the whole series is getting a bit long in the tooth.
Let's just finish with an absolute cop-out closing comment along the lines of CCLarry fans will love it, everyone else won't, to convey the feeling of lethargy the game inspires in those unfortunate enough to find themselves in front of it. And how about a cop-out score of 79 as well? Yes, that will do nicely thank you.
Similar Games
Viewing games 1 to 10