Wet Attack: The Empire Cums Back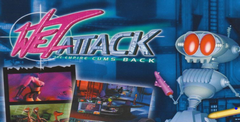 Click the "Install Game" button to initiate the free file download and get compact download launcher. Locate the executable file in your local folder and begin the launcher to install your desired game.
Oh dear. If ever there was a game that didn't warrant a sequel, it was surely Lula - The Sexy Empire. For those fortunate enough to miss it, Lula's inaugural outing can loosely be described as a comedy sex adventure. More accurately, it can be described as a low point of PC gaming and something that should never have been released outside of its native Germany.
But with Wei Attack, Lula, in no uncertain terms, is back, continuing the onslaught of smut in similarly non-hilarious fashion. There is a storyline to the game, and suffice to say it involves travelling to a far-off galaxy to do battle with something or someone called the Pimperator, who has possibly been stealing the libido of Lula and her equally well-endowed friends. You assume the role of dim-witted taxi driver Buck, who receivesLula's plea for help in a pseudo Princess Leia style, thus lamely justifying the game's subtitle (and quite possibly violating George Lucas' intellectual property).
PIMP
From there on, it's a laugh-a-decade romp to a series of suggestively named planets, offering numerous opportunities for regular sexual intercourse, with the odyssey largely funded by prostitution. A mix of gaming styles are on offer with the box boldly claiming to offer adventure, 3D shooter, real-time strategy and business simulation. This isn't a complete fabrication, although what it fails to mention is that they are possibly the worst example of the respective genres ever seen. The adventure section is desperately old skool and could easily be from a five-year-old game. An almost wholly linear affair, it simply involves wandering around using a rudimentary inventory: essentially a laboured device for instigating low-grade cut-scenes. As for the supposed 3D-shooter section, it's actually more of a space combat interlude and is as pointless as it is primitive. The business simulation presumably refers to setting the price of the whores who service the population of each planet you land on, as well as the cost effectiveness of decking out your mobile brothel with the relevant accoutrements. And as for the real-time strategy claim, this is something of a mystery, so much so that the relevant screenshot is missing from the back of the box.
HO
Either way, all of the above is simply an excuse to regularly simulate foreplay with cartoon women, which if performed correctly leads to FMV footage of animated rutting. Foreplay consists of clicking on various body parts with an icon of either a mouth, a tongue, a hand, or something that looks like a thorn. Either way, it's an absurd experience, with the women reacting tavourably to certain stimuli with appreciative noises and symbolic graphics. Performance-related points are awarded, and if 100 is reached within five minutes, the softcore cut-scene kicks in. Bear in mind that this all takes place in stylised cartoon fashion, so unless you get excited watching Manga films, forget about this as a source of stimulation. In fact it's hard to see who Wet Attack is going to appeal to. The game is almost entirely without worth, and if you're after a bit of excitement you can get a year's subscription to any of the top-shelf mags for the same price.
Download Wet Attack: The Empire Cums Back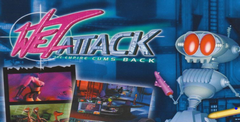 System requirements:
PC compatible
Operating systems: Windows 10/Windows 8/Windows 7/2000/Vista/WinXP
See Also
Viewing games 1 to 7