Meltys Quest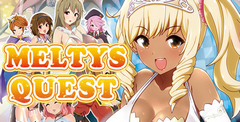 Click the "Install Game" button to initiate the free file download and get compact download launcher. Locate the executable file in your local folder and begin the launcher to install your desired game.
Let me start this Meltys Quest review by just saying WOW! I was not really sure what I was getting into here. I have played more than my fair share of erotic RPG's over the years, but this is one of the most engaging, sexy, erotic and weirdly charming that I have had the pleasure to play. I can see why so many people get hooked on this game after just playing it for a short time!
Like, I Am Melty And I Am Like Totally Awesome
The main character is Melty and she is fantastic. She is an easy-going party girl who just wants a simple life. She is a Princess and likes the easy life that comes with that. Well when her kingdom is invaded, she has to go on a quest to save the day and be the hero her kingdom needs. It is your typical fantasy like fare, but I just loved Melty as a character. She is not this all-powerful badass (although she kind of is) she is very much a "normal" girl and that is what I feel many people will find appealing…. And of course, she is super-hot.
Super-hot and uncensored I should say. You see, Meltys Quest has been released and it is fully uncensored. No patch is needed, you can just take in all of the graphic action and let me tell you this is a very graphic kind of sex game. Being able to see what is happening I am sure will be a huge plus for many people.
More Than Just Sex
It is so easy to look at this game and just say it is all about watching hot characters get it on. Do not get me wrong there is a ton of that, over 60 sex scenes actually! However, this is, in fact, a fully-fledged JRPG. You have combat, items, buffs, clothing, classes, jobs and everything else that you would expect to find in a regular RPG. It just so happens that Meltys Quest also has a ton of sex in it as well. I found the humor to be great and the whole story, in general, was fun. However, there is a lot of story here so some might get bored.
One aspect of the game that I thought was really clever was the clothing. Now, you probably just assume that I am going to say you can make Melty and the other characters look super sexy. Well while the clothing may change her appearance it can also give her new buffs and abilities which you can then level up. The game has a nice progression system and while there is a fair bit of grinding (not just with her pants down) required. It never felt tedious and the game is quite good at dishing out XP and other things you need to progress.
As I said in the intro, I have played many erotic games over the years, but Meltys Quest legit is one of the best I have played. Yes, it is full of sex and quite graphic sex at that. However, as an actual JRPG, this is a very well-made game. It looks fantastic, Melty is a very interesting character and you genuinely do want to help her succeed in saving the day as well as hooking up with as many folks as you can.
9/10
Pros:
It is a proper JRPG
Plenty to see and do
Tons of high-quality sex scenes
There is a new game plus
The plot is far more engaging than you would think
Cons:
The game can freeze on occasion
You may be shocked at how graphic this game is!
Download Meltys Quest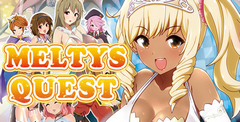 System requirements:
PC compatible
Operating systems: Windows 10/Windows 8/Windows 7/2000/Vista/WinXP
Similar Games
Viewing games 1 to 6