My Pig Princess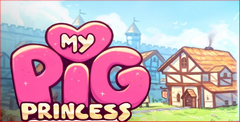 Download My Pig Princess and embark on a heartwarming adventure! Solve puzzles, meet quirky characters, and uncover the story of a princess turned into a pig. Experience the magic and play now!
My Pig Princess is a wonderful lewd visual novel that I immensely enjoyed my time with as I played through it. This is one of those rare games that clicked with me pretty much right from the start and I ended up playing through the entire thing in one evening. I would probably go as far as to say that this is one of the best lewd visual novels, I have ended up playing in quite some time so be sure to check it out! I will say that the game as I write this is not finished, but what is here is awesome!
A Princess By Any Other Name
The setting of this game is one that I really did like. My Pig Princess is a fantasy style game in a land that is ruled by these pig looking creatures. Their princess is a young, somewhat naive woman called Emelie. I really liked Emelie as a character and the way that she starts to embrace her naughty side was a lot of fun. We actually play as a human character (that we get to name) we are a farmer and by chance, we end up meeting and striking up an interesting relationship with Princess Emelie!
Straight From The Heart
A huge part of the reason why My Pig Princess clicked with me was the writing. This is a game that I feel has a lot of heart to it. It is basically a story about Emelie and this farmer dude connecting and getting into more and more lewd situations with each other as the farmer, even though he is a human really starts to fall with her. The story is quite witty and has a nice amount of humor in it and I am very interested to see where it goes once it is completed.
From Page To Page
As you can see from the pictures the art in My Pig Princess is absolutely incredible! I am not a "furry" however, Princess Emelie is just so cute and her big thick body is impossible not to gawk at! You know, if I had a penny for every time, I said I was not a furry, but there was a furry like character I thought was hot I would be a millionaire, maybe it is time for me to face the facts! The game has this kind of storybook look to it which I really do like. The lewd content in the game is fantastic and the animation is more like one of those lenticular type images, but it somehow works here for me, but if I am being honest, I can see why for some it may not be fluid or smooth enough.
Coming Out Of Her Shell
As My Pig Princess is a lewd visual novel, the gameplay on offer here has you deciding what to say or do in certain situations. I was very happy at the rate that the choices would pop up as it kept me more invested in the story that was being told. I got a kick out of how during a lewd scene a choice would sometimes pop up, making even them appear to be more interactive. This is pretty much the exact type of gameplay I want when it comes to a lewd visual novel game so I am more than happy with how this actually plays.
9.5
I had a real blast with My Pig Princess and it is a game that I am going to come back to time and time again. I had so much fun with it that I ended up throwing the developer a few bucks as I want to see this thing finished. If you want a lewd visual novel with a hot "furry" style character and a story that has a lot of charm to it, in all honesty, this one here is hard to beat!
Pros:
Emelie is such a lovely character
Emelie is also super hot and sexy!
I liked the XXX storybook kind of vibe that the game had
The game was just a joy to play
Cons:
As I write this, the game is not yet complete
The animation may not be smooth enough for some people
Download My Pig Princess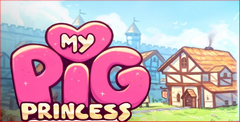 System requirements:
PC compatible
Operating systems: Windows 10/Windows 8/Windows 7/2000/Vista/WinXP
Game Reviews
My Pig Princess is a fun and sexy visual story where the player becomes the farmer and owner of an anthropomorphic beautiful female pig to take care of and have sex with.
The main thing is caring
Become a better host for the cutie. You have to genuinely support and take care of the little one's body: combing out, giving food, taking her to bathe and sleeping together (make sure the little princess doesn't freeze).
The player will invent and maintain a "kingdom" where he is the main and fair king, and Emily (that's the heroine's name) is the queen and just the most beautiful in the world. Serve Emily's needs and she will give you what you need.
Emily looks very beautiful:
Pink spots on her face
Pretty little patch
Jewels around her neck
Little ears
Huge wet purple eyes
Blond shoulder-length hair
Big breasts and taut legs
The queen sleeps in her pink room: plants standing, lace curtains, an elegant chair, a trunk for belongings, a soft rug, and a huge mirror.
Gameplay
The player is the king. The king's function is to rule. Control the life of the villagers and arrange the life of the beauty. You have to go for food and talk to the villagers. Strong animals in chainmail and with swords guard the castle walls. Life is safe: a humanoid pretty hen with a stroller walks through the center of the village village.
Details
The exterior of the game is truly fabulous. Everything is very bright and intense. The characters' faces are lit up with smiles, joy and merriment. The voice-over that accompanies the story conveys the atmosphere of calm and love very well.
The most beautiful thing about the game is Emily. The player gets to sleep with Emily. Hot scenes with the beautiful beauty will not leave users indifferent. Call Emily on dates and do her good, then the little girl will blossom and start giving love. Merge with Emily in the royal chambers.
9
My Pig Princess is a fun game about a loving couple with a cool cartoon visual. Fans of SexNote and Wolf Girl With You will love it.
My Pig Princess is a funny and juicy erotic visual story about a farmer and a humanoid cute pig who obediently takes orders from her beloved master.
Main Love
The player will take care of the pink princess:
Feed her
Brushing her hair
Wash her body
Warm her up at night
Let the protagonist become the first in the fictional kingdom, where all the household revolves around her.
Gameplay
The player will run the life of the rural village. Store for food and interact with the villagers. Meet giant boar guards with giant teeth and armor. An anthropomorphic chicken walks along the sandy paths, smiling and driving a stroller with little babies.
Emelia is a beauty:
A blush on her cheeks
Purple eyes
A humble snout
Ears
White fluffy hair just above her neck
A necklace around her neck
Wide hips
Big breasts
Thin arms
The little girl's room looks babyish: pink rug, pink bedspread, pink curtains, pink chair upholstery, gold colored mirror, cactus on the nightstand, and a fancy clothes chest.
Details
My Pig Princess' visuals are fabulous: rich and vibrant colors, funny facial expressions, cuteness and cuteness. The characters look cute from the first day of play, you empathize with them as friends. The voice acting is well-written, the narrators express emotions expressively. After a couple hours of gameplay it becomes clear that the writers worked on the story and tried to write a quality story.
An atmosphere of nonchalance, understated comedy, and intimacy reigns in My Pig Princess. Erotica is Emelia, Emelia is eroticism. The player will have exciting sex with the beautiful cutie. You can't hurt the main character, you have to take care of her and please her in every way, make her feel good. Then she will awaken love and sexual attraction. Get some privacy with the little girl in a royal bedroom or outdoors in the moonlight.
8
My Pig Princess is a fabulous game about the warm (and hot) relationship between the beauty and the main character. Fans of PantyParrot - Kaiju Princess, Warlock and Boobs and Manka Games - Tame It!
See Also
Viewing games 1 to 8