SexNote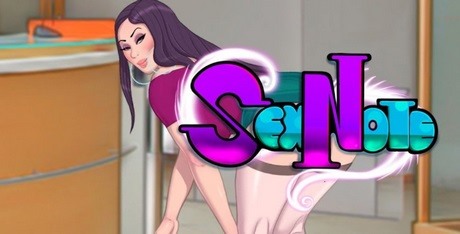 Click the "Install Game" button to initiate the free file download and get compact download launcher. Locate the executable file in your local folder and begin the launcher to install your desired game.
If you even follow anime slightly and can only name the big hitters, you'll probably know the concept of Death Note. Basically, a boy discovers a book that if he writes someone's name in, causes them to die. Well, what if someone were to take that concept and loosely base an adult-themed game around the magic of an enchanted book. You'll be happy to hear that someone already has, its called SexNote rather predictably and it's a game that lets you live your sexual fantasies through the power of a hardback book.
Point and Flick
The gameplay featured in this title is mainly narrative-driven. The player will have a mini-map to navigate, various environments to explore through point and click mechanics and a number of characters to interact with. This will take up the main bulk of your time as you will need to develop relationships with these people, talk to them regularly, make hard decisions and when the time is right, make your move.
There are also some rather unconventional additions to this game that is seldom seen in other titles within the genre. The most obvious being the spell system that allows you to seal the deal with a number of characters. Then there is also a monetary aspect to the game, a refined dating system to the game and a day/night cycle. Though that last one is a little bit generous.
Incongruent Visuals
The art style is a real low point for this game. While it's not exactly awful as an art direction, when compared to other titles, even the animated or cel-shaded counterparts, this one looks unfinished or rough around the edges. The character models look out of place against the more refined backgrounds, the proportions are off, and not just on the boobs, the textures are inconsistent and overall, the game looks like nothing more than a mid-2000's flash game at best.
Generic UI
The overall design and user interface for this title also seems to be a little uninspired. Yes, the game is quite accessible for players to pick up and play and the controls are about as rudimentary as they come. I guess the real criticism is that the design feels like a carbon copy of its predecessors with similar point and click mechanics and minimap navigation. It feels lazy but on the plus side, it all functions fine.
More Like Sick Note
4.5
This game sets off out the gates with a premise that has worked for one of the most popular animes in recent memory with a slight tweak to fit the genre. So it was fair to say that this one had the potential to be a wacky but still very well made title.
Cons
However, thanks to a lack of cohesion with the art direction, the lazy UI and the lack of innovation, this one becomes just another mediocre point and click adult game for the pile.
Pros
For avid fans, you may get a kick out of the monetary mechanics, the decent storyline or the interesting spell system but otherwise, we would say that this one isn't worth your time, so invest it elsewhere.
Download SexNote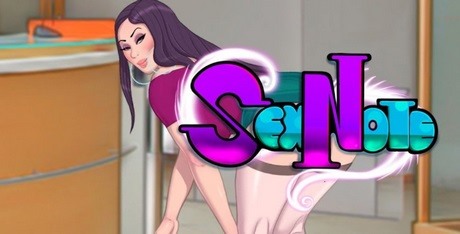 System requirements:
PC compatible
Operating systems: Windows 10/Windows 8/Windows 7/2000/Vista/WinXP
Game Reviews
It wouldn't take a genius to get the gist of what SexNote is all about. It is an NSFW point-and-click adventure that does not so much tell a story as a visual novel would. But incorporates sandbox elements to leave it open to player interpretation. It goes without saying that SexNote is definitely an 18+ game, and for that reason - it's inaccessible on major platforms.
Reviewing these games needs to take a degree of impartiality given the immediate division of opinion from the player base. One would see it as a cheap porn game designed to be a simple cash cow. Others would dive into it as an art form offering critical analysis on the gameplay, visuals, and narrative. Our curious minds will be taking the latter view, no matter how to taboo the content.
Far From A Cinderella Story
Before you jump into the peculiar dating world of SexNote, there is somewhat of a narrative to get your head around. You are a player living with adoptive mothers and stepsisters, setting the scene already for sexual exploits. Why you got in this position, who knows - but players advocates of the genre wouldn't particularly care.
Here's the part where we get a kick out of - the gameplay. Your mission is to restore magic into the world by having lots of sex. Yep, that's right. It's up to the player to overcome shyness and bring the universe out of darkness by plowing every girl you meet and greet, wine and dine. No matter how trivial the premise, it does set up a fascinating set of mechanics.
You'll be blessed with a bunch of spells by the SexNote goddess to help woo your ladies into sexual congress. As you navigate the story, you'll be presented with the opportunity to upgrade those skills to overcome the more challenging dates, so to speak. It could play better than it does, but unfortunately, the lazy interface and bizarre visuals don't do the game much justice.
SexNote feels like a game derived from one of those infographic cartoons, only with a few buttons to make the 'magic' happen. It's not particularly creative and plays like just another adult game. However, we'll give it that the story does tend to have its captivating moments. If it's not the sex you're interested in, it's at least intriguing in the narrative.
Signed, Sucked, Delivered
SexNote is easiest described as another straightforward, mildly satisfying game that players would probably get a kick out of for about 45-minutes. It seemed like it had good ideas, but delivery only makes it come off as cheap and sleazy. If you're looking for a more complete adult game experience, you're better looking elsewhere.
8
Subverse is one of the games that come to mind. Developers clearly had an interest in bringing a more fulfilling experience to adult gamers. SexNote falls far off the tree in comparison, and ultimately, it's not worth the time or money. Better broaden your adult gaming horizons in other locations.
Pros:
An intriguing storyline that does maintain player interest
Unique sandbox skill system for a point-and-click
Some humorous moments, whether intended or not
Cons:
Mechanics feel lazy in almost every aspect
Players will lose interest fairly quickly
Music gets annoying
See Also
Viewing games 1 to 2