Something Unlimited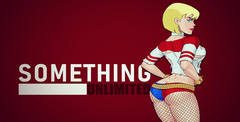 Download Something Unlimited and see the sexy side of the DC Universe. Lex Luthor has decided that the right thing to do is to turn all the hot characters into sex slaves. This is a fun and very lewd game based on your favorite sexy DC Superheroes!
You have no idea how much I want to love Something Unlimited! Instead, this ended up being a game that I just liked and it has been in development for over five years as I write this and the updates are rather infrequent. There is some good here and if you want to see some of your favorite superhero characters naked and getting it on, you will like this. However, the process to get to that content is ultimately what is holding this game back.
Luthor You Scamp!
The main character in Something Unlimited is Lex Luthor. Do not get me wrong, he has not changed his ways, he is still as bad as they come. However, his one mighty Luthorcorp is in ruins and he needs to make money. What better way to make money than by getting all of the best superheroes that the world has to offer to work in your bordello and offer their sexual services for high roller clients, that is sure to get your billions back! I think as a premise, this makes very little sense, but the game just rolls with it and it works.
Justice Is Always Unlimited
The thing that I found the most amusing and also cool about Something Unlimited was the whole style of what they were going for here. Clearly, this game is modeled after the awesome Justice League Unlimited animated series from the 00s and if you are a fan of that show, you will like these sex crazed XXX versions of the characters that make up this story. I will say that some parts of the story are too long winded for their own good, but if you are a fan of the source material you will probably be able to deal with it.
That Classic JLA Style
While the tone of the game is a more exaggerated style of the Justice League Unlimited TV show, Something Unlimited really nails that style with its visuals. The character designs here are awesome and it features the sexiest version of Wonder Woman that I have ever seen. There are all of the major heroes from the show for you to try and recruit to your bordello, but you also get to see some of the villains such as Harley and Catwoman in all their glory as well. Now, only a few of the scenes are animated and I wish more were, but overall, I love the XXX content in this game.
Getting To The Top Sure Ain't Easy!
So, I like the story of Something Unlimited, I love the way the characters look and the XXX content is hot! However, it is the gameplay that I feel stops this from being something truly special. This is a lewd sandbox style game. You need to click around the different places such as the office, the bordello, the stables, or whatever. You also need to talk to the various characters to get them to come and work at the bordello. The grind to do this is crazy! Not only do you have to do the same thing over and over again. You can be working on a girl, make a mistake and the ten or so minutes you spent trying to get her amount to nothing!
7
There are some things about Something Unlimited that I really do like. I watched the show and even now have a few of the figures in my collection so in that regard I got a kick out of it. However, while the XXX content and the story are fun, the gameplay here really holds this thing back. It is such a slog to get through and it can be so frustrating to have the time you spent with a girl come to nothing and you have to try it again. If you are a fan of the Justice League Unlimited show, you may be able to overlook the flaws the game has.
Pros:
The game has some of the most iconic female superheroes
This game has the hottest Wonder Woman you will ever see
I liked the overall tone of the story and game
Lex Luthor makes for a rather interesting protagonist
Cons:
The grinding in this game is way too obnoxious!
It has been years since this was first released and it is still not complete
Download Something Unlimited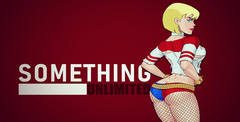 System requirements:
PC compatible
Operating systems: Windows 10/Windows 8/Windows 7/2000/Vista/WinXP
Game Reviews
Something Unlimited is probably best known as the DC Superheroes porn game. With that being said, you have probably already figured out that this is a game that is 100 percent NSFW as it features hardcore sex. There are many of these hentai/porn games out there, but the fact this one is based on characters that many of us know and love makes it stand out from the crowd.
My Name Is Sex Luthor!
In the game, the main "protagonist" is Lex Luthor one of the main villains from the world of DC comics. In this game, his Luthorcorp has seen better days and he decides that the best way to make money is by turning all the hot DC characters into sex slaves for his own pleasure and of course to make money. That right there is the basic plot of Something Unlimited!
This is a great looking game and if you have ever wondered what characters like Batgirl and Raven looked like with no clothes on this is the game for you. A lot of work clearly went into these 2D sprites and while I do wish there was a bit more "motion" what is done here is done fairly well.
The Gang Is All Here
Let's face it the only reason that you want to play this game is to see your favorite DC heroines and villains get it on. The game features some of the major characters from the world of DC comics such as Wonder Woman, Supergirl, Harley Quinn (she is so nice in Batman: Arkham Knight), Starfire, and many, many more. You cannot just talk to them and start banging away, Something Unlimited requires more of you than that.
The game has Lex Luthor send out villains to capture other characters for him. At the start of the game, you can only capture more basic characters, but eventually, you work up to being able to capture superpowered females such as Wonder Woman.
Making It Work
Something Unlimited is all about seeing these characters naked and involved in pretty much every sex act under the sun. So, the decision to have some kind of weird strategy game where you need to make the girls perform at a club to make money and you are forced to change the girls out and so on is very odd. It is more of a hindrance than anything else and I get that they put this in here to add a bit more actual "gameplay" however to say it is basic is a massive understatement so I am not sure why they bothered at all.
7.5
As far as hentai/sex games go I think that Something Unlimited is one of the better ones out there. Of course, I am saying this as a fan of many of these characters so that is what probably kept me interested longer than had these characters just been randomly made-up people. Say what you will, but the artwork is very, very well done so if you like hentai and like DC then you should give this one a try.
Pros:
Features a ton of DC characters
Features a ton of DC characters who are naked and getting it on!
Some of the dialogue is kind of funny
They tried to put a bit of strategy in here
The 2D artwork is some of the best I have seen
Cons:
The "game" part of the game is very lacking
Might scar some hardcore DC fans for life!
See Also
Viewing games 1 to 8