Milftoon Drama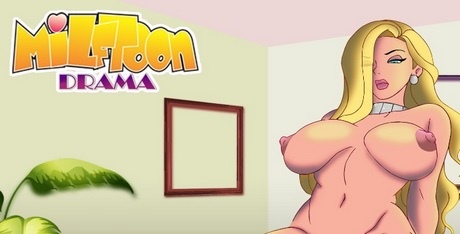 Click the "Install Game" button to initiate the free file download and get compact download launcher. Locate the executable file in your local folder and begin the launcher to install your desired game.
Wow is what I said over and over again as I played through Milftoon Drama! This is one of the most ambitious lewd games that I have ever had the pleasure to play and if there is one lewd game that I will recommend to people it is probably going to be this one. It is much talked about because of the art style and the fact that it is a massive game to get through. As the name of the game suggests, this is most certainly NSFW!
I Wish I Was Joey!
The main character in the game and the person we will be playing as is a guy called Joey. Joey is about to start college and he wants to get as much action as he can before the. He does not care who it is as long as she has boobs and is willing, he is looking to score. It is kind of like a more XXX and extreme version of the dudes from the American Pie movies.
Joey ends up getting involved with many different ladies through the course of the game. The writing is great, it has a lot of humor to it and I just wish that it had voice acting as this would have really put the game over the top.
Like Disney, If Disney Was Lewd!
The presentation of Milftoon Drama is fantastic. Seriously this is one of the best-looking lewd XXX games that I have ever played. The characters look like they have come from a very high-end animation studio and the artist here did a truly phenomenal job. The character models all look great, as do the various locations you will be going to in the game.
As well as looking great, the characters are brought to life with some very clever animation. I am not just talking about the sex scenes either which are animated very well. Just when the characters are talking or moving slightly, the whole game has a very polished look to it. Honesty, if this had voice acting it would be truly phenomenal.
Point, Click, And Screw
I would not just class Milftoon Drama as another visual novel style game. This has far more in common with a point and click adventure game and it is pretty crazy how much you have to do to progress through the game. While talking to people is a big part of what you need to do. You are also required to get certain items, combine items, and even boost stats. So, as you can see there is a great deal to do in terms of the gameplay.
Like some other point and click games, this one can at times be a bit cryptic in terms of what you are supposed to do or what items do what or what items combine with others. This can lead to you clicking around like a maniac or even losing interest. The thing is the art style is so appealing that I would recommend you get a guide before you stop playing due to getting lost.
9
I am very, very impressed with what has been done with Milftoon Drama. It is a very fun point and click style lewd game that is very heavy on the XXX action, but the style and the high level of polish the game has made it stand out from many of the other lewd games I have played recently. I will admit that it can be a bit cryptic in places, but not to the point where it ruins the game.
Pros:
Some of the best graphics I have seen in a lewd game
As well as great graphics, the game has solid animation
Plenty of sexy characters to bang
The gameplay is surprisingly deep with many things to do
It is a very long game
Cons:
Sometimes it can be hard to know what you are supposed to do
Man, voice acting really would have made this even better!
Download Milftoon Drama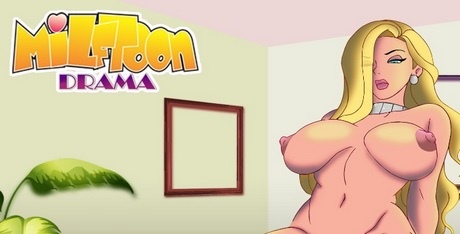 System requirements:
PC compatible
Operating systems: Windows 10/Windows 8/Windows 7/2000/Vista/WinXP
Game Reviews
Going to college is a big moment in everyone's life. Everything that you used to know changes forever, so some people decide to make sure they're ready before they embark on the journey. For Joey, that means banging half of his neighborhood. That's the plot of Milftoon Drama – an h-game with some extremely explicit content.
If you like your eroge visual novels to have some semblance of gameplay in between h-scenes, then Milftoon Drama might be the game for you. However, some obnoxious quirks get in the way of enjoyment when you least expect, and some pacing issues might be a total turn-off for some players.
Get Some
As we mentioned before, the story revolves around young Joey and his unusually high libido. Joey's life changes drastically before he goes to college, as he suddenly finds that every female in his immediate vicinity can't resist his charms – whatever they might be.
Unlike most spicy visual novels, Milftoon Drama has some actual gameplay between every naughty scene. Think of it as a more basic version of the popular Summertime Saga. This means that players will have to keep track of characters, storylines, stats, and myriad other things that are usually never found near a game like this.
This adds a certain level of "quality" to Milftoon Drama that's missing from most h-games. While some other titles are more like interactive galleries, there's an actual plot and characters to be found in this game.
However, here's where we have to draw some comparisons to Summertime Saga again. That game proved that h-games can have an interesting plot and some rich character development. Milftoon Drama's plot feels more like an accessory to make the game feel longer, leaving awkward blank spaces in between every "scene."
Magic Kingdom?
There's a problem with Summertime Saga that doesn't affect Milftoon Drama, and that's thanks to the game's art style. While Summertime Saga has a terrible case of every character having virtually the same face, Milftoon Drama goes for a more classic cartoon approach to art.
While the character's faces are undoubtedly better in Milftoon Drama, Summertime Saga still has the lead on what matters: body proportions. The overall line work and presentation are also better in DarkCookie's game, but that might be up to the player's tastes.
The game's characters also look like they're traced directly from old Disney films. While that might not be a bad thing in and of itself, it's positively jarring to see such innocent character designs in extremely risque situations.
Animation Domination
Players looking for satisfying h-scenes are sure to find them in Milftoon Drama. Something that the game does particularly well is having tons of animated scenes, and not just the naughty ones.
Some conversations feature fully animated characters that look straight out of a Don Bluth film. These scenes make the game feel more alive than some other visual novels and helps to keep the plot from boring most players.
One area the developer could improve upon is the game's UI. While it is perfectly serviceable, it still looks particularly dated. Fortunately, Milftoon Drama is a work in progress, with tons of new content being added regularly.
7
Milftoon Drama's gameplay might not be groundbreaking, but it's still a welcome addition to an otherwise entirely perverted game. The naughty scenes are good and varied, though the art style could use some improvements.
Pros:
Some interesting gameplay ideas
Has a plot in between the h-scenes
Good character faces and animations
Cons:
The art style might not be appealing to some
The plot is a work in progress
Similar Games
Viewing games 1 to 4