NBA Street V4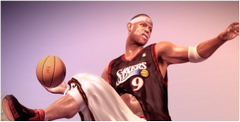 Click the "Install Game" button to initiate the free file download and get compact download launcher. Locate the executable file in your local folder and begin the launcher to install your desired game.
Carmelo Anthony didn't need basketball camp to become a Division I national champion. He didn't need to participate on those top-tier AAU teams to become an Olympian. Heck, he didn't even need four years of college to become an NBA lottery pick (Anthony left Syracuse after his freshman' campaign). He learned how to play the game and master it just down the road on the local blacktop. During a brief conversation with the Denver Nuggets small forward. Anthony stressed how important those countless days of pick-up games were to perfecting his craft. His success has also helped transform Anthony's hometown court of Cloverdale (located in Maryland) into another streetball hotspot.
In NBA Street V4, the next iteration in EA's dunktastic franchise, you'll be taking' a similar path to 'Melo. The idea here is that every legend has a beginning," says Producer Dan Ayoub. Every star has to come from somewhere. This is your journey to put your hometown on the map.
Earning respect
It's late afternoon, and the sky has turned an orange-purple over the famous oceanside courts of Venice Beach, CA. You, a relative no-name, survey the scene: Half-court matchups occupy the first few baskets, but you don't find any real competition so you keep on moving to the far playground. And there you spot them Bron, Mac, and Shaq three basketball icons. The trio looks you up and down, and then gives you a Sorry, son, but you ain't ready for us glare. This means it's back to challenging Venice's other bailers until you earn enough cred to take on the NBAs elite. Welcome to NBA Street V4.
We have this level-up system where you'll earn better moves, more outrageous moves, but it's also now about earning respect, says Ayoub. So say I'm a level 5 and 1 meet LeBron, who's a level 60. There's no way he's gonna play a game with me. He's not going to waste his time. But as I get more respect and gain more levels, now you're going to start to notice me and eventually I'll be a big enough name, a big enough talent to take on the likes of LeBron."
So unlike previous editions, this Street tries to mimic what actually happens on well-known courts such as Rucker Park, The Cage, and Kentucky's Dirt Bowl. You can't just go against the best of the best because you happen to be at the court or that particular day; you've gotta earn your shot at the big boys. Another change-up here is the presence of Brand Jordan. Nike's exclusive line of footwear and the clothing of several top NBA players such as Anthony Sonics sharpshooter Ray Allen, and Pistons masked-man Richard Hamilton. But it ain't just another clever (and sometimes annoying) marketing scheme for dressing up your custom bailer with top-of-the-line gear. Some of the Brand Jordan athletes will play a crucial role in the story mode. You'll actually go to these guys' real hometown courts says Ayoub. They'll act as the 'boss characters' in NBA Street V4. And speaking of hometowns, as you ascend to legendary" status, the NBA's top talent will eventually make their way to your own digs for the ultimate streetball tourney. Win there and, like Ayoub mentioned ear Her, your personal playground (EA modeled one of the courts after the gym from the sports flick Hoosiers very nice) will rbecome another prominent location on the basketball map.
It rests in your hands
Here's an oddity: A developer who thinks his game got too much credit. Despite glowing reviews, Executive Producer Wil Mozell felt EA somewhat dropped the ball with its last arcadey hoopster. Some people called V3 really pretty, polished, and great but not fun, he says. From a gameplay perspective in NBA Street.
V4, we want to make the darn game fun again. Over and over again, members of the dev team talked with us about putting the ball in your hands." Huh? Hasn't it been there the whole time? Over the years with NBA Street, we've pretty much mastered Cin the air,' says Mozell. Where we haven't broken through with innovation are the simple things, like tricks and dribbles. In the past, it was satisfying to say, Hey, I wanna do the slip-n-slide, and I know it's this button combination.' But it's still a canned animation, it's really not that rewarding, and it certainly doesn't reward you for user skill. So we re focusing on bringing back user skill. Now, we're allowing people to create their own tricks on the fly." We can't reveal the exact mechanics behind customizing your shake-and-bakes just yet, but we can tell you, after a short playtest, that it already requires a bit more ability with the controller (in a good way).
Now, say you're still struggling with getting tricky won't that put you at a distinct disadvantage? In any other NBA Street, yes, it would. But No. 4 will coun-teract the fancy fakers by enabling you to get physical. Before, physical play was kind of a result of faking a guy out, and he fell over," says Mozell. Now, we want to push the boundaries on physical play in terms of giving back control to the user. What we want to do is that, if you don:t have the wicked handles, physical play will then be your weapon. With next-gen NBA Street, physical play allows you to play defense and have fun doing it." This battle of varying styles will really come into play within the new 1-on-1 matchups that take place within the standard 3-on-3 games. Obviously, NBA Street V4 is still a 3-on-3 game, but now you can call someone out," says Ayoub. I use the analogy of fights in a hockey game: I can challenge you, and you don't necessarily have to accept, but if you do, it'll bring you into another aspect of the game." The developers hint that 1-on-1 play will be a big part of V4's gamebreaker, the series' famed game-changing, yet high-risk, sequence.
Download NBA Street V4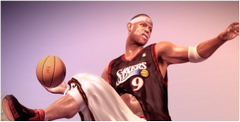 System requirements:
PC compatible
Operating systems: Windows 10/Windows 8/Windows 7/2000/Vista/WinXP
Similar Games
Viewing games 1 to 6