NFL Gameday 98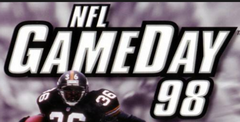 a game by
Sony Imagesoft
Platform:

Playstation

Genre:
Sports
Editor Rating:

8

/

10

, based on

1

review
Rate this game:
See also:
NFL Games
Ever since it debuted. NFL GameDay has been the PlayStation's premier football franchise. Showing no signs of letting up, Sony's '98 edition of the popular pigskin game is on track to repeat the successes reaped by the previous two editions.
The primary (and most obvious) change in this year's NFL GameDay is undoubtedly its all-new 3-D look. In fact, the 3-D graphics gracing GameDay are revolutionary-for a football game. Many companies, pleaded previous to this remarkable effort that a polygonal football game couldn't be accomplished at a reasonable frame rate (due to the amount of players and high-speed action). Needless to say, Sony's talented GameDay programming team proved the naysayers wrong. Though the players are a little rough and blocky in the version we played (and they won't be improved a whole lot more), the realistic, motion-captured player animation more than makes up for it.
For example, tacklers use their arms to wrap up ball carriers, players tight the sidelines (that one is a treat to see!) and linebackers crouch and sway while surveying the line. Look for plenty of extra taunting moves during gameplay and after a touchdown. There is even a Deion Sander-esque high-step move that can be used to evade defenders and to rub an easy touchdown in your opponent's face (high-step across the goal line, baby).
The players are only part of the immersive 3-D environment, however. Coaches, sideline crews and cameramen will also be visible within the football stadiums (superfluous things rarely seen in football video games). With all of this attention to detail, it's crystal clear that GameDay '98's 3-D engine has enabled this game to be the most realistic-looking PlayStation football game ever (we're still waiting to see how Acclaim's QB Club '98 on the N64 shapes up).
Even with the stunning 3-D makeover, GameDay '98 will play similar to its predecessor. A variety of new jukes have been put in (made possible by the polygonal graphics), but the same tried-and-true gameplay is still in place. The gameplay is, however, being tweaked to play more realistically. A good example is the quarterback position. It will take longer to throw (no more firing passes off easily with three defenders in front of you), and if he's hit while in the throwing motion, the result could be a bad throw or a fumble. The overall artificial intelligence is also being improved, especially on the defensive end. The goal is to cut down on "money plays" by having defenders cover their territory as efficiently as they should (unless they have a low intelligence rating).
As you can see, NFL GameDay '98 is an impressive game to see. If its gameplay lives up to its seductive 3-D looks, there is no doubt Sony's gridiron title will set a new standard in football video games.
MANUFACTURER - SCEA
THEME - Sport
NUMBER OF PLAYERS - 1-8
Other games by
Sony Imagesoft