NHL Face Off 99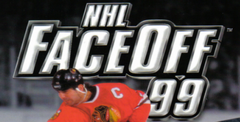 Click the "Install Game" button to initiate the free file download and get compact download launcher. Locate the executable file in your local folder and begin the launcher to install your desired game.
a game by
Sony Imagesoft
Genre:
Sports
Platform:

Playstation

Editor Rating:

7

/

10

, based on

3

reviews
User Rating:

9.0

/

10

-

2

votes
Rate this game:
See also:
Sport Games, NHL Games
After a sub-par season last year, 989 Sports is streaking up the ice with some promising improvements in NHL Face Off '99.
In the Locher Room
Although Face Off '98 scored with its fast action and good looks, the gameplay just wasn't compelling enough to earn top billing. So the best news for Face Off '99 is that 989 Sports is tinkering with the A.I. and plugging away on a new 3D game engine that should hopefully deliver much tighter action.
As for features. Face Off drops the puck with an updated version of icon passing that isn't as unrealistically precise, along with on-the-fly strategy changing and icon switching, which lets you call up icons (as with passing) so you can change to the exact player you want to control and make sure that the key play is made. Player creation, trades, and all the pro players, teams, and arenas round out the roster.
On The Ice
The retooled 3D polygonal graphics catch the eye with actual faces on players, a new player model, highly detailed arenas, and new player animations that benefit from the motion-captured movements of former Shark Kelly Hrudey and the Ducks' Scott Young. F099 will also deliver a more TV-style presentation, including play-by-play and color commentary by the Devils' Mike Emrick and ESPN's Darren Pang.
Download NHL Face Off 99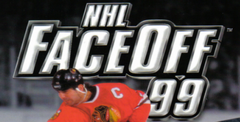 System requirements:
PC compatible
Operating systems: Windows 10/Windows 8/Windows 7/2000/Vista/WinXP
Game Reviews
NHL Face Off '99 is skating strong again after a disappointing season last year.. .but not strong enough to catch the front-running NHL '99. Face Off's awesome graphics and speed, along with its decent action, will develop a loyal following, hut it has too many flaws to rank as the PlayStation's starting hockey game.
Fast Ice
The first thing you'll notice about Face Off '99 is its ripping speed. The action flows by at a fluid, rocketlike pace. Unfortunately, 989 didn't smooth out all the wrinkles. While you can't fault the frame rate, the overall gameplay has a spastic, unrealistically fast feel like hockey on a caffeine overdose.
Once you get used to that, however. Face Offs gameplay delivers a respectable day at the rink with players who play their positions intelligently and goalies who finally, come out of the crease the way they should. Strong controls provide impressively tight skating and turning, but the players often have a floaty feel, as if they're not fully-attached to the ice. And while icon passing lets you deliver the puck with surgical precision, regular passing isn't as on the money as it should be.
As for features, F099 delivers all the standards, such as pro play ers, season action, on-the-fly strategy, player creation, trades, and lighting. Stacked up next to NHL '99, though, Face Off falls short of the net. NHL '99 supplies coaching drills, Tournament mode, the ability to create custom teams, and much more in depth setups for team strategy, editing lines, and creating players.
He Shoots... He Scores!
One of Face Off's high points is its killer graphics, which rank as the PlayStation's best this year. While the well-detailed polygonal players arc more or less on par with what N1IL offers, Face Off streaks ahead with seriously slick animations and incredibly detailed arenas.
Continuing its streak, F099 finally gets sound right. Awesome commentary by Devils' announcer Mike Emricks and ESPN's Darren Pang sweetly pace the action, and the crowd cheers and organ tunes ring through the rink. The only flaw is that the on-icc sounds (scratching skates, player grunts, etc.) are still a little silly.
Great But No Starting Position
All told, NHL '99's deeper features, tighter controls, and better overall gameplay beat out Face Offs excellent graphics and speed for the starting position. Still, Face Off '99 will draw a crowd from hockey gamers who insist on icon passing or high-octane acceleration--and from the hockey hardcore who want a solid second-string game.
ProTips:
When killing penalties, if you collect the puck deep in your own zone, try to break out fast to create a short-handed chance at the other end of the ice.
When skating backward, take your opponent out of the play by building up speed and sideswiping them with a hip check that'll send 'em flying.
Use icon passing to move the puck around quickly on offense. After your teammate receives the puck, rapidly fire it back and forth by tapping his icon. As soon as you create an opening, tap his icon again before he receives the puck to crank a one-timer into the net.
People say:
7.5
Slowly but surely, 989 is ironing out all of the problems with the Face Off series. This year's game may be only slightly improved in the visual department over last year, but the Al and gameplay are very noticeably enhanced. The goalies aren't complete morons anymore, and (for the most part) the players react more realistically in given offensive and defensive situations. Sometimes it seems like the CPU goalies have an unfair advantage, but once you improve your defensive skills, that actually makes for a more challenging game anyway. Aesthetically, FO99 is up and down. On one hand, the game is super-fast, and quite smooth too. The ability to adjust game speed is nice (and important, since the default speed is way too fast for anyone who's into realism). On the other hand, the animation is a bit on the weak side (only at the slowest game speeds do transitions look right), and the sounds, while certainly improved over last year, are still lacking (play-by-play is nice, but it still doesn't touch NHL's). Control is odd, too. I usually prefer analog control, but in FO99, it's not nearly as precise as it should be (it feels way too stiff, making routine things like crossing in front of the net or landing a check way too difficult). On the whole, I like Face Off 99 (it's about time), but it's still not the best hockey game.
7.5
As NHL 99's only real competition, Face Off 99 is creeping up. It looks great--the extra polygons have really spruced it up. Plus it's insanely fast! Luckily a game speed control lets you adjust. But compared to NHL 99, Face Off suffers from stiffer animation and a weaker checking system. Yet, at the same time, its Al players are always able to wreck you!? Seems unfair. Plus, scoring goals is overly tough. I'll stick with NHL 99.
7.0
This year's Face Off is impressive. The drop pass works well, the passing is way tougher than in NHL 99 (which makes it more realistic in my opinion) and the animation is smooth. The game can be hard to follow because the puck moves too fast and the highlights underneath active players are too hard to see on the ice. The goalies can get pretty retarded, leaving the net too often and ignoring threats that are only a foot away.
7.5
Following the impressive GameDay 99 is the latest installment of the Face Off series. This time out, the graphics have been pumped to even higher levels with great character animations. The presentation is pure TV-style, and the screen scrolling is handled very smoothly. On the down side, the commentary isn't as good as NHL 99 and you have to drink a 24-pack of jolt cola to keep up with the default speed setting. Hyper.
Other Games by Sony Imagesoft