Orange Trainer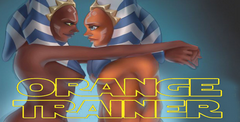 Download Orange Trainer if you want a lewd Star Wars game! The force is strong with this XXX game! Here we have a more mature Ahsoka that we get to train not in the ways of the Jedi, but in the ways of being great at sex!
As a massive Star Wars fan, Orange Trainer is a lewd game that I knew I was going to end up playing sooner than later. This is a XXX visual novel set in the Star Wars universe (around the Clone Wars) and if you are a fan of the series you are sure to get a kick out of what this game is offering.
How Did We Get Here?
The story of the game is set during the days of The Clone Wars. You are a smuggler who awakens on a ship that is full of droids. The name, Orange Trainer comes from the other alive person on this ship and that is Ahsoka Tano. The droids give you the full run of the ship and you decide that it is going to be a paradise for outlaws.
Oh, and you are also going to try and turn Ahsoka into the greatest lay the galaxy has ever seen which will make you a few bucks along the way. It is worth noting that the story is pretty minimalistic, but what is here is pretty fun.
Making Money And Getting Force Laid!
The game has two goals. One is to make a ton of money so that you can upgrade your ship. You do this by taking on various jobs as a smuggler or fighting enemy ships in outer space. Orange Trainer also has you needing to train up Ahsoka and make her happy so that she is willing to do it with you whenever you like. The game has visual novel aspects that see you reading the story and then acting accordingly. This part of the game I do like, but the money-making aspect can be rather frustrating. Most of the time no matter what I did, it seemed like I would lose a ship or that an upgrade I spent vital resources on never really amounted to anything.
The Hottest Jedi In The Galaxy
Look, Star Wars fans know that Ahsoka is one of the hottest characters in the franchise. This is especially true after her portrayal by Rosario Dawson in The Mandalorian. Well, you will not be disappointed with the way she looks in this game. The animated style that they have gone for works really well here and while there is no animation, the artwork is good enough that it will certainly get your motor running.
There are a few parts where the game is just text-based and there are no images, but the sound and the descriptions do actually a great job of getting your imagination working which I thought was quite clever.
8
I thought that Orange Trainer was a fun romp thought the Star Wars universe. I love Ahsoka as a character and getting to bang her was quite fun. I do wish that they made the money-making aspect of the game a bit easier as I did find it a tad on the frustrating side. Not enough to stop me from playing, but I am not sure this is the kind of game I would come back to again once I have beaten it.
Pros:
It features Ahsoka Tano
It is a porn game that is set in the Star Wars universe
The comedy in the story is pretty great
I liked the way the game looked
It is kind of cool how they tried to make it more than just a visual novel
Cons:
The way you make money in the game can be frustrating
You have to love Ahsoka to get the best out of this game
Download Orange Trainer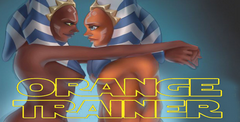 System requirements:
PC compatible
Operating systems: Windows 10/Windows 8/Windows 7/2000/Vista/WinXP
See Also
Viewing games 1 to 8