Princess Evangile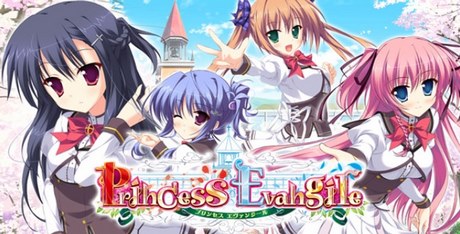 Click the "Install Game" button to initiate the file download and get compact download launcher. Locate the executable file in your local folder and begin the launcher to install your desired game.
When I saw the trailer for Princess Evangile I mistakenly thought that I had this game pegged. I knew going in that it was a game about one guy being in a school full of girls and I was sure I knew what kind of game I was getting into. Well, to say that this game surprised the hell out of me is a massive and I mean massive understatement. Do not let the cute girls and beautiful artwork fool you, this is a visual novel that has a tremendous amount of depth!
One Guy, The Mafia And A School Full Of Girls
I do not want to go too deep into what the story of Princess Evangile is all about as the twists and turns that it takes are what really set it apart from other visual novels. The main character in the game is Okonogi Masaya and he has found himself in a situation where he owes the mafia a ton of money. He finds himself alone, on the streets and the only place he is able to go to is Vincennes Academy which is a school for girls.
Now, you are probably thinking that from here it is just all about Okonogi trying to bang as many of the girls as possible right? Well, while sex is part of this game. It is the characters and their motivations and the way they change as the story progresses that is so engaging. What on the surface looks like a game that is all cute and nice deals with some hard-hitting issues.
Who Do You Care About?
I will say that Princess Evangile does follow the typical visual novel format in the way that you experience the different routes that the game has to offer. You will read a part of the story, admire the lovely artwork, and then you get to make a few choices here and there that will take you down a certain route. This gives you a good reason to play the game through a few times as some of the routes are very, very different.
Looking And Sounding Good
It was the artwork, well the artwork and the premise of one dude being in an academy full of girls that drew me to this game. It features some of the most amazing character designs you will ever see. I love the way these characters are cute anime style girls and at first, you think they are all just going to be one-dimensional stereotypical characters that you find in any other visual novel game. While they may start out that way, your opinion will certainly change as you progress through the game. There are some excellent hentai scenes in the game, but these do fit the story quite naturally.
There is some fantastic Japanese voice acting in the game. I am always a fan of this as I feel it helps give the characters more personality. The score for the game is very fitting and while I would not say it is the kind of soundtrack that you will be playing on your iPod, it goes with the game very well.
9.5
I was pulled in by those cute looking girls, but I stayed for the amazing story that this game told. I really cannot praise Princess Evangile highly enough and it is a visual novel game that is one pretty much everyone can enjoy. Just know going in that if you think this game is all sunshine, rainbows, and getting laid, it has more depth and darkness that those cute visuals let on. That though is what I loved about it and why I always recommend this game to people who like this genre.
Pros:
This game has gorgeous artwork
The voice acting is great
It has some amazing writing
The way the characters have so much depth is awesome
The hentai stuff is sexy, but it does not feel tacked on
Cons:
The game may have heavier themes that people think
While fitting, the score is unremarkable
Download Princess Evangile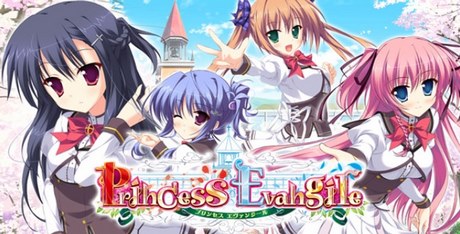 System requirements:
PC compatible
Operating systems: Windows 10/Windows 8/Windows 7/2000/Vista/WinXP
Similar Games
Viewing games 1 to 8